Summary text here.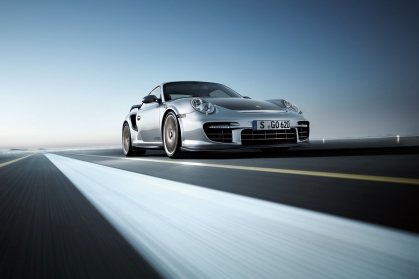 The Porsche 911 GT2 was once called the widow maker. They were blindingly quick cars that demanded the full attention of their drivers and punished and the smallest lapses in judgement. Then, with the previous generation GT2 something changed. Yes, it was still a meaner and harder iteration of the Turbo that eschewed power to the front wheels and added larger turbos, but it didn't quite have the knife-to-your-throat dynamics of previous GT2s. Now Porsche has unveiled the 911 GT2 RS. Could this be the return of the widow maker?
Seven minutes eighteen seconds. That's how fast Porsche is claiming the 911 GT2 RS can lap the Nurburgring. That's faster than a Carrera GT. It accomplishes this feat through some rather extreme measures. Like the GT2, the GT2 RS is based on the 911 turbo and is rear-wheel-drive only. Of the the line, the all-wheel-drive Turbo would have the edge in a drag race, but because the GT2 RS' 3.6 liter twin-turbo flat produces 620 hp (!), the advantage would be short lived. The GT2 RS also weighs a very useful 154 pounds less. Zero to sixty comes in 3.4 seconds and top speed is 205 mph.
The car will have its public unveiling at the Moscow Motor Show. Predictably it won't be cheap. It'll cost around around $245,000 and only 500 units will be made.
-Jamie Wolfcale
-----