Summary text here.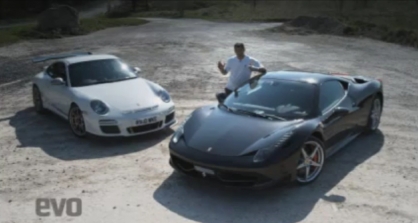 Evo has stuck Chris Harris in front of a camera again, and this time he's managed to get a Ferrari 458 Italia and a Porsche 911 GT3 RS within close proximity of each other on British roads. It's a comparison that has lost some relevance in recent years. It used to be that V8 Ferraris and top of the line 911s were frequently compared, but the new millenium saw them go off in two very different directions.
The GT3 RS is the most hardcore of the 911s. The fact that it comes with a roll cage and fire extinguisher should tell you all you need to now. By contrast, the 458 Italia is technological tour de force, even by recent Ferrari standards. It's devastatingly quick and as Harris points out, you could easily drive it everyday.
So, it's digital vs. analogue. Old school vs. new school. Big rear spoiler vs. "humpable" exhaust. Both of these cars are insanely quick on road and track, but this isn't about numbers. Horsepower, 0-60 and 'ring times are irrelevant here. What makes this comparison so interesting is the vastly different approaches these cars take to rapidly dissecting a road.
-Jamie Wolfcale
[youtube=http://www.youtube.com/watch?v=74daMAXQ-Co]
[youtube=http://www.youtube.com/watch?v=pqI0WavbHJ4&NR=1]
-----