Summary text here.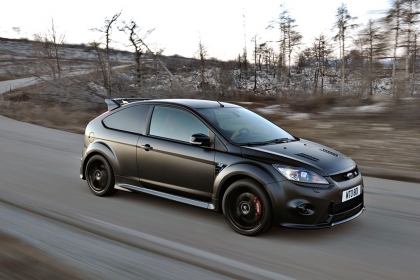 Now that Ford has unleashed the thoroughly awesome Mustang GT 5.0, hot Euro only Fords are a little easier to swallow, but it's still tough. This is especially true in the case of the Focus RS500. To mark the end of Focus RS production, Ford will produce 500 examples of this matte black menace and of course it's only available in Europe.
The RS500 features the same 2.5 liter turbocharged five pot in the standard RS, but this time it has 245 hp at 6000 rpm, which is a 45 hp increase. Zero to sixty comes in 5.6 seconds and 0-100 comes in 12.2 seconds. Impressive figures for a front wheel drive car. The trick RevoKnuckle front suspension remains and ensures that the RS500 doesn't torque steer into oblivion. Aside from the increased power, the RS500 is technically the same as the standard RS.
What is different are the numerous visual enhancements. I'm glad more manufacturers are offering matte black as color option. Sure it will probably appear dated in five years time, but I don't care. I think it looks fantastic. Ford paints the car in standard black and then ships the car to 3M where a matte film is applied. Presumably, this means if you get tired of the matte look you can simply peal off the film to reveal a gloss black finish. Black alloy wheels complete the post apocalyptic ensemble, and special RS500 badges and red brake calipers add a splash of color.
The interior gets the requisite carbon fiber bits along with red seats. Customers have the option of specifying red leather Recaro seats as well. The center console features an individually numbered metal plaque unique to each car.
-Jamie Wolfcale
[youtube=http://www.youtube.com/watch?v=MAZ54yXOD0c&feature=related]
-----