All the cars that mattered, and some that didn't, from the Frankfurt Auto Show.
The dust has settled at the Frankfurt Auto Show, and what a show it was. We saw all the reveals we expected, such as the 2012 911 and the newest Exige and some we didn't expect at all, like the bonkers Citroen Tubik concept van. There were cars boasting all manner of the most efficient, environmentally friendly tech, but there was also plenty for enthusiasts to get excited about. If there was anything thing the car companies present wanted us to take from Frankfurt, it's that these two paradigms don't necessarily need to be mutually exclusive.
Aston Martin V12 Zagato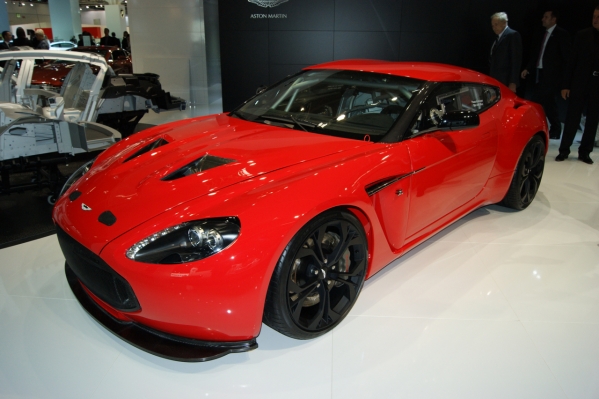 This isn't the first time we've seen the Zagato, but time (or a twice around the clock run at the Nürburgring) has done nothing to dull it's looks. In fact I might go so far to say that it might be the best looking car on the horizon. Sales are slated to begin next summer, but if you want one, you better be quick and wealthy. Only 150 are being made at £330,000 a pop.
Alfa Romeo 4C Concept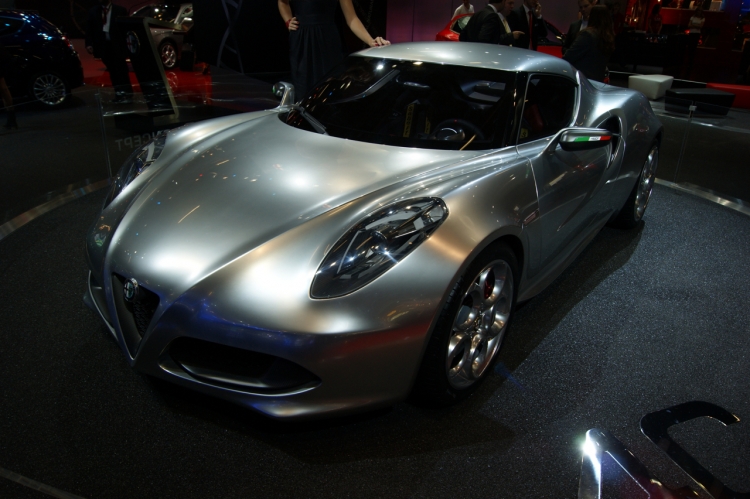 Initially unveiled about six months ago in Geneva, Alfa Romeo's 4C Concept was on display sporting a brand new chrome paint job that Alfa calls Fluid Metal. The 4C is scheduled to go on sale in mid 2013 with a limited production run. It's also about 63rd car that Alfa promised would spearhead the brand's return to the US. We'll believe when we see it, but here's hoping the 4C won't be yet more forbidden fruit for the US market.
Volkswagen Up!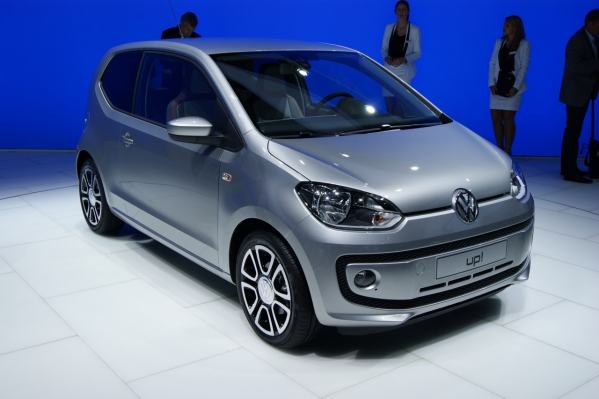 Volkswagen showed six different versions of it's all new Up! (VW put that exclamation mark there, not us) super mini in Frankfurt - the Up! Azzurra, the Cross Up!, the GT Up!, the e-Up!, the Eco Up! and the very weird Meyers Manx inspired Buggy Up!. The GT Up! has to be the pic of the bunch. Standard cars are powered by a 1 liter three cylinder motor producing 74 hp, but VW reckons they can get about 100 out of it for the GT version. That combined with its compact dimensions and low weight could make for a quite a fun steer.
Mercedes-Benz SLK55 AMG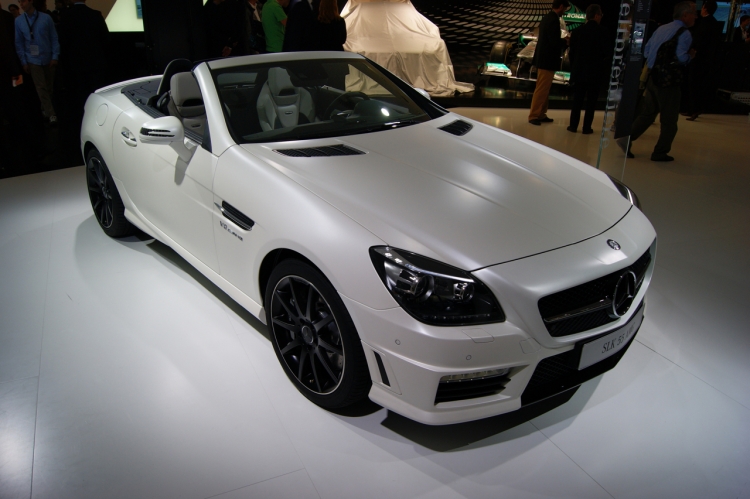 The SLK is not a girl's car. That's the message Mercedes wants to send with the AMG version of its newest SLK. Powered by a naturally aspirated, direct injection version of its 5.5 liter M152 lump, the SLK55 AMG produces 415 hp and will scoot from 0-60 in 4.5 seconds. All that power will be channeled through AMG's Speedshift Plus 7G-Tronic automatic transmission. The question remains, does this newest SLK AMG give any compelling reason for it to be embraced by enthusiasts?
Porsche 911 Carrera S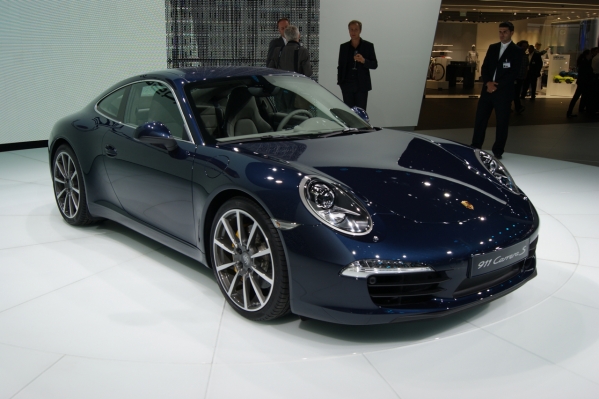 Read more about the all new 911 here.
Kia GT Concept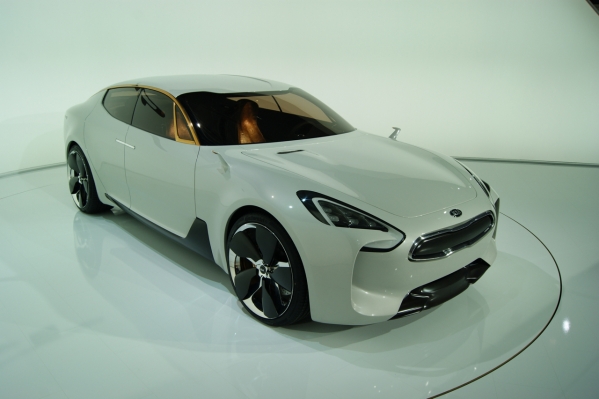 I have to admit, I've seen a lot of very handsome new Kias driving around over the past year or so. They and their Hyundai overlords have finally started to get serious about styling and the Kia GT Concept solidifies this notion. Anyone else see a bit of Aston Martin One-77 in the nose? The GT doesn't just point the way forward for the styling department, it could also usher in a new era rear wheel drive Kias.
Citroen Tubik Concept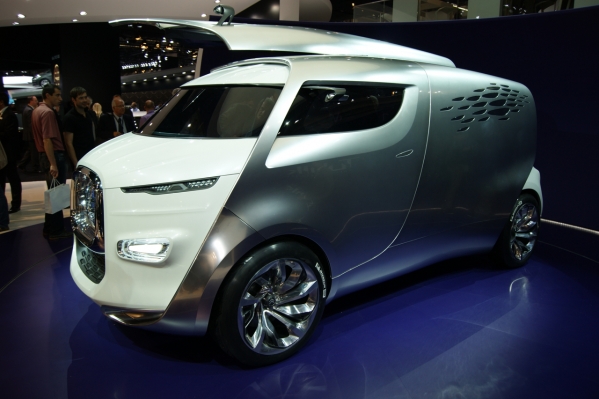 For many, the Citroen Tubik was the star of the show. This nine seat luxury van is stuffed with technology and entertainment systems, including integration with Citroen's Multicity Project which is a next generation route planer that synchronizes trip iteneraries when switching between cars, planes and trains. It's like a smaller, modern day GM Futurliner!
BMW i8 Concept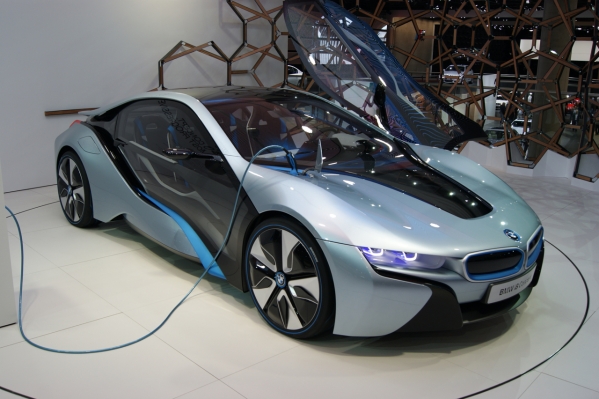 Like it or not, the BMW i8 might represent the future of sports cars as we know them. It's a plug-in hybrid that BMW promises will have similar performance to the current M3 and return 33 to 47 mpg. Already destined for production, the i8 will be powered by a gasoline engine mounted behind the rear seats powering the rear wheels and an electric engine up front driving the fronts. Too bad it still looks like a concept car Mazda would have built in 1993.
Jaguar C-X16 Concept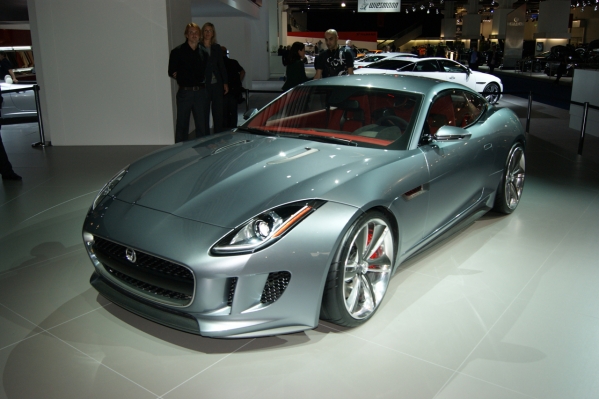 Read more about the stunning Jaguar C-X16 concept here.
Cadillac Ciel Concept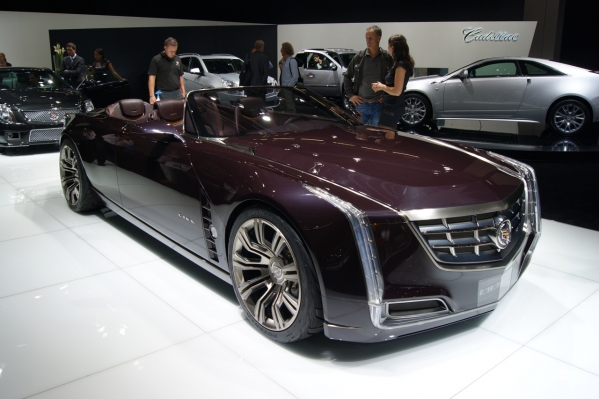 The world economy is on the verge of collapse, oil prices are rising and Cadillac brings a 16 foot long, convertible on 22 inch wheels to Frankfurt. OK, so it is a hybrid, but it's a 424 hp twin turbo hybrid. On one hand, you have to admire the gumption of Cadillac for even hinting at building a car like this, but on the other it's just sort of a stupid car.
Chevrolet Mi-ray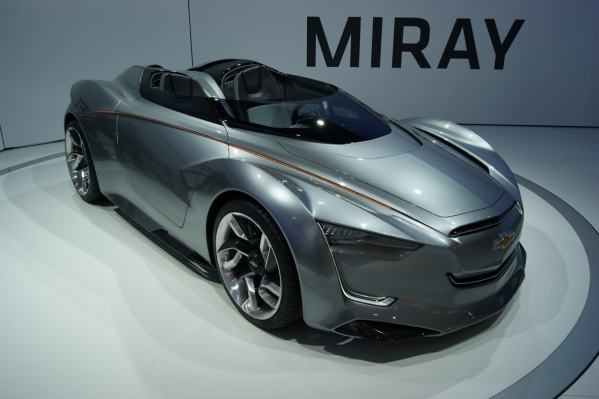 Now this is a little more like it, GM. Initially introduced at the Seoul Motor show, the Mi-ray is a hybrid sports car that Chevy claims is in the same spirit as the 1963 Monza SS and the 1962 Corvair Super Spyder. One look at it will tell you that the chances of making production are pretty slim, but it would be no bad thing if some of the Mi-ray's styling elements found their way onto Chevy's future road cars.
Honda Civic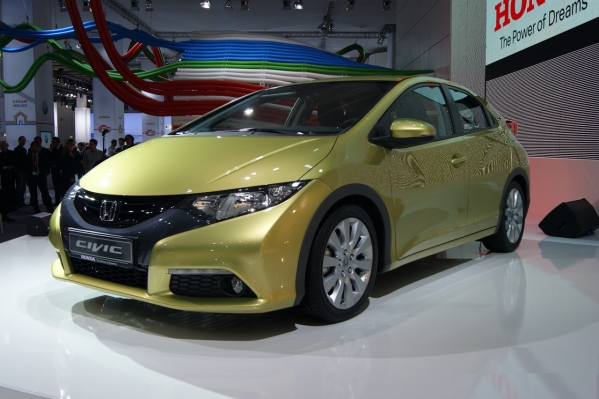 Once again, the Euro Civic is way, way cooler than it's bland American market counterpart. Engine options will include 1.4 and 1.8 liter gasoline options and a 1.8 liter diesel which will be good for 148 hp and 258 lb ft of torque. Sadly, Honda reps are saying the chances of a hotter Type-R version is slim due to the slow sales of the previous R.
Ford Fiesta ST Concept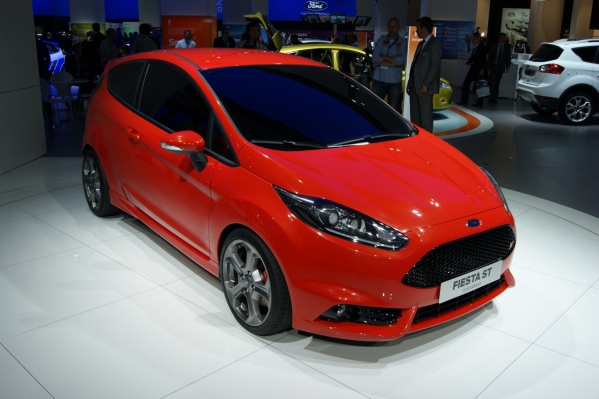 Hot hatch fans have been screaming for a hot Fiesta ever since Ford introduced the sub-compact, and now it's finally here, in concept form at least. A 180 hp 1.6 liter Ecoboost engine will power the front wheels through a six-speed gearbox. Zero to sixty should come in under seven seconds. With numbers like that combined with it's clean styling, the Fiesta ST might just be the pick of the Ford hot hatch bunch.
Ford Focus ST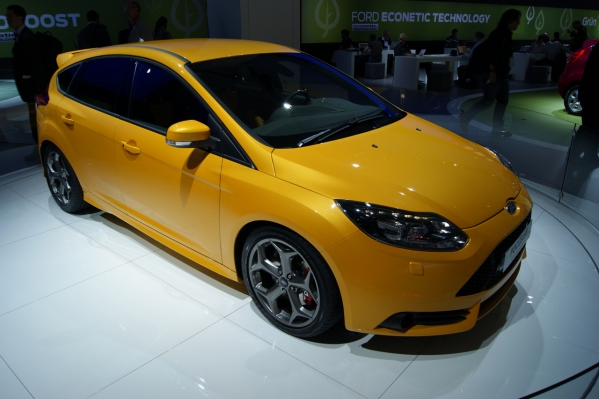 Read more about the Ford Focus ST here.
Ford Evos Concept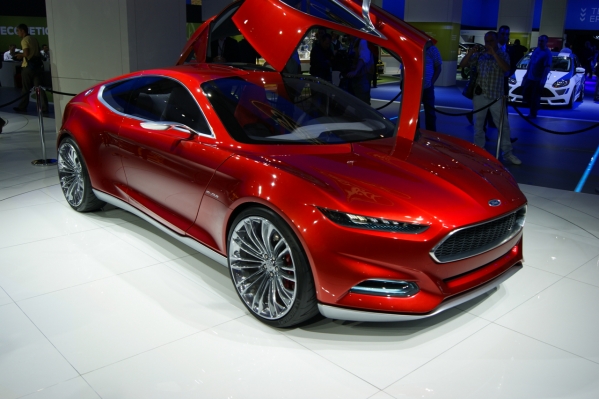 It's one of those hybrid concept cars again, this time with a Ford badge on its nose. However, its means of propulsion is somewhat irrelevant. The Evos is meant to point the way forward for the future design language of Ford and with its sculpted hood and handsome proportions, that's no bad thing.
Lamborghini Gallardo Super Trofeo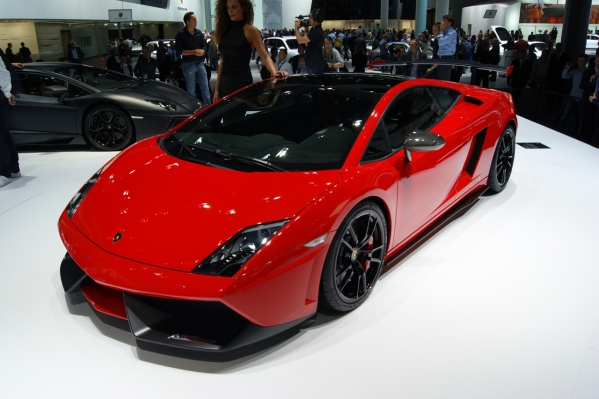 If the Lamborghini Gallardo Super Trofeo looks familiar, then it should. It's all but identical to the LP570-4 Blancpain Edition, which itself was based largely on the Gallardo Superleggera. Lamborghini is clearly trying to keep people interested in the Gallardo now that it's entering its final phase of life, but you have to admit it does look great in its Rosso Mars hue.
Abarth 695 Competizione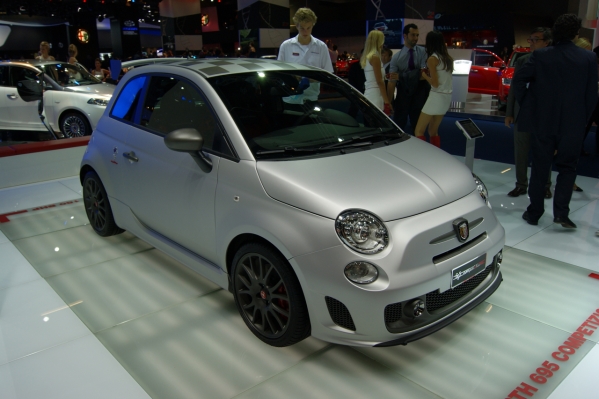 Remember the Abarth 695 Tributo Ferrari? Well now that that's sold out, Abarth has unveiled pretty much the same car, sans the Rosso Corso paint job, that will in all likelihood be much cheaper. A flappy paddle transmission, 180 hp and Brembo stoppers should make for pretty compelling drive.
Lotus Evora GTE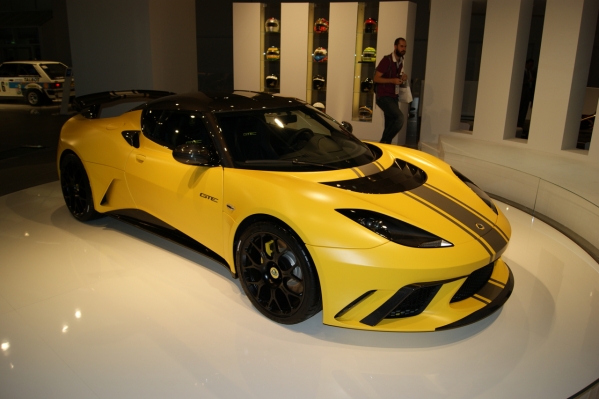 For enthusiasts, the Lotus Evora GTE had to be one of the highlights of the show. Its 3.5 liter V6 produces 434 hp making it the most powerful road going Lotus to date. Extensive use of carbon fiber reduces weight over the standard Evora by 105 kg. The aggressive styling tweaks have clearly been influenced by Lotus' forthcoming lineup, but the Evora wears them well.
Lotus Exige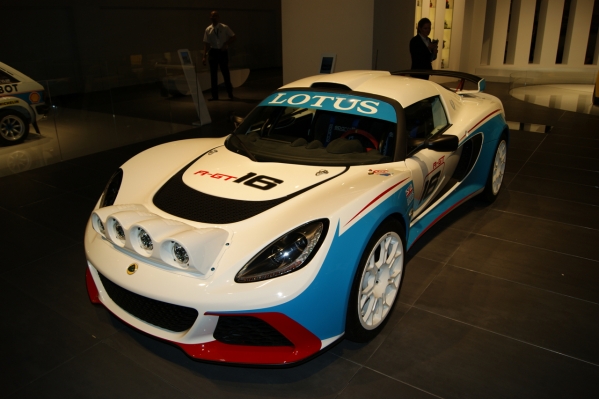 Looking at the new Lotus Exige makes one wonder - did Lotus look at the Hennessey Venom GT and think, "Hmm, that's not such a bad idea." While it might not be quite as over the top as the afore mentioned Texas mutation, it's certainly more pumped up than the previous Exige. The widened track isn't just for show either. It's to accommodate the 345 hp V6 that replaces the inline four traditionally found in the Exige. The Version you see here is the Exige R-GT which will see action in the new WRC GT class next season.
Land Rover DC100 Concept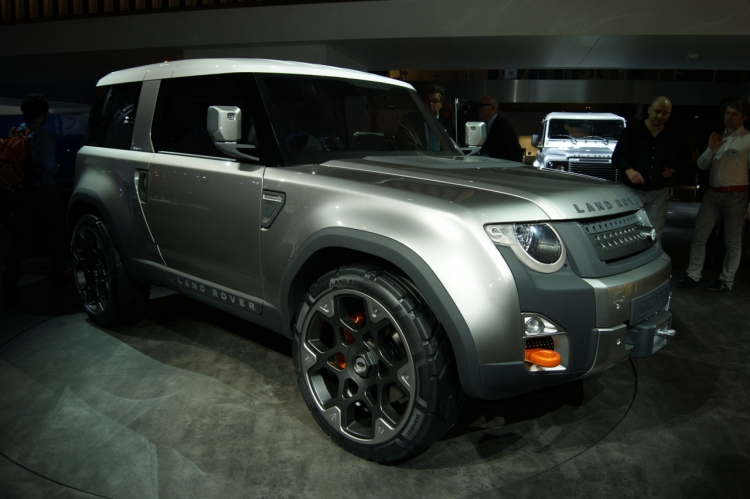 Replacing an icon is tricky. Especially when it hasn't evolved much since 1983, but there eventually comes a time at which it must be replaced. The Defender reached that point well over ten years ago. The DC100 is very much a concept at this point, but it's a statement of intent that Land Rover is committed to bringing the Defender up to date very soon.
Audi S8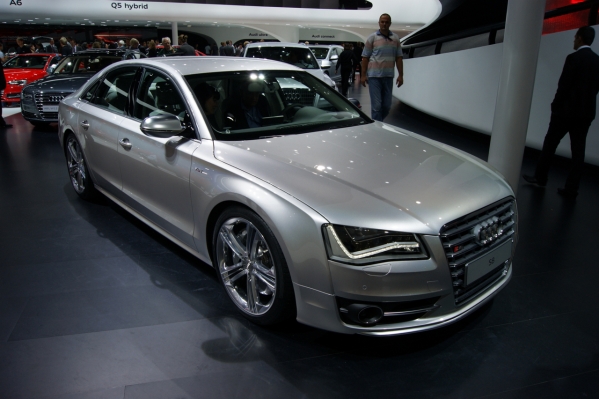 Read more about the new Audi S8 here.
Audi S6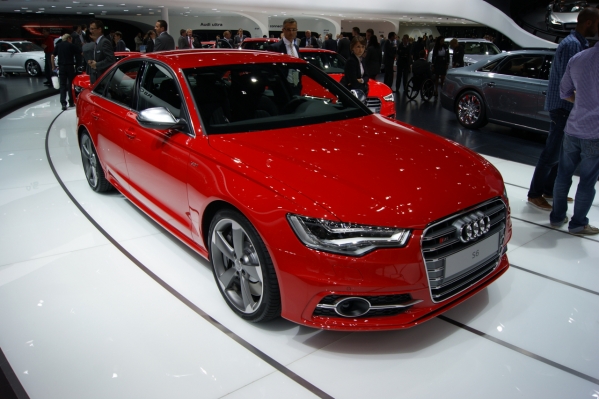 Read more about the new Audi S6 here.
Ferrari 458 Spider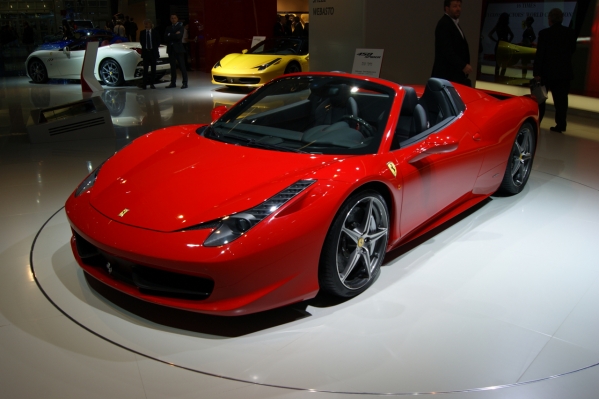 Ferrari's mid-engine spiders have always sold well and the 458 spider should be no different. However, this particular spider will be the first to use a retractable aluminum hard top rather than a fabric top. From the waist down it's standard 458 Italia fare, which means a 570 hp 4.5 liter V8 and stunning performance.
Thanks to Headline Auto for the use of the photographs.
Gallery