It's been a long time coming, but Porsche's amazing 918 Spyder is nearly upon us.
Porsche stunned the world all the way back in 2010 at the Geneva Motor Show when they unveiled the 918 Spyder hybrid supercar. We've covered development a good bit since then and even recently got a few shots of the production version. Now, over three years later, Porsche has finally released all the details on the finished product, which will be hitting the street very soon.
A flat plane crank 4.6 liter V8, which originally started life as a 3.4 liter in the RS Spyder LMP2 racer, produces 608 horsepower and revs to 9,150 rpm, while the three electric motors combine to produce an additional 286 horsepower, bringing the grand total to 887. Final weight sits at 1634 kilograms/3602 pounds, which is not exactly flyweight, but it is impressive considering the extra weight of the electrics motors and the lithium ion battery comprised of 312 individual cells.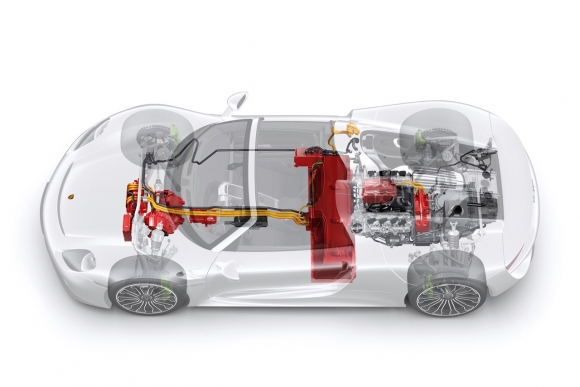 Power from the internal combustion engine is channeled through a seven speed PDK gear box to the rear wheels and like the latest GT3, the 918 utilizes rear axle steering to improve both low speed maneuverability and high speed stability.
The sprint to 60 comes in 2.8 seconds, but perhaps the 918's best party trick is that it can achieve up to 94 mpg in hybrid mode. Even in the electric only E-Power setting, the 918 can get to 60 in under seven seconds!
The optional Weissach package is available for customers that wish to take performance up a notch and can include special colors and designs inspired by some of the legendary 917 liveries. Lightweight magnesium wheels reduce unsprung weight by 35 kilos. Six point racing harnesses are included as are a few additional carbon fiber exterior aero add ons.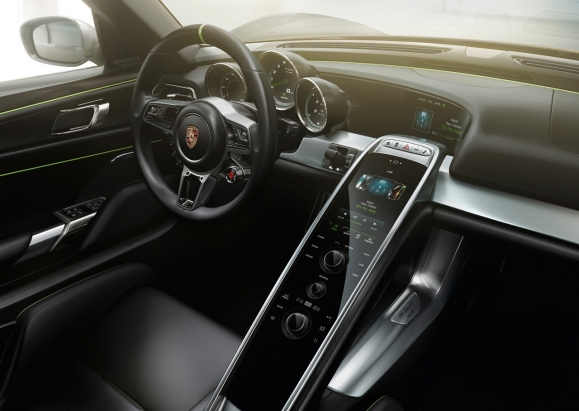 As with the exterior, the interior has changed very little from what was seen in the first concept. A multifunction steering wheel controls all the driving functions, including the driving modes, while all the infotainment functions are accessed via the elevated center console.
There's so much more to this amazing car and we're looking forward to learning more about it tomorrow and to seeing how it stacks up against McLaren's P1 and Ferrari's LaFerrari in the long term.
Gallery