The Eagle Speedster has a new hard top sibling, and it's absolutely gorgeous.
Sometimes a car comes along that just seems right. It's often completely intangible and indescribable, but some cars are simply more than the sum of their parts. Even if those part are as painstakingly crafted and assembled as those found on the rejuvenated Jaguars built by a company called Eagle in East Sussex, England.
You may have heard of Eagle. Their E-Type Speedster was featured on Top Gear, as well as several other outlets, all of whom gushed over its combination of classic proportions and modern performance. It's a bit like what Singer has recently been doing to air-cooled 911s, but Eagle has been tinkering with Jaguars for over 30 years now.
Their latest project is called the Low Drag GT. It's inspired by the Jaguar Low Drag Coupes that raced in 1960s, and that's, for the most part, what it looks like from the outside. The body itself is constructed from aluminum, and the cabin has been lengthened and the floors lowered to increase cabin space. It's an absolutely stunning, uninterrupted shape that sits lowered on bespoke period inspired 16 inch cast magnesium wheels.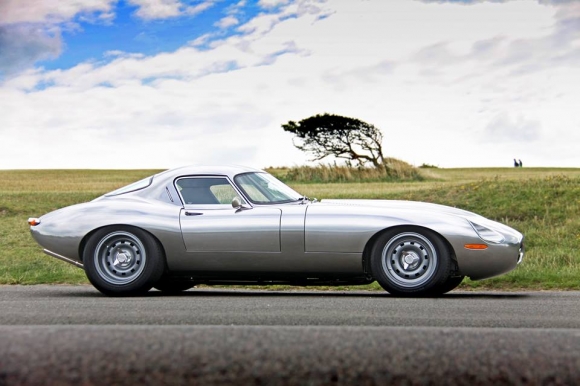 The engine is the same fuel-injected 4.7 liter straight six found in the Eagle Speedster. It's built on an aluminum block using parts developed by Eagle in conjunction with Jag specialists Crosthwaithe and Garnder. It produces around 310 horsepower and a monstrous 340 pound feet of torque. Performance figures aren't quoted by Eagle, but with its lightweight construction, it should be more than capable of embarrassing much more modern machinery.
The chassis has been brought bang up to date too. All four corners are fitted with AP racing calipers and Öhlins coil-overs to ensure the Low Drag GT stops and turns as well as it goes. The steering is powered, and also speed sensitive. Crucially, these components are only visible when the wheels are removed.
The interior is beautifully appointed and includes everything you'd expect to find in a modern car, including recirculating air conditioning, a modern sound system and heated front and rear glass.
The Low Drag GT made it's official debut recently at the St. James Concours of Elegance. Eagle is now taking orders, but at around $950,000, depending on the spec, it's not exactly cheap.
Photo credit: Eagle
Gallery