The AMG GT is the successor to the much-loved SLS, but it's also a very different car. Here's why.
We all loved the SLS. It was a grand touring car with a not so insignificant mean-streak — a boulevard cruiser in shape, but a supercar in execution.
Now its successor has finally arrived, but the AMG GT is a wholly different proposition. It's a smaller, tighter package that's aimed near the top of the Porsche 911 lineup, instead of front-engine V12 Ferraris, and includes some new tricks courtesy of the mad geniuses at AMG.
The old 6.2-liter V8 is gone. A new AMG developed 4.0-liter V8 biturbo engine replaces it, and produces 456 hp in base trim and 503 hp in the hotter GT S model. Like the V8 in the BMW M5, the two turbochargers are mounted within the engine V — a set up that AMG calls a "hot inside V" — but unlike M5's engine, it boasts dry-sump lubrication. It's a configuration that minimizes turbo lag, sharpens throttle response, and lowers the center of gravity.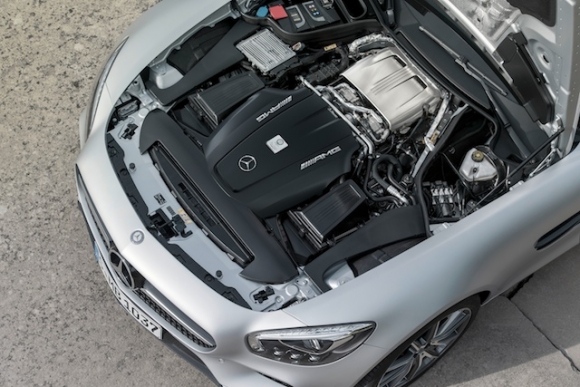 Power is put to the ground through AMG's 7-speed dual clutch transmission (don't hold your breath for a manual tranmission). Crucially, and like the SLS, this is a transaxle unit that, when combined with the front-mid mounted engine, gives the AMG GT an optimal weight balance of 47 to 53 percent, front to rear. Combined with gobs of torque from the turbocharged engine, this setup should yield oversteer on-demand.
Mercedes is holding off on announcing curb-weigh, but the aluminum space frame and body should keep things fairly light. We've heard rumors that suggest something around 3300 lbs. The sprint to 60 mph comes in 3.7 and 3.9 seconds for the GT S and GT respectively. Top speed is 193 and 189 mph. No speed limiter here, then.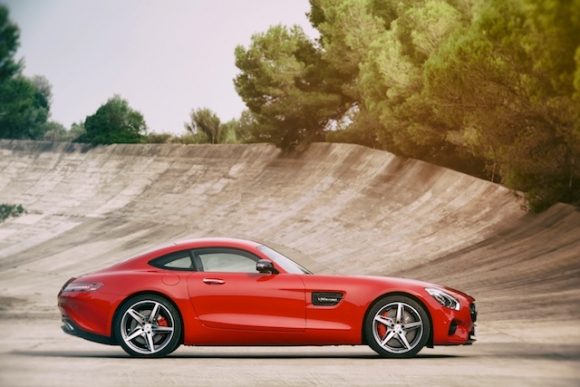 The SLS' three-box profile took some getting used to, but the GT's fastback rear has instant appeal. It's a sporty shape in a pleasingly small package, and has received a unanimous thumbs-up from the Drive Cult staff. A prickly bunch to be sure. It's a true two-seater, but Merc says there's enough room under the rear hatch to swallow two golf bags.
One gets the impression the AMG GT will be a bit friendlier than the SLS, but AMG promises excellent track dynamics, with everyday usability and practicality. We'll find out for sure what the AMG GT is all about when it goes on sale in the spring of 2015. Pricing hasn't been announced, but we've heard the GT will be competitively priced with the Jaguar F-Type, which, if true, is very welcome news. A drop-top GT seems likely, and a hardcore Black Series variant has been all but confirmed.
Gallery