The original C63 was a car near and dear to our hearts at Drive Cult. Now there's a new one with a smaller Biturbo V8. Time to see what it's all about.
The previous C63 was the car that finally made us sit up and start paying to AMG as a true rival to BMW's M division, but irony was we loved it so much because it wasn't trying to be an M car. Where the M3 was precise and revvy, the C63 was a blunt object — a machine that was more concerned with scorching its rear tires in the name of fun rather than putting in the fastest possible lap of the Norschleife.
We loved it, and now there's a new one.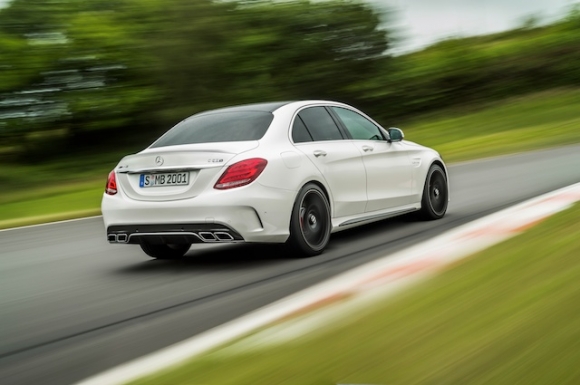 With the arrival of the new C63, the old AMG 6.2-liter V8 is officially dead, which is a shame, but the new Biturbo 4.0-liter V8 that replaces it is no slouch. It's the same V8 found in the recently announced AMG GT, and like the GT, it comes in two states of tune: 469 hp and 479 lb-ft of torque for the entry-level C63 and 503 hp and 516 lb-ft of torque for the hotter C63 S.
Mercedes quotes a 0-60 time of 3.9 seconds for the C63 S (the base model is 0.1 seconds slower) and an electronically limited top speed of 155 mph. All that, and improved fuel economy.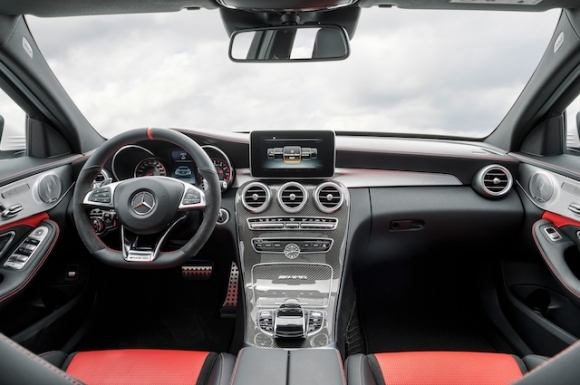 AMG has been embracing all-wheel-drive in its larger offerings recently, but, thankfully, that's not the case with the new C63. Rear-wheel-drive will be retained to maximize hooliganism. Power is sent via an updated version of AMG's SpeedShift 7-speed gearbox. Oddly, the C63 S comes with an electronic locking differential, while the C63 gets a mechanical locking diff, but Mercedes claims the electronic unit is faster and more precise.
Also standard are AMG 3-stage adjustable dampers and a speed sensitive variable steering system. Giant red brake calipers squeeze 390 mm rotors at the front and 360 mm on the rear. Carbon ceramics will be available as an option on the C63 S.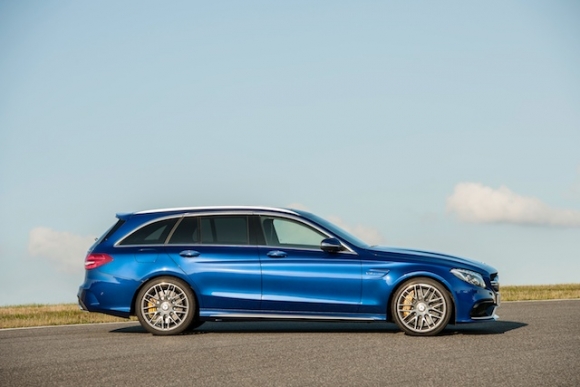 Looks are about what you'd expect. The latest C-Class is a good starting point, and the C63 ratchets up the agro with a low, wider stance, and some fantastic looking 19-inch wheels. Front and rear bumper treatments fall in line with the current AMG look. There's a wagon too, but no word yet on U.S. availability.
The old C63 has a bit of a reputation within the halls of Drive Cult. This new one seems like an altogether faster, more mature package, but lets hope AMG hasn't forgotten why we loved the original so much.
U.S. Sales begin in March of 2015.
Gallery