Summary text here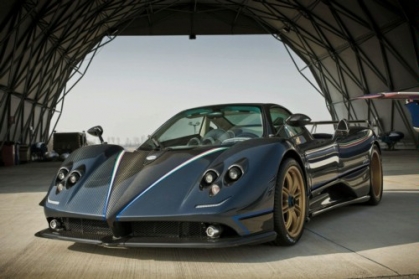 Pagani can't seem to stop making Zondas. Development of the their new car, tentatively called the C9, is well underway and will debut later this year. Yet Pagani continues to eke out limited edition Zondas. Not that Drive Cult minds. Even after ten years of production, the Pagani Zonda is an awesome car to behold and it continues to move the performance car game on significantly.
Scheduled to be unveiled at the Geneva Motor Show, the Pagani Zonda Tricolore is a one-off Zonda that celebrates the 50th anniversary of the Frecce Tricolore, the Italian equivalent of the our Air Force Thunderbirds. The Tricolore is, for the most part, based on the Pagani Zonda Cinque, of which there were only ten units built (five coupes, five convertibles).
Typical of Pagani, the Zonda Tricolore will have some outrageously cool technical highlights. Pagani's automated paddle shift transmission will again be mated to the 678 hp Mercedes AMG built V12. The tub is made from a Pagani developed carbon-titanium weave. It's basically carbon fiber reinforced with titanium wire, and it might be the coolest material ever.
The exterior features bare carbon fiber body panels coated with a blue lacquer, unique front LED lights, Italian flag striping and a vertical tail fin where an intake snorkel was on the Cinque. The purpose of this tail fin will be made known at the Geneva Auto Show.
Even in the rarefied world of Pagani Zondas, the Tricolore promises to be unique, as in only one will be built unique. Cost is one of those 'if-you-have-to-ask' cases. €1.3 million to be exact or 1.75 million of our US dollars.
-Jamie Wolfcale