The Zenos E10 is a new lightweight British sports car that's soon to be competing with the Caterham Seven and Ariel Atom. It's also a hugely exciting project for a new British car company, and we think it's going to be a big hit.
It often seems that all a new car manufacturer needs to get wall-to-wall motoring coverage is an arsenal of superlatives and some trick Photoshop skills. I roll my eyes every time I see phrases like 'new giant-killing UK sports car' or 'Britain's Veyron beater', but every once in a while, the giddiness of the press is entirely justified.
And so it is with Zenos. This new company isn't just dressing up old American V8s in questionable fibreglass clothing, nor is it simply rebodying an Elise, or seeking investors for ludicrously implausible electric supercars.
Ansar Ali and co-founder Mark Edwards had an idea for a technically simple, lightweight sports car that would cost from £24,995. They started, quite literally, with a blank sheet of paper. Not even the composite tub was on the table to start with - they considered any material that was light and cost-effective. It was only later, when a technical partner's director presented the recycled carbonfibre process to them, that they discovered it was the perfect fit.
The carbon monocoque (assembled from five separate panels, rather than a single moulding) is secured over a unique aluminium spine, which together give the E10 superb structural rigidity. Its body is finished with a set of lightweight composite panels at the corners, which can be individually replaced if they're damaged by a minor accident.
For the powertrain and mechanicals, Ali and Edwards turned to Ford - one of the major suppliers of their previous employer. Mounted transversely between the driver's back and the E10's rear axle is a naturally-aspirated Duratec 2.0-litre petrol engine, which is run through either a five- or six-speed manual gearbox. In the production car, power will be 200bhp for the E10, and 250bhp for the turbocharged E10 S. Both cars get the five-speed 'box as standard, while the six-speed transmission is a £1495 option.
A raft of factory-fit extras are available, including a limited-slip differential, composite seats, adjustable dampers, race harnesses, ventilated brake discs and even heated seats. The basic E10 is a whisker shy of £25,000, but a very high spec E10 S will be closer to £40,000. The big question, then, is whether it really is the bargain that it seems.
On a recent Pistonheads trip to the Zenos factory in Norfolk, I got behind the wheel of E10 Engineering Prototype 1 (EP1 for short), to gather some first drive impressions of this new sports car that would hopefully allow me to answer this question.
I took an hour before my drive to view the car in detail, along with EP2 and Zenos' green-panelled show car. The first thing that struck me was just how good it looks. The proportions and details are spot on to my eye - if there's a bad angle from which to view the E10, I couldn't find it. It's certainly a world away from the awkward Caterham Aeroseven - to which it is, conceptually at least, rather closely related.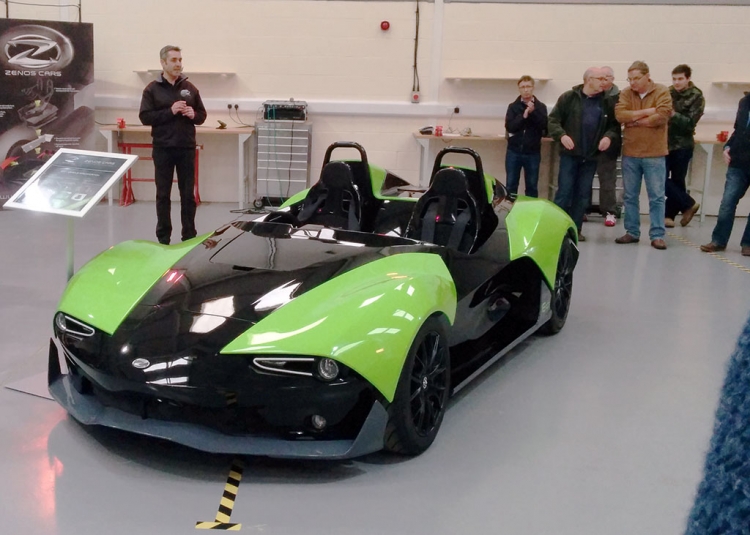 Mind you, EP1 and EP2 are no beauty queens. They are both beaten and bruised from many hundreds of miles of driving, working as test beds for various set-ups that Zenos is still perfecting. Much of the electric wiring is exposed, along with the gearbox linkage, and the handbrake lever isn't even connected.
Despite this, the E10 doesn't look like a cottage industry kit car. It's wider than a Porsche 911 GT3, as long as a Lotus Elise, and cocoons its passengers in a tubular steel safety cage as well as that carbon tub. It feels substantial.
We fire the engine up, which settles to a surprisingly throaty idle. Familiarising myself with the prototype's pedals - which are not representative of the production car's - the clutch goes all the way down, with a deceptively high biting point. No such guesswork is required for the brake pedal though, which has very little travel, and requires a firm foot to engage the pistons.
The familiar five-speed 'box slots smoothly from one gear to the next - Zenos has even kept the recognisable Ford gear knob (and why not?). You can immediately sense just how alert the E10 is with each input. Its steering is wonderfully direct, but not overly quick, and the stiff chassis bristles with feel. It doesn't feel as lively as a Caterham, but this is clearly a car that puts precision above flamboyance.
The engine is currently producing around 180bhp, and the car is 40kg heavier than the target weight, but the team is confident that 690kg will drop to 650kg on the next cars. What this means is that the stated 0-60mph time of 4.5 seconds is probably closer to 5.0 seconds in EP1 - not that you'd know it. It feels every bit as light and as fast as Zenos claims.
However, the real surprise is just how well it rides. There's none of the harsh crashing over bumps and potholes that I expect, and I'm directed down several rough, poorly maintained lanes as if to prove the point. Several Zenos staffers tell me afterwards how proud they are of the compliance engineered into the car, and rightly so. It's seriously impressive.
In fact, the whole car feels seriously impressive. The scuffed body, naked components, technical notes around the car and crudely bolted-on rear view mirror all suggest that this car will feel unfinished, and perhaps rather industrial. On the contrary, I'm astonished by how complete it is.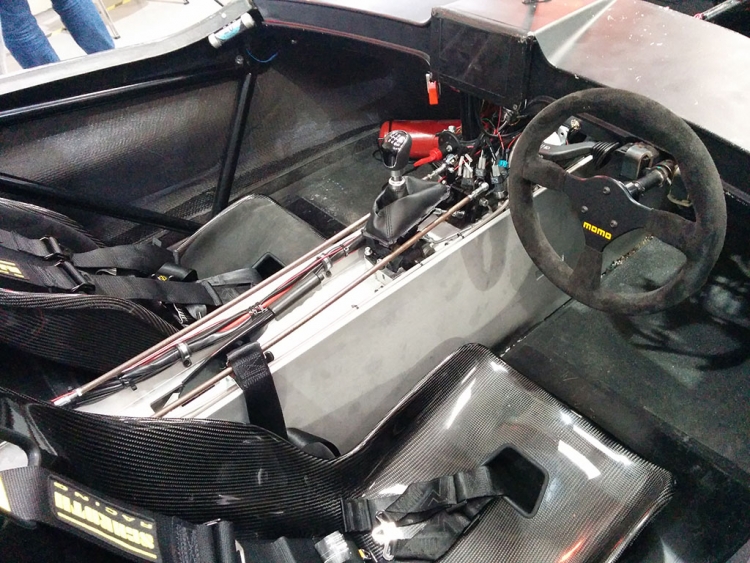 You expect prototype cars from multi-billion pound manufacturers to feel composed, but for a company as small as Zenos to have a unique chassis and mechanical set-up that feels so cohesive at this stage is remarkable.
My confidence in the company grows when I ask Ali where he found all of the staff to set-up and assemble the car. As I meet them around the facility, it comes as no surprise that nearly all are ex-Lotus or ex-Caterham. You can't help thinking that Ali and Edwards really are onto something here, and that some of their former employers' brightest and best have made a very wise decision in following them.
Within the next four years, Zenos plans to launch two further models - the Project E11 mid-engined targa, and Project E12 coupe. These cars will be tested even more rigorously and built to comply with European type approval for low volume manufacturers, not to mention the latest Euro emissions standards.
For now though, the next stage of development at Zenos is the build of the Validation Prototype (VP) cars. This batch of vehicles will showcase some of the features of production specification, including a lower-set gear lever (an inch or two closer to the floor than in EP1), plus the optional windscreen. The production car will also have an upright glove box between driver and passenger, as well as a standard-fit aeroscreen to deflect air around and over its occupants.
The cabin of the green-panelled show car previews the finished cabin, painted a lustrous gloss black over the recycled carbon, with two digital LCD screens in place of analogue instruments. It's yet another example of Zenos' simple but high-quality execution.
This green car will get even more exposure early next year, as it will be on display in the USA. It's not cruel teasing, either - Zenos Cars USA is already taking orders. Due to EPA regulations, the E10 will be imported as a 'shell' in much the same way as a Caterham, with engines sold separately prior to installation. That's yet another reason why the wholesale use of globally-available Ford running gear is an important part of the plan.
Pricing in the USA will start from less than $40,000 (excluding engine, gearbox and installation), but if the total cost ends up around the $55,000 mark, it'll be on par with rivals. For context, a USA-spec Caterham Seven 360 with 180bhp is around $58,000 fully built.
This brings us neatly back to talk about Zenos' pricing in the UK. The headline-grabbing figure is £24,995. For that, you get the 200bhp E10 with a five-speed manual gearbox, open diff, fixed dampers, composite aeroscreen and a 12-month/10,000-mile factory warranty.
Comparisons with Caterham are inescapable, so what can you buy from Dartford for similar money? The closest match on performance is the 180bhp Supersport R, which starts from £24,995 if you build it yourself. If not, it'll set you back £27,995. This car also has a five-speed 'box, fixed dampers, aeroscreen and a 12-month warranty, but you get a limited-slip differential as standard.
However, given that you can add the latter to your E10 for £995, it's still the cheaper car to buy. When you consider the E10's high-tech composite tub and sophisticated push-rod suspension, it looks like even better value.
What's more, if you read almost any standard warranty terms, they will say something like 'We give no warranty whatsoever for any components if you use this vehicle on a track'. However, in this regard Zenos breaks the mould once again. It offers an upgrade that extends all of the usual warranty cover to include full blown track use.
OK, it costs an extra £1995, but this includes installation of an oil cooler and uprated master cylinder, as well as ventilated discs with upgraded calipers. That means that even if you add a limited-slip diff and this 'track warranty', it's still no more expensive than its turn-key Caterham rival - and that's quite an achievement.
The other obvious rivals are the Ariel Atom, KTM X-Bow or a used Lotus 2-Eleven. You could even throw a Ginetta G40R into the mix. X-Bow aside, a budget of around £30,000 will get you a new or used example of any of these - but none can quite match the Zenos' blend of performance and practicality for the money.
What's most impressive about the Zenos project is that Ali and Edwards could easily have stumbled into the trap of creating spin-offs or pastiches of the cars they were previously involved with. Instead, they have succeeded in creating something that's not only original, but also astonishing value for money.
Too often, the media focus is on companies with billions on their balance sheets. So forget for a moment Jaguar Land Rover's ambitions of world domination. Forget for a moment our record-breaking factories pumping out identikit hatchbacks. Zenos may be small, but it is the most exciting addition to the UK motor industry for many years.
Top image: Zenos Cars
All other images: Ed Callow
Gallery