The Eifel classic returns for another year. Drive Cult returns to the Nürburgring to report on the 24 hour race with live updates throughout the weekend.
Race Results
For the first half of the last four hows BMW Team Schubert thrilled the crowds with a succession of very quick laps, closing up to within 20 seconds of the leader, however, with two hours to go, a mistake at Adenau Forst leads to a light impact with barriers, requiring some running repairs, and unfortunately dropping the Z4 out of contention for even a podium position, as two laps are lost in the process.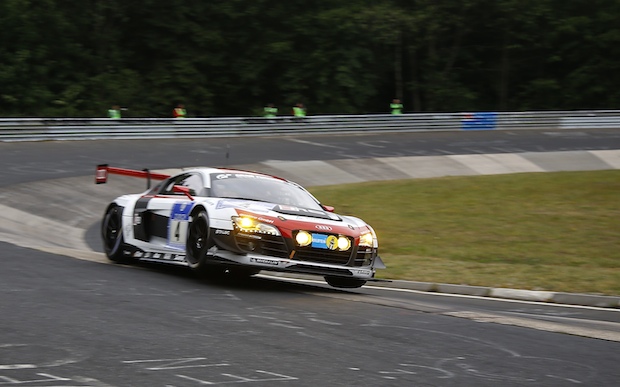 Christian Menzel at the end of his stint in the #1 Black Falcon Mercedes commented that the first 20 hours of the race were a pure qualifying session - and that whilst the Mercedes had been capable of trading fastest lap times earlier on in the race, as the pace further rose towards the end, they are unsure of being able to continue to compete with the pace of the Audi and BMW.
The increase in pace toward the end also makes sure that the distance record, standing since 2011, of 156 laps is certain to be broken… and at 16:00 on Sunday afternoon it duely is - with the leading pair - Audi and Mercedes both completing 159 laps, and the remaining cars in the top 6 all completing 157 laps.
The Top 6 consist in the end of 5 manufacturers - Audi winning, Mercedes completing the podium in P2 + P3, Porsche in 4th, Aston 5th, and BMW 6th, and if luck had gone a different way, any of those cars would have been worthy of winning the race.
First of all the #4 Phoenix Racing Audi which is crowned as winner, had a pretty faultless race, avoiding serious incidents and pit stop penalties. The #1 Black Falcon Mercedes finished a mere 2 minutes behind the leader, and without some time penalties for undercutting the minimum pit stop time, could have been much closer. The 3rd placed Rowe Racing SLS suffered from punctures during the race, costing it precious time, and additionally some time penalties for rule infringements, but was otherwise on the leaders pace.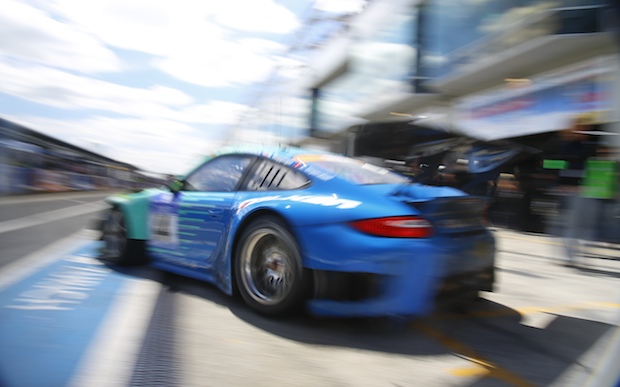 As for P4, the #44 Falken Porsche, struggled a little with traffic, losing 10+ second per laps in some instances, and also reported some drivers not respecting the yellow flags correctly, further hampering its progress, but perhaps was the least convincing on outright pace - its quickest lap of 8:23.361 was the slowest by around two seconds to any other car in the top 6 - with the likely reason for this being Porsche not further developing the 997 GT3 R for 2014 - ahead of the probable launch of the 991 based replacement next year.
In P5 the #007 Aston suffered from a fuel pump problem near the start, and had to fight back from that, but showed plenty of promise, and once more drivers Darren Turner, Pedro Lamy and Stefan Mücke were left to ponder what if.
Of course in P6, the Schubert BMW was up there with the leaders until close to the end, with me noting via my stopwatch, the gap closing significantly lap by lap to the leader, but this pushing leading to a mistake, and the necessary repairs costing it the chance to compete for the win.
As for the M235i? Well 4 cars finished within the top 50 overall for the race, with the top car in its class the #308 run by Adrenalin Motorsport, finishing 29th overall and completing a credible 138 laps, with a quickest time of 9:40.109. All in 11 cars were still runnning at the end, indicating BMW have done well to get ontop of the initial reliability problems with the car, and showing promise for next season.
Another honourable mention should go to Lexus, again for bringing their fabulous LFA to the race. This year they were running two - the regular 4.8 litre V10 powered version which has graced the race for the past six years, with its howl sending shivers down spectators spines, and a new enhanced version, labelled LFA Code X, with an enlarged 5.3 litre V10. Gazoo racing, the toyota factory team which runs them recorded their finest finish to date, with the #53 Code X LFA finishing in P11, having completed 151 laps, and the Standard #48 car coming home in P13, with 148 laps completed.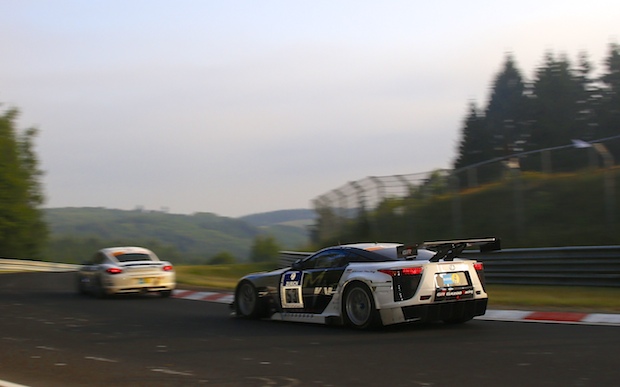 I don't know if we will see the LFA at the Nürburgring 24 hours again, so will take this opportunity to thank Lexus for treating us with this very special car, but also to acknowledge to my ears at least, that the standard car still sounds best! - although others in the media centre reckon the Code X would sound better without the FIA restrictors.
#4 Phoenix Racing - Audi R8 LMS - 159 laps
#1 Black Falcon - Mercedes SLS GT3 - 159 laps
#22 Rowe Racing - Mercedes SLS GT3 - 157 laps
#44 Falken Motorsports - Porsche GT3 R - 157 laps
#007 Aston Martin Raving - V12 Vantage GT3 - 157 laps
#20 BMW team Schubert - BMW Z4 GT3 - 157 laps
#15 HTP Motorsport - Mercedes SLS GT3 - 156 laps
#28 Walkenhorst Motorsport - BMW Z4 GT3 - 154 laps
#502 Audi Race Experience - Audi R8 LMS - 153 laps
#16 Twin Busch - Audi R8 LMS - 152 laps
Live feed
Here's the official race live stream and Radio Le Mans commentary, both in one conventient package. Also, if you want to get really geeky, here are links for the official live timing and entry list.
Race update at 12:00
20 hours completed, 4 hours to go. It seems like the marathon is almost over, and yet there is still a typical endurance race length of time still to go.
Attrition is the word of the day, with the dry conditions and resulting high pace placing its toll on drivers and machinery. Both McLarens have fallen by the wayside, as have 3 of the Z4 GT3s, including the highly fancied #25 car with Maxime Martin and Uwe Alzen amongst its pilots.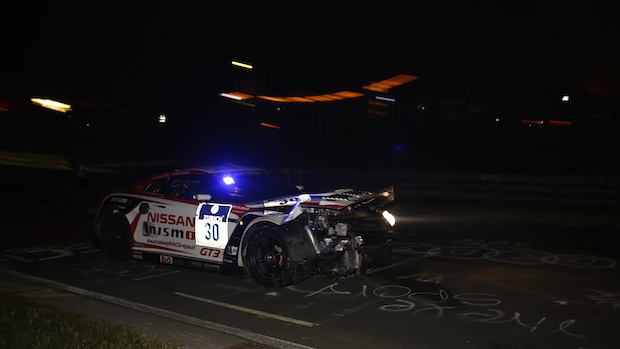 Other casualties include the #30 Nissan GTR, which had a heavy frontal impact
At the front the battle has continued to be waged imperiously between last year's victor - the #1 Black Falcon Mercedes and the #4 Phoenix Racing Audi, with the #20 Schubert BMW hanging on to their coat tails slightly further back. Right now the Schubert car is actually in 2nd, but has a 90 second stop + go penalty still to take, which will reverse those positions.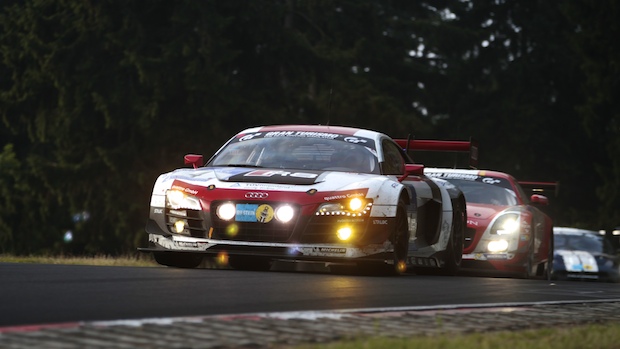 Top 10 with 4 hours to go:
#4 Phoenix Racing - Audi R8 LMS
#20 BMW Team Schubert - BMW Z4 GT3
#1 Black Falcon - Mercedes SLS GT3
#22 Rowe Racing - Mercedes SLS GT3
#44 Falken Motorsports - Porsche 911 GT3-R
#7 Aston Martin Racing - Aston Martin V12 Vantage
#15 HTP Motorsport - Mercedes SLS GT3
#23 Rowe Racing - Mercedes SLS GT3
#28 Walkenhorst Motorsport - BMW Z4 GT3
#16 Twin Busch - Audi R8 LMS
Race update at 03:00
Somehow I've ended up pulling an 11hr stint out with the cameras, leaving not much time to write updates.
I need to grab some sleep now, as am too tired for words. Here is a snapshot of the race so far: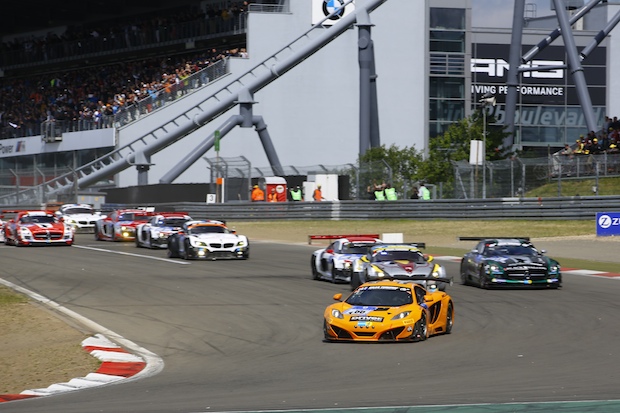 The #66 Mclaren went off very quickly at the start, but fell by the wayside a few laps in, needing a visit to the pits. It got running again but has dropped down the order.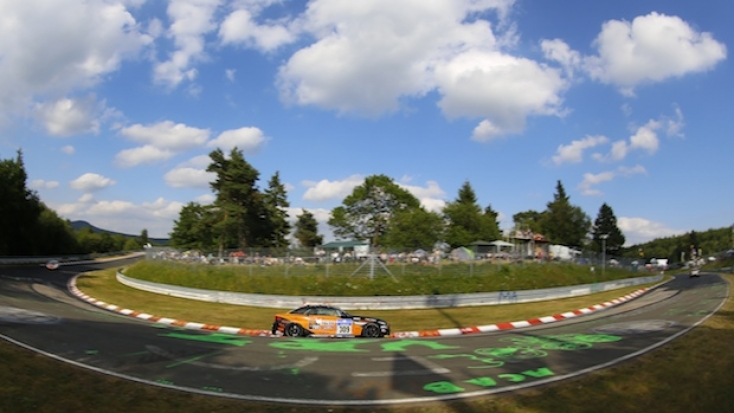 Most of the M235i's appear to still be running and look well suited to the Nordschliefe.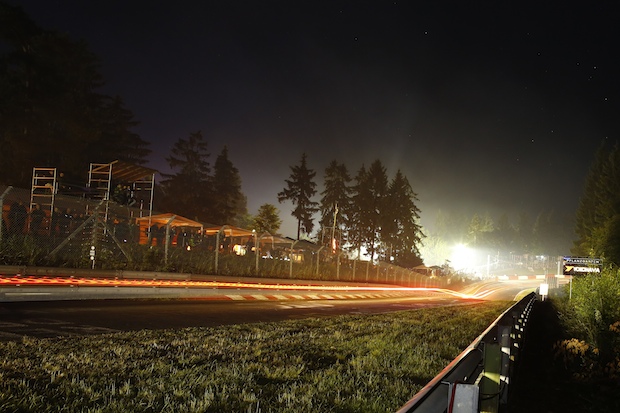 Pflanzgarten at night is a special place, with cars jumping and occasional showers of sparks shooting out upon landing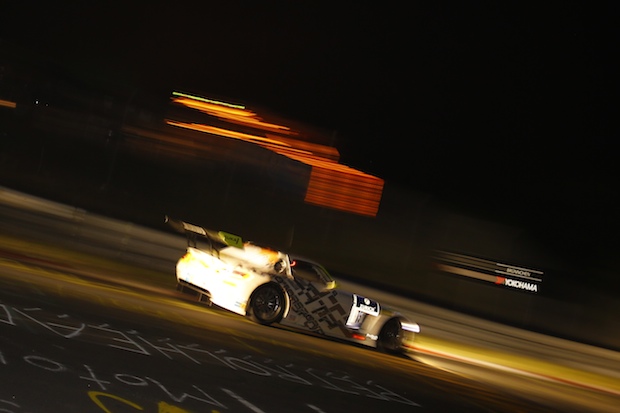 If you have ever epxerienced a GT1 or GT2 Corvette, you will have an idea of what its like to have a SLS GT3 go past, the side exhausts ensure that the armco vibrates to the beat of the massive V8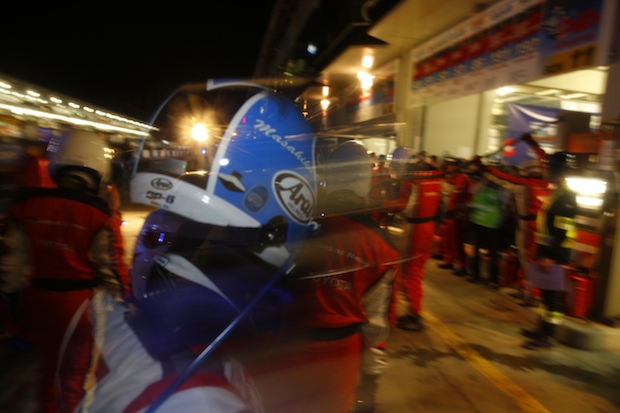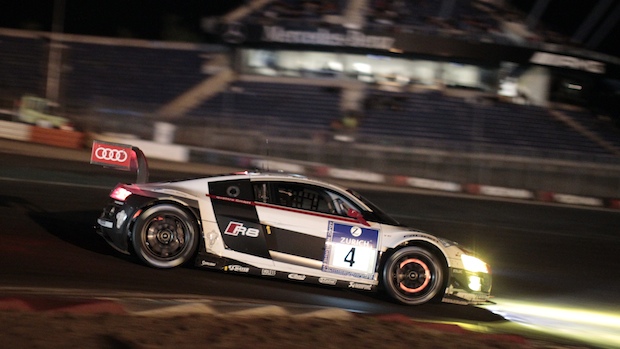 There is an hour until the half way point, and after 70 laps the current top 10 looks like this
#4 Phoenix Racing - Audi R8 LMS
#1 Black Falcon - Mercedes SLS GT3
#20 BMW Team Schubert - BMW Z4 GT3
#14 Black Falcon - Mercedes SLS GT3
#22 Rowe Racing - Mercedes SLS GT3
#44 Falken Motorsports - Porsche 911 GT3-R
#15 HTP Motorsport - Mercedes SLS GT3
#10 Abt Racing - Audi R8 LMS
#502 Audi Race Experience - Audi R8 LMS
#17 G-Drive Racing - Audi R8 LMS
Qualifying
Dörr Motorsport's McLaren MP4-12C GT3 #66 lit up the Eifel today in qualifying today, setting a new qualifying record for the Nürburgring 24 hours: 8m10.921.
To put that time in perspective, it equates to a Nordschleife lap time of under 6m30s, possibly close to 6m20s. In other words, pretty damn close to Bellof's immortal 6m11s in the Porsche 956.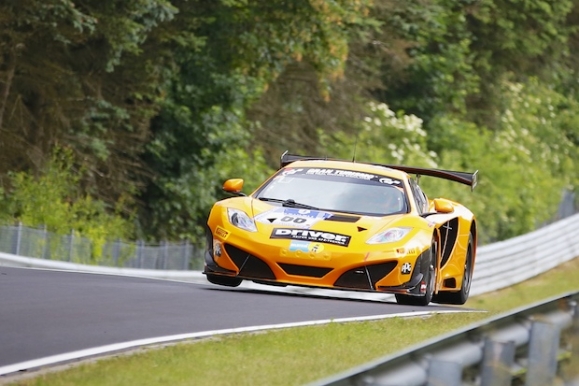 The commitment and composure shown over the 25 kilometres by Kevin Estre to set this sensational time was tremendous, and has been visible around the track throughout all of qualifying but in particular during the Top 30 session on Friday afternoon.
Maxime Martin in the #25 Z4 GT3 was 2.5 seconds behind the McLaren, with Chris Mamerow in the #4 Audi R8 a further half a second behind, and Adam Christodolou in the #14 Mercedes SLS just behind.
The full top 10 grid looks like this:
#66 Dörr Motorsport - McLaren 12C GT3 - 8:10.921
#25 BMW Team Marc VDS - BMW Z4 GT3 - 8:13.497
#4 Phoenix Racing - Audi R8 LMS - 8:14.117
#14 Black Falcon - Mercedes SLS GT3 - 8:14.290
#19 BMW Team Schubert - BMW Z4 GT3 - 8:14.848
#3 Phoenix Racing - Audi R8 LMS - 8:14.868
#1 Black Falcon - Mercedes SLS GT3 - 8:15.176
#502 Audi Race experience - Audi R8 LMS - 8:15.176
#007 Aston Martin Racing - Aston Martin Vantage GT3 - 8:15.834
#80 GT Academy Team RJN - Nissan GTR - 8:15.922
Preview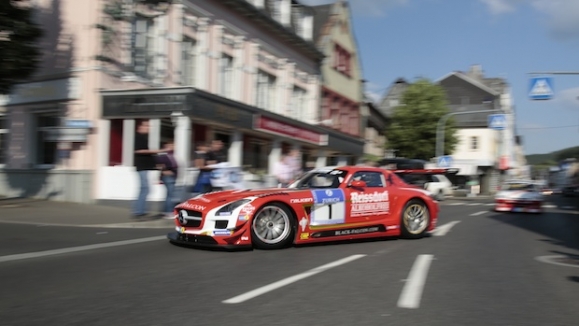 Another year brings me back to the Eifel, the varied melodies of hundreds of piston engines will soon be resonating through the forests around to sacred Tarmac of the Nordschleife.
Yes, it's the weekend of the 24 hour marathon once more and everything which comes with it: sunburn, showers showers of rain and extreme sleep deprivation.
In the past four years, the race has been won by BMW, Porsche, Audi and Mercedes, with each race bringing a number of contenders, crestfallen losers and just one champion.
The race is on the 3rd weekend in June this year to attempt to avoid the weather related fiascos of recent years, with lengthy stoppages due to fog and extreme rain, and upon arrival an extremely clement 17 degrees and sunshine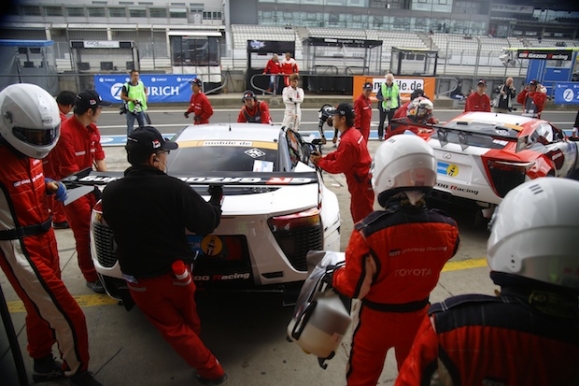 The breadth of field in the 24h is amazing, with the top classes SP-PRO and SP9-GT3 comprising entrants from Aston, Audi, BMW, Ferrari, Lexus, Mclaren, Mercedes, Nissan and Porsche. This means over 30 cars with a chance to challenge for the overall win…which would be considered a decent sized grid in most championships.
Here though with over 160 cars, and more than 600 drivers they comprise just a fraction of the field and the variety of entries up and down the paddock is utterly breathtaking with new entrants like BMW's latest M235i Racing, and welcome returnees like the Opel Manta which has been gracing the race for over 30 years.
One item which has piqued my interest is the growing proliferation of "affordable" manufacturer built cars for the lower classes - with the latest in this vein being BMW's M235i Racing - which whilst certainly not cheap - at just under €60,000 - is considerably more affordable than the €400K+ cost of a BMW Z4 GT3.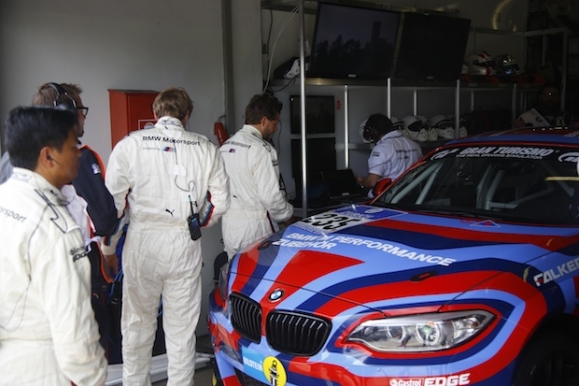 The idea behind this, is to produce a reliable, proven competitive car at a price where keen amateurs can compete - reducing the heartache of early exits from races due to component failure and thus increasing enjoyment for the drivers.
That's the idea anyway, in the M235i's case, there have been some teething issues in its inaugural year, with BMW being forced to pull the stops out to improve reliability - but you can see the idea and it makes sense.
It seems that BMW, and Audi with their TT-RS and others , are looking to latch onto the benefits of customer motorsport that Porsche have been reaping for decades with their Carrera Cup cars, and I see this largely as a positive for the sport, with the slight balance being that it will become less likely in future to see privateer developed cars challenging for the overall lead - as it becomes hard to compete with manufacturer resource.
There are 15 M235i entrants this year, racing in a dedicated class, and I will be reporting on this along with the challengers for the overall win.