Summary text here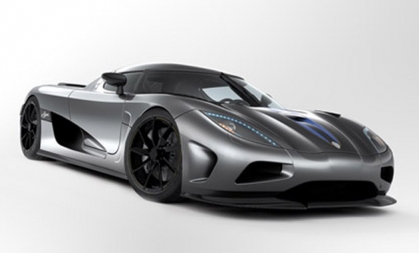 Other than not buying Saab, Swedish super car company Koenigsegg has stayed pretty quiet over the past year or so. They plan on breaking their silence in a big way at the Geneva Motor Show next week with the Agera, of which GTSprint.com has released exclusive images and specs.
The Agera is essentially a reworked CCX. Many of the body panels are carried over as is the basic architecture and engine. The 4.7 liter twin supercharged V8 now produces 910 hp and 1100 Nm of torque at 5100 rpm. This combined with a dry weight of 2832 lbs., translates to a 0-60 time of 3.1 seconds. Top speed is estimated at 245 mph. Shifting duties are handled by Koenigsegg's own transversal paddle-shift transmission. It's stupid fast then.
On the outside, the Agera gets new front and rear fascia, updated front and rear lights and a taller rear spoiler. GTSpirit.com says the interior has been significantly revised too, but no picks are available.
It looks like we're set to have a pretty exciting Geneva Motor Show next week. In the meantime, head over to GTSpirit.com to learn more about the Agera.
-Jamie Wolfcale
[GTSpirit]