Tucked away in the depths of the news channels is a gem of a motoring show. Prepare for something unlike anything you've seen before...
With talks of the future of Top Gear and the pool of Internet car videos (of both staggering breadth and technical depth), it's easy to overlook what broadcasters are doing on TV. Fifth Gear, the kind old uncle of motoring programmes, continues with consumer advice and reviews focussing on practicality mixed with a little oversteer and car nerdery, while Discovery sends Mike Brewer to more and more outlandish locations in search of motors to do up and sell for a profit. However, hiding in the shadows of these motoring standards is a little show tucked away in the depths of your TV planner. Ladies and Gentleman, feast your eyes on Samurai Wheels!
Made by Japanese national broadcaster NHK World, Samurai Wheels introduces "Japan-made automobiles. It will focus on not only new technologies but also lifestyles with vehicles." It's presented by former F1 driver Ukyo Katayama, motoring journalist Peter Lyon, and according to the programme's website, "Sarah Hannon (Model)".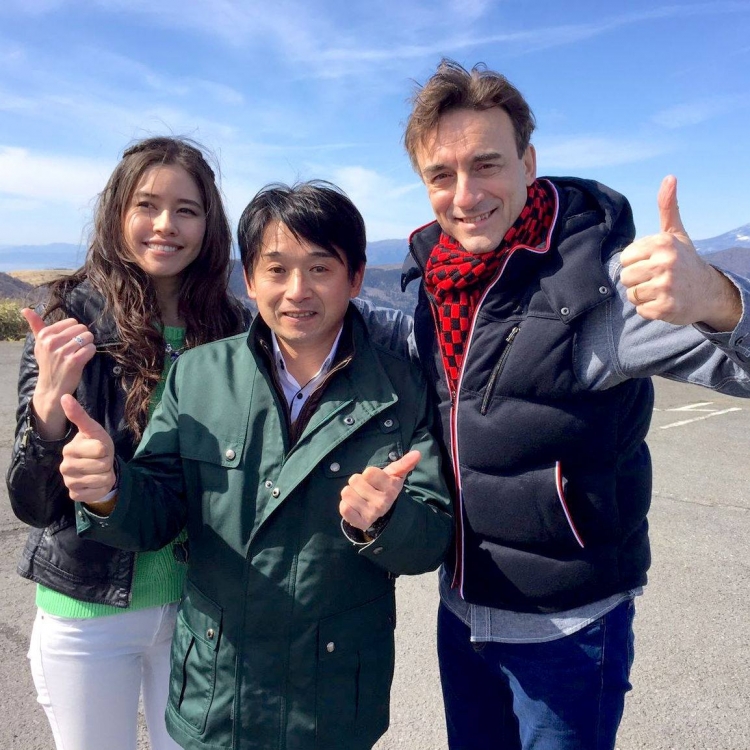 A recent episode saw the team look at the new Subaru WRX STi. What better proponent of Japanese technology is there, with a motorsport heritage both in the forests and more recently running at the Nurburgring and the VLN? After a short graphic explaining what a Boxer engine is and why it's better than a V engine (Low centre of gravity! Less vibration!) they have a short interview with the lead Subaru engineer who explains they wanted to bring performance to the road, while ensuring the car is stable and safe.
The trio load into a press car and go for a drive. Ukyo demonstrates the lack of turbo lag, Peter explains how turbo lag used to be a big problem but Subaru have now solved that. Ukyo says how stable the car is, and Sarah agrees from the back seat that it feels very stable. It's fantastically bland. I'm guessing there's a desire to highlight to the world how great Japanese industry is, but by focussing on what they consider important, it's the complete antithesis of what Western car TV is all about.
The show's secret weapon could be Ukyo Katayama, if only they'd give him something to do. His CV boasts a five-year F1 career and a class win at Le Mans (and second overall), and despite English not being his native language, here he is co-presenting an English language TV programme. He's a great addition to the team, but sadly with very little driving to do he doesn't get much chance to shine. I haven't driven a Daihatsu Copen, but his assertion that it's similar in handling to a Le Mans prototype is one that I'll put down to hyperbole, rather than a critical evaluation.
If you're not thrilled by seeing three people attending a press launch (yes, really), asking very leading questions of car company middle managers and offering thoughts on car dynamics that make most pre-launch ride-along features look like damning investigative journalism, then you'll love the colour segment of the show. This includes visiting a car accessories shop and marvelling at the range of air fresheners available, or most recently looking at the wonderful world of motorway service stations. Unlike the UK, where service stations are places you dash into to use the bathroom while avoiding talking to the person selling breakdown cover, in Japan they're apparently a kaleidoscope of culture where people make a point of visiting to try local delicacies, learn new vocabulary, and use a foot spa while overlooking the car park.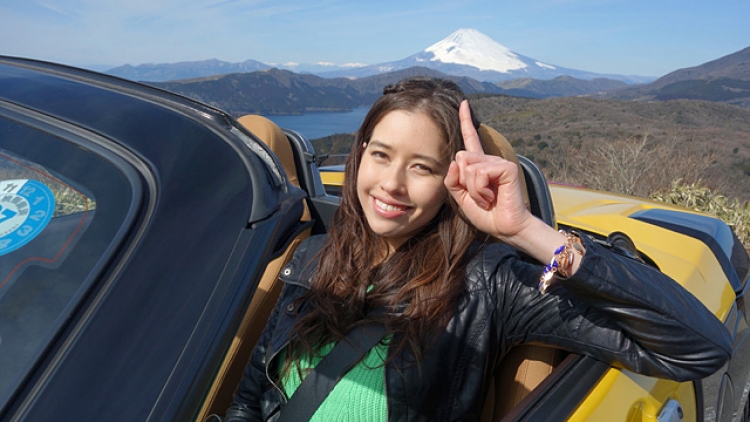 To be fair, the programme is still young, with a new episode every month or so. The latest episode looks at the Lexus RC F, and sees Ukyo go dubbed which helps his contributions. A bit of track-based tail-out action follows, along with not at all critical evaluations of the Lexus's handling and drivetrain. We learn that it's stable under braking, and that it's also very safe and reliable. Sarah is asked to comment on the interior, and doesn't spot that the dash looks like five different people designed it without ever meeting. That said, it is nice to have a high performance car allowed to be given its head, and have Katayama display some of the skills he's obviously got.
Unfortunately the show always seems to run out of content with about three minutes to go, so the final segment of the programme involves strapping a GoPro to the front of a car and driving around a bit of Tokyo. Imagine C'était un Rendez-vous if Claude Lelouch had overslept and driven into Paris just before rush hour while carefully following the traffic laws. To ensure it's not too stimulating, there's no hint of road or engine noise, and instead a bed of calming music is put underneath to lull you into the next news bulletin.
It's interesting to hear people like Chris Harris say they make a point of avoiding Top Gear-type ideas. Their desire is to do something different and forge their own identity. Japan has traditionally suffered from Galápagos syndrome - that is, developing their own cultures, languages and attitudes due to being historically isolated from the outside world - but Samurai Wheels appears to have been formulated by someone who is unaware that other car programmes even exist. It is gloriously unique in shunning ideas like excitement, and keeping the passion as low as possible. I wonder what the budget and the editorial direction around it are, and why they chose the presenters they did. It's a wonderful little curio of what car TV would be like if Top Gear had never existed. You may not look back with reverence on that classic time the Mazda CX-3 clean diesel technology was explained, but it's certainly unlike anything else you'll watch about cars.
NHK World is found in the UK on Sky channel 507, Freesat channel 209, Virgin Media channel 625 and online at http://www3.nhk.or.jp/nhkworld/. Samurai Wheels is also on Facebook.