While the prestige car market goes into the stratosphere, there's one area that seems to be overlooked. Chris looks into how you could purchase a piece of F1 history, direct from the factory that built it.
I really enjoy watching the classic F1 races that Sky and the BBC dig up from their archives. It's funny to think how races from my lifetime now look so dated. Pit stops of ten seconds done by mechanics in short sleeved shirts, while cars tear down a narrow pit lane with the throttle pinned. The simplicity of the driver's cockpit. The cars that were once cutting edge (or not so cutting edge in the mid-80s) now look bluff and unsophisticated. However, there's also a beauty in their simplicity. Cars like the FW14 that took Our Nige to his driver's crown, or the 1991 Jordan that gave Michael Schumacher his first F1 start, are streamlined machines free of flicks, winglets and multi-cascade front wings.
I grew up at the height of Mansell Mania when the yellow, white and blue Williams cars were dominating, and the Didcot factory in the shadow of cooling towers was as mystical as anywhere in Northern Italy. While times may have changed and F1 teams have grown (including Williams moving to a new factory in nearby Grove), the childhood memories of those cars remains. Many F1 teams have warehouses increasingly stuffed with old cars and parts, and while McLaren may dig through their magnificent warehouse to send some to their car dealerships to mount on the walls, other teams give them a dust down, run them in public demos at events like the Festival of Speed and discover a queue of people wanting to buy them.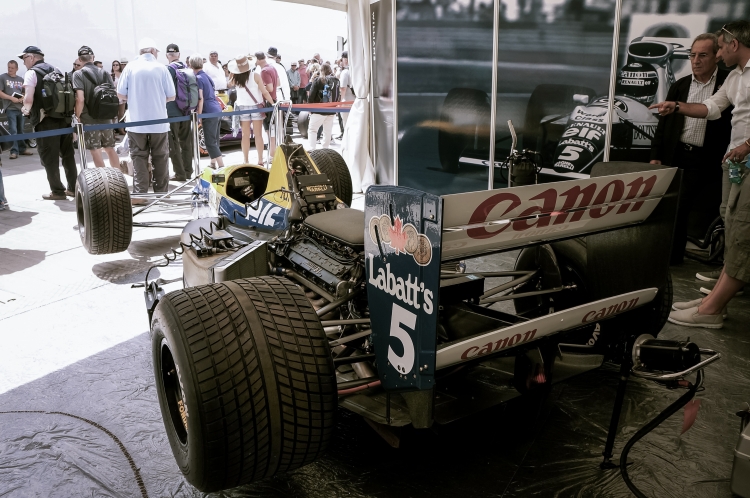 While there are F1 cars available on the open market to be raced or run by specialist firms, some F1 teams offer the full factory package. Ferrari has been doing this for years through their Corse Clienti programme, allowing anyone with a very large wallet full of Euros to perch their Nomex-clad bottom in a space designed around Kimi Raikkonen or Rubens Barrichello. Earlier this year Williams Heritage was launched with Jonathan Williams and former race team manager Dickie Stamford at the helm (incidentally, Dickie's Twitter account is well worth a follow if you like seeing old F1 cars being worked on!) This allows the team to sell cars, through their agent Cars International, and also offer factory facilities for servicing and replacing parts. Williams have a huge archive of original drawings and CAD models, as well as access to suitable suppliers for parts they don't make themselves, which allows the cars to remaining in running order decades after they last raced in F1.
Like old expensive cars that have depreciated to a fraction of their original value but the servicing still costs a fortune, the same is true of old F1 cars. Williams Heritage is staffed by people with F1 careers and F1 mentalities. The workshops are spotless (if not quite as slick as the race bays for the current cars), and work undertaken is done with more attention to detail than cost. To get an old car running again isn't simply a case of changing some fuel lines and a squirt of Autoglym; you should expect a bill of about £100k to have a car fully readied to run. Safety is also a huge consideration with older cars, but with a full history for each car - which the owner receives with the purchase - Williams can ensure that their cars are both fit for purpose and safe for their new owner.
In a sport where 20 people are needed to quickly change the tyres on a car, it's perhaps more surprising that the FW13B which Alex Lynn drove up the hill at this year's Goodwood Festival of Speed was attended by only two mechanics for the whole weekend. The costs to run a car for a day - including hiring a suitable circuit with no noise limits - won't be cheap, but turning the engine down a little from full racing spec and running on suitable Avon tyres instead of period rubber all helps to keep costs manageable. Well, as manageable as they can be for cars designed as highly strung, technical masterpieces.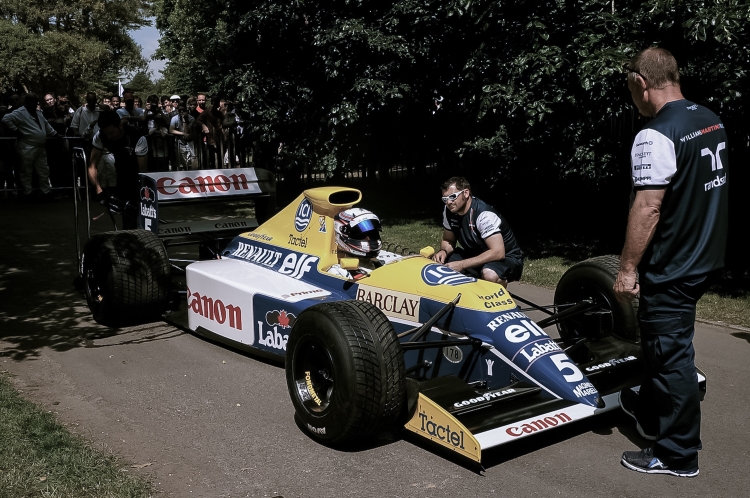 Ah yes, costs. To buy an F1 car isn't difficult, with a quick scan round the Internet showing plenty of cars between £100k and £300k for an early 2000s Jaguar. Some of Williams' stock are non-runners, such as an ex-Rosberg FW30 missing its Toyota engine - though I was told they could probably source one from Toyota and fit it, but it would cost several hundred thousand pounds to do so! I'm intrigued by the idea of show cars since while they might be a great centrepiece for a reception area in a sponsor's HQ, they're otherwise largely carbon fibre sculptures. And when I say largely, I also mean size. F1 cars are bigger than you'd think. They're around 6 feet wide, 15 feet long, and not the sort of thing you can stick in the garage alongside bicycles and the lawn mower. However, they'ee much cheaper, relatively speaking, and a good route into F1 car ownership if you're just getting your collection started.
However, if you want something that runs with the correct engine, you'll be looking around £300k-£500k, and if that something has a string of wins and maybe a championship too, expect to pay a seven-figure sum. It sounds like a lot for something that you can't just go for a drive in on a Sunday morning, but this is Ferrari F40 money these days and far, far less than Rowan Atkinson's well-loved McLaren F1. To me, that makes the F1 cars with a history look rather undervalued.
The F40 comparison is probably apt, too. These are cars that demand skill and confidence to drive, and a cautious lift or early braking effort will be obvious to anyone within a mile radius of your unsilenced V10. Even Alex Lynn was reportedly cautious driving a Williams up the Goodwood Hill, wanting to both bring the car back in one piece and not risk an 'off' and end up the star of a hundred YouTube crash videos. For those that have driven F1 cars, they say that the performance is unlike any other sort of car, and as someone who was left speechless by the acceleration of a 911 Turbo and a Tesla in 'Insane Mode', I can't imagine even trying to get a fast lap out of an F1 car.
For those with the talent and budget, there are race series for older F1 cars. BOSSGP and the FIA Masters series are both open to these Williams cars, but offer a bit of a quandry; Williams currently offer an FW07 for sale, a number of which are racing in the FIA Masters, but those cars have been continually developed with originality taking a back seat to increasing the car's pace. I'm sure that won't diminish the maket for either collectors or racers, but rather develop opportunities for both.
It's said you should never meet your heroes and for me, F1 cars, as much as the drivers, are heroes. Looking at an F1 car up close is to examine a thing of extreme precision and ingenuity. They are the ultimate expression of form following function, pared to the bone for speed. That Williams is running a department to keep old cars running is fantastic news, and will hopefully mean more cars out running and on display to the public. If my numbers ever come up, and Williams can find a chassis that can cope with my 6'2" frame, I'll be out there too driving one of my heroes more slowly than it's ever managed before.
Gallery