AMG gives this 80s cruiser some sporting intent
Today the AMG name is widely known as Mercedes' in house tuning arm. AMG branding is used on everything from bodykits on humble diesel C Classes up to the hottest cars in the Mercedes lineup such as the AMG GT sports car. Back in the 1980s though, AMG was still an independent tuning company offering aftermarket conversions on Mercedes and bizarrely Japanese domestic market Mitsubishi Galants!
Whilst on a recent shopping trip to Mark & Spencer at Brooklands I spotted one of AMG's earliest works – a modified R107 SL – lurking in the car park. A subsequent Google search revealed that AMG offered a wide range of modifications to the R107, such as bodykits, larger engines – including their 6.0 'Hammer' spec V8 – and also manual gearbox conversions.
The owner was not around to ask, but I suspect this particular car was subject to more cosmetic and suspension changes than added power, as it still sported a standard 500SL exhaust. Nevertheless with the chrome work black out, lowered and on the lovely period AMG 'Penta' wheels it looked the part. The dealer sticker on the back window indicated AMG's only UK dealer in the 1980s, Manchester based Stratton, had supplied it.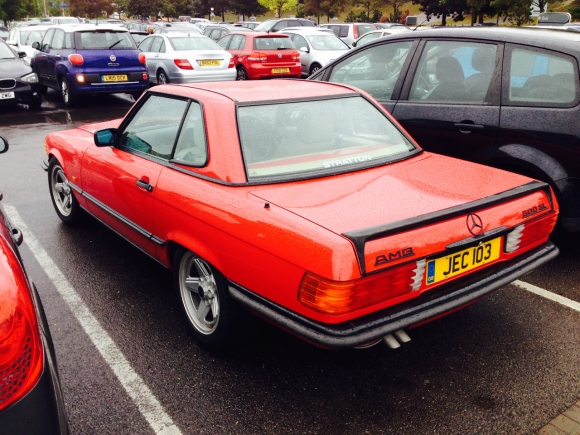 The R107 was always a cruiser, but thanks to the tweaks from AMG this car looked to have a much more sporting intent and was all the more desirable because of it.