Chris Ratcliff catches up with Richard Tuthill, rally driver and head honcho of historic Porsche specialists Tuthills Porsche.
Richard Tuthill is a member of an elite club of people who can both build and drive rally cars to the highest standards. Behind the wheel he's driven at both high-level stage rallies including trophies from the British Rally Championship, and longer cross country rallies and historic events.
As well as his work behind the wheel, he also builds Porsches, both rally cars and road cars. His company Tuthills Porsche has a growing reputation for building historic Porsche road cars with modern underpinnings, with many of their cars featured in print and on the Internet.
What would you say your job title is? What's your role in Tuthills Porsche day to day?
I must assume that my title is a Director of the company! My day to day role is varied, but includes sales and marketing as well as a technical overview on everything we do. I test almost all cars that come through our workshop!
How did you get your introduction into the Porsche marque?
Via my father, Francis [a successful rally driver and builder in his own right, including a rally from London to Sydney, Australia!], the founder of the company. Inevitable, I suppose!
Tuthills is well-known for its project cars and custom work. What's been your favourite car you've built?
We do everything from 356 to 997, but our speciality has been the early cars for sure. The Chris Harris green car was a fascinating project, but every day we find new and exciting things to do. Right now, for example, I'm doing a new road car project based on a 912 shell. I love trying to improve every area - currently we are looking into gearboxes. We have just finalised a dog engagement kit that is now running in a standard 915 case; it changes everything about the car and is extraordinary. It is available as is currently in H pattern form and soon we will have a conversion kit for paddle shift for this and all early gearboxes. This will be fascinating. Though changing gear manually is a great part of the whole driving experience, to have a bit of new technology brought into various aspects of the car is a good thing. I believe this is one of them.
What is the most unusual or special car to have come through your workshop?
I don't know! We have just restored a 1965 2.0 ltr car that is lovely. Factory RSRs are special, but in reality they are all great. We run a 3.5 ltr almeras specification car in Belgium and with the new gearbox it is simply mind- blowing.
Every winter you run ice driving courses in 911 rally cars. What sort of people attend these events? Rally drivers looking for practise, or road drivers looking for a new challenge?
Everyone is welcome, we have 16 year olds through to top line racing and rally drivers. We tailor every day to the individual or group, so we can cope with everyone. It is a fantastic part of our business, and we have so many repeat clients that it grows each year. I believe the reason for the success is that essentially we have 6 - 10 Porsche rally cars on a lake and allow everyone to get on with it. As long as you are within reasonable limits you can do what you like. Some want tuition and we use current WRC stars to teach, but others are there just for fun. We're seven years in and its still a great feeling to run these courses.
You've been involved in rallying for many years; what do you think to the current state of the WRC?
That's a tricky question. It's great to see MINI come in and create some excitement, but it's all about personalities and the fight to win, and we don't see this enough. I have every faith that with Michele Mouton in charge things will improve; she is an amazing woman and was involved when rallying was at one of its cyclical high points. When Burns, Mcrae, Sainz, Kankkunen etc were at the top it was also great. It's a shame that it can't remain how it was, but I understand that commercial pressures and TV requirements do dictate the itineraries of events. It's a delicate mix.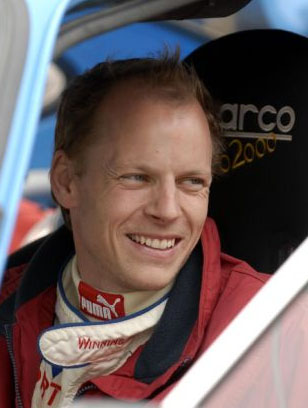 On the longer adventure rally events you've competed in, like the Transsyberia Rally, what's it like being a participant in these wilderness events? Is there a different sense of achievement compared to driving through a Welsh forest?
Any time you are in a rally car it's wonderful. When you shut the door, you can't think about anything else other than getting to the end of the stage as fast as possible. In today's world it's difficult to find anything that allows you this freedom; you get a wonderful sense of clarity. We are so lucky to do great events, from the Safari to Transsyberia. These long events are life-changing. It sounds over the top but it's true. When you go on these sorts of events it's like stepping out of the normal world and into another, better one, the reason being you have only one mission, which is to get to the end and hopefully to win. Normal rules do not apply. It is a genuine privilege to be involved, though sometimes it takes 6 months to realise that, as there is always a lot of pressure.
What was your inspiration for the Porsche Challenge this year? How do you feel the series has gone? Has it been a logistical challenge?
A few things. Firstly I wanted to create a simple way into rallying for newcomers, as well as an alternative option for those already involved. The way it works is simple for all. On the client side they have no decisions, which reduces time commitment and it's a fixed cost, which makes it easier to budget for. From our side it's easier to manage, too - we can provide the best service as we don't have to get sign-off from all clients when making decisions, from brake pads to gearbox rebuilds. It really is arrive and drive. Logistically it's easy for us to do, so that's no problem. We had 3-4 cars on most rounds so it was a good start. I would love to see more next year and I am delighted to say that all involved this year had a great time, so we will keep working on it.
If money and time were not a factor, what Porsche would you build for yourself?
Impossible question! It would have to be a mix between my Skoda Octavia estate (with DSG), a Panamera and a 1965 2.0 ltr. I have no idea what it would look like, but I know exactly how it would handle, how it would sound on the inside (super quiet) the outside (like a 2.8 RSR), and I could get my wife and 3 lovely children in comfortably. It would have to weigh 1000kg and be safe! As I said, an impossible question.
What are the future plans for Tuthills Porsche?
We are only just beginning. We have had great success racing this year, and I'd love to do more. Rallying continues to be wonderful and we need to win the Safari rally with Björn as Porsche has never won [Note: this interview was conducted last year, before Björn Waldegård's historic victory on the Safari in a Tuthills-run 911 - Ed]. We get wonderful restorations and road car projects so we are keen to continue with this. I am also pushing really hard to drive in the WRC in a 997 next year but I need the FIA to help! Anything in connection with Porsche is great, it's a special brand and I very much hope that it continues to prosper and that we can continue to be involved in all that it offers.
---
Not long after we interviewed Richard, we heard of the astonishing lengths he went to keep one of his cars in the Safari Rally for historics. For the full, amazing story click here.
If you want to find out more about Tuthills Porsche and their road and rally cars, visit their website at http://www.francistuthill.co.uk.