Quirky Fiats and classic supercars in the City of Lights
RM is already busy ramping up the interest in it's annual sale in London, billed as the biggest and best classic car sale in Europe. Not to be outdone, a few weeks later, and a two half hour train ride away, French auction house Artcurial is holding a sale on Paris' Champs Elysees. While Artcurial's catalogue doesn't have the headline grabbers that RM can boast, there are nevertheless some very interesting and unusual lots included. As you would expect from a French sale cars from local manufacturers feature prominently but there is also a big entry of Italian cars with the disposal of a large collection of Fiats and Alfa Romeos included.
From these a rather unusual Fiat Multipla (top) caught my eye. The Multipla was one of the would first MPV's (before the term had even been invented) and was based upon the Fiat 500. This particular example was converted when new to act as a racing support vehicle and sports numerous parts from the rather hotter Abarth versions of the 500, including the fitment of four bucket seats. With the beefed up exterior and hotter engine this would make a very cool support vehicle for a historic rally team. Artcurial estimate the Multipla will make between 15,000€ and 20,000€.
Slightly cheaper at 12,000€ to €16,000€ is another 500 derivative to receive the Abarth treatment in the form of a neat Giardiniera estate version (see gallery). The is a more recent conversion than the Mutipla but arguably looks even cooler especially with the Cromadora alloy wheels usually found on a Fiat 124 Abarth.
For those looking to compete in high end historic rallying, the star lot of the auction is a Group 4 specification Lancia Stratos. Finished in the iconic Alitalia livery the car was originally a customer car and competed largely in the Italian Rally Championship. More recently it competed in the Tour Auto in 1998 and 1999. Fully prepared for historic rallying Artcurial estimate it will realise between 350,000€ and 400,000€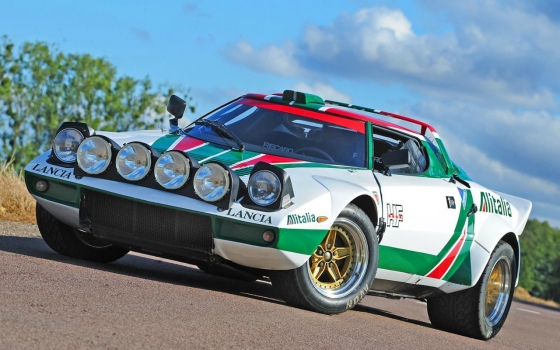 The lot list also includes a Ferrari 365GTB4 Daytona (see gallery) which has a colour scheme that makes it look rather like a French registered version of Drive Cult's own Daytona. In actual fact this example was originally a US specification car which has been converted to European specification by means of removal of the smog equipment and the ugly side marker lights. Having had a recent restoration, Artcurial expect the car to achieve between 240,000€ and 280,000€
The auction takes place on the 11th November and the full lot list can be found here.
Gallery