The manual transmission lives to fight another day in BMW's M3 and M4.
BMW has released all the juicy details of the powertrain that will be at the heart of the upcoming M3 sedan and M4 coupe, and at the same time have put to bed any rumors that the M3 and M4 would not be available with a manual transmission. Yes, that's right, you'll be able to get your M3 or M4 with a proper six-speed manual transmission as standard. A seven-speed DCT box will be available as an option, which will also come with launch control.
The new twin-turbo six cylinder gets a slight up-tick in horsepower over the old V8 to 430 and a considerable 30 percent increase in torque to 369 lb ft. The red line comes at 7500 rpm, which is positively stratospheric for a turbocharged motor. BMW also claims the power delivery will be very linear, thanks in part to BMW's Valvetronic variable valve timing and Double-VANOS camshaft timing. An emphasis has also been placed on making the engine as light as possible. The cylinder bores feature a twin-wire arc-sprayed coating instead of liners. Rotating masses have been kept to a minimum to improve throttle response with a lightweight forged crank shaft and carbon fiber drive shaft. The engine also features dry sump lubrication with a magnesium sump.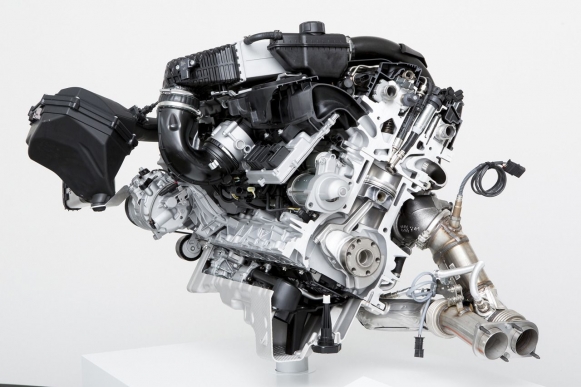 The suspension components will be largely comprised of aluminum. At the front, control arms, wheel carriers and axle subframes will all be constructed from aluminum, and will be held together with upgraded ball joints and elastomer bearings. At the rear, the five link rear axle will have aluminum control arms and wheel carriers. The rear subframe will be connected directly to the chassis with no bushings. Steel brake discs come standard, but ceramics can be fitted as an option.
Both the M3 and M4's steering will be electronically assisted and will be equipped with BMW's Servotronic function, which adjusts the amount of steering assistance provided in inverse proportion to the car's speed. The driver can also fine tune steering feel with three settings, Comfort, Sport and Sport +.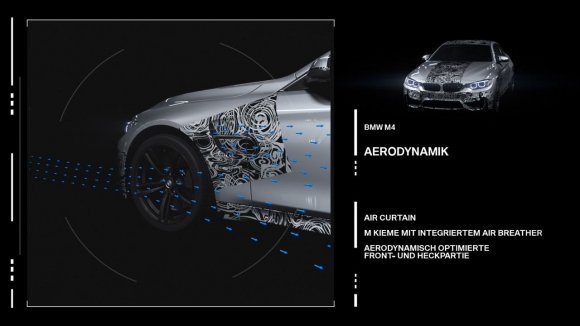 On the outside, BMW's M division have worked hard to hone the aerodynamics of both cars. The front apron channels air both around the car and also to internals that require cooling. Both cars will also have a flat underbody, which should greatly improve aerodynamics. Several exterior components and body panels are constructed from carbon fiber including the front splitter, rear diffuser and for the first time, the roof of the M3 sedan. Both cars' weigh just under 1500 kg/3300 lb, and will have perfect 50/50 weight distribution.
Check out the video below of BMW's DTM drivers hamming it up for the camera with the M3 and M4 at the Nürburgring.
Gallery