Summary text here.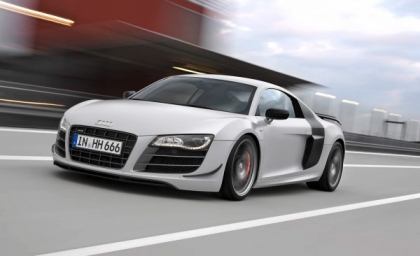 Apparently, no one at the Volkswagen automotive empire is too terribly concerned about the Audi R8 cannibalizing sales of the Lamborghini Gallardo, because on paper at least, the R8 GT looks to stand shoulder to shoulder performance-wise to the recently introduced Gallardo Superleggera.
Audi's R8 GT was not the best kept secret in the world, but it should be a pretty special car. It's powered by the 5.2 liter V10 from the R8 V10, but now it's been tweaked to produce 560 hp, However, the most impressive improvements aren't found in the engine bay. Through the use of carbon fiber, racier seats and thinner glass, Audi has stripped out 220 lbs. That's like politely asking an NFL linebacker to get out of your car, and yes the Quattro all-wheel-drive is still present.
The car has been lowered by 10 mm and suspension is fully adjustable. New aero enhancements improve downforce, but have no ill effects on drag. No performance figures have been announced yet, but it should be very rapid. Whether or not it will be enough worry Gallardo 570-4 Superleggera or Ferrari 458 Italia owners remains to be seen.
The R8 GT will be as rare as it is expensive. It will cost around $250,000 and only 333 will be build.
-Jamie Wolfcale
-----