A big rig in Beverly Hills reveals a very special cargo.
I've just returned from a couple of weeks visiting family in the United States. The tight schedule for the trip meant there was little time for car-related activities and we were unfortunately in New Mexico whilst Monterey week was on. Nevertheless, the car geek in me still had an eye out for interesting cars.
It's surprising how many classics are in regular use in the States compared to back home in the UK. The weather no doubt plays a part in this as California and New Mexico have far more favourable climates for car preservation than we do. Sixties Mustangs and Camaros are a fairly common sight, especially at the weekends, but there were also a lot of European cars especially Jaguars and MGs on the roads.
The final leg of the journey had us staying in Beverly Hills, which like Knightsbridge in London, is a mecca for supercars. Ferrari 458's with dubious vinyl wraps and 22" rims vie for space with on parking meters outside Starbucks with Lamborghini Aventadors running very loud exhausts. On a slightly more mundane note, Maserati must be pleased with the number of new Ghiblis running around Los Angeles, although they look rather less cool than the older Maserati Quattroporte III I spotted in a side street.
The star spots, though, happened right outside the apartment we were staying in, when a big rig rolled up outside just as we were getting ready to head out to dinner. The driver opened up the side panels on the trailer to reveal the rounded rear end of a lovely Mercedes Benz 300SL roadster.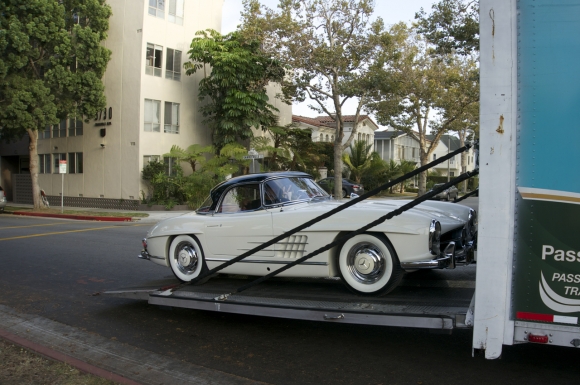 That was enough to send me back inside to find my camera. As I returned outside, the unmistakable bark of a carburettor-fed Ferrari V12 came from the rear of the trailer and lo and behold, an ultra-rare 1952 Ferrari 225S rolled down the ramp at the rear.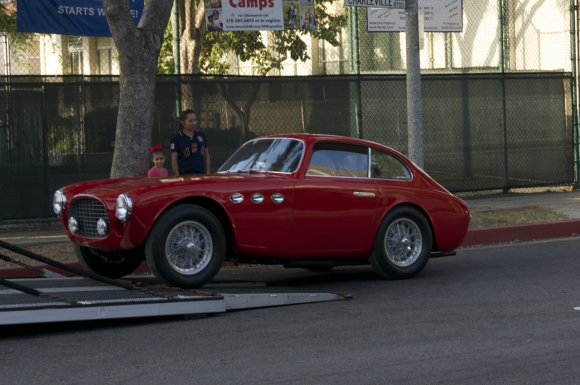 The 225S was the immediate predecessor of the 250 series and used a 2.7 litre version of the versatile Colombo V12. 22 cars were made with all but one bodied by Vignale in a mixture of Spyder and Berlinetta configurations. The 225S was intended as a race car and all received the even chassis numbers used by Ferrari race cars.
The 225Ss were sold to privateers and achieved notable success in some of the smaller sportscar events, and most notably took the first five places in the 1952 Monaco Grand Prix which was run for sportscars.
This particular example is chassis 152EL (thanks to Marcel Massini and Peter Den Biggelaar on FerrariChat for the identification) and was the first 225 completed. Frenchman Pierre Boncompagni first owned 152EL, and campaigned it successfully throughout the 1952 season including a class win and 9th overall in the Mille Miglia.
Its current owner displayed the car at The Quail, a motorsport gathering and it was presumably being brought to Beverly Hills after this.