The 2010 Nürburgring 24 is under way and Drive Cult's live blog is officially up and running. Audi locked out the front two rows of the grid, with the factory R8s finally showing their speed during qualifying. Get ready for a long race...
[youtube=http://www.youtube.com/watch?v=qaCHk1_60R8]
5:55 pm: Thanks for following the race with us here on Drive Cult. Come back soon as I'm sure to post more N24 content in the next few days. We'll leave you with this video of the finish.
[youtube=http://www.youtube.com/watch?v=7QWU9fmHwFI]
5:45 pm: Looks like the Porsche 911 Hybrid broke in the last few hours and gave the win to the #25 BMW. Chris Harris and his team were able to bring their Porsche home in 17th, which is an amazing result for them. The problems continued for Meaden and his Aston team. A fuel pump problem meant they fell to 55th, but some quick handiwork in the garage and great driving brought them back up to 40th overall and 3rd in class.
5:22 pm: Doh! I fell asleep! My plan to stay up until the end of the race and then watch the Monaco GP has failed miserably. Though I'm already hearing Monaco was pretty dull. No surprise there.
12:40 pm: Just took a look at the overall standings. The #9 Porsche 911 GT2 R Hybrid has been pretty much alone in the mix, but the persistence of the #25 BMW GTR appears to paying of. They're currently in second.
12:26 pm: I'm pretty sure i can make to the end of the N24, but staying up for the duration of the Monaco GP is another story. Not that it matters because I usually fall asleep watching F1 races anyway.
12:18 pm: This tweet from Dickie Meaden speaks for itself: "Loathed as I am to admit it @harrismonkey and crew are doing an awesome job. Now 13th overall. Funnily enough we're both doing 9:19 laps…"
[youtube=http://www.youtube.com/watch?v=Yqwr20-L6Tg]
12:04 pm: I swear I remember Porsche saying something in Geneva about how they didn't expect to contend for a win in the N24 and that the GT3 R Hybrid was only a laboratory. Things change I suppose.
10:20 am: The #6 Aston's transgressions have proven costly. They are now running in 33rd. Monkey's 911 GT3 RS is still running steadily in the top 20. As a result Meaden says 'fuck' on Twitter for the first time.
[youtube=http://www.youtube.com/watch?v=1pqLGlfpDIs&feature=related]
8:37 am: THe #25 BMW has been steadlily taking advantage of the attrition amongst the other lead cars. They're now in third place. #9 Hybrid 911 continues to lead overall.
8:32 am: #6 Aston in for a driveshaft change. Only took 14 minutes. Good job boys!
6:33 am: Looks like the #99 Audi is back in the garage. The engineers are taking off the rear bumper cover and the diffuser and looking at the rear. Also I've found another in car video. This time you're riding in one of the BMW GTRs. ROCK AND ROLL, LADIES AND GENTLEMEN!
[youtube=http://www.youtube.com/watch?v=J94-iBixfic&feature=player_embedded#!]
6:00 am: Chris Harris' car is in the pits. Radio Le Mans is saying it's for a rear brake pad swap.
5:41 am: Dawn is breaking over the Nürburgring and hangovers on the infield are surely setting in. The #99 Audi has been in and out of the garage, presumably for a brake pad replacement, which gives the #9 911 Hybrid a healthy lead. In the race between the car scribes, Meaden's Aston is still shadowing Harris' Porsche in 21st and 17th place respectively.
4:27 am: Got a few pics from the Aston Martin feed on twitter (@astonmartin). Never a dull moment in the pit lane and from what I understand, you'd best have your head on a swivel if you're there.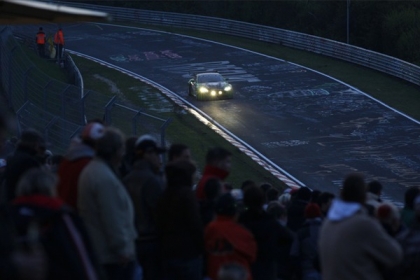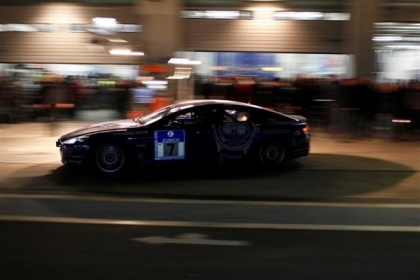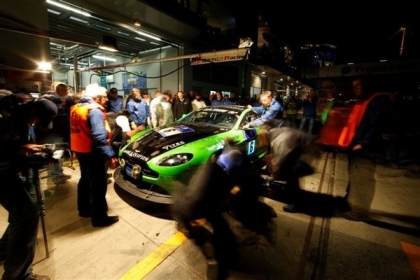 4:07 am: #99 Audi and #Porsche are still swapping the lead and the #2 Abt R8 has joined them on the lead lap. The #25 BMW M3 GTR has been lurking in fourth place and the #43 Hancook Ferrari, which has been having a great race, is in fifth.
The Radio Le Mans guys just jolted me awake when one of the Black Falcon R8s hit the pit wall on the front straight. Luckily they were able to continue. Both the R8 and the radio Le Mans guys, that is.
2:25 am: After some more troubles from the Lexus LFA, Aston Martin is running 1-2 in SP8. Kermit, the V12 Vantage and Katy, the Rapide, are having virtually trouble-free runs so far. #99 and #9 are still running nose to tail. Both should be pitting this lap.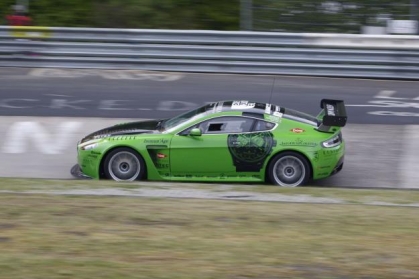 2:01 am: During the last round of pitstops, the #99 came out eight seconds ahead of the #9 Porsche. They're now circulating nose to tail ten hours in.
Chris Harris in the GT3 RS just tweeted that they were tagged by an Audi and now have a vibration problem. They're currently in 18th, but Meaden and his team are slowly but surely catching them.
12:24 am: The #99 Audi was briefly in the lead but the #9 Porsche has reclaimed the top spot. Both cars are still on the same lap. The Audi has been consistently quicker, but the Hybrid Porsche's fuel efficiency has proven to be a big advantage.
11:22 pm: It's almost midnight at the Nürburgring, but I've just had lunch here in sunny San Diego. The #1 Porsche is indeed out, which gives the lead to the #9 Hybrid 911. The #99 Phoenix Audi is the only other car on the lead lap. We also have video of Roger Green's incident. Evo editor Nick Trott just tweeted that Alpinestars want to provide him with overalls for life!
[youtube=http://www.youtube.com/watch?v=TVI4OR2_kOI]
10:23 pm: #1 Manthey Porsche is reportedly running slow on its in-lap. Possible engine trouble.
10:17 pm: Incredible. Radio Le Mans just reported that the 911 Hybrid has been able to go two laps longer than anyone else. They're currently in fifth place. Not bad for a rolling laboratory.
10:06 pm: Current standings: 1. Manthey Racing Porsche 911 GT3 R. 2. Team Abt Sportsline Audi R8 LMS. 3. BMW Motorsport BMW M3 GTR. 4. Porsche Team Manthey Porsche 911 GT3 R Hybrid. 5. Phoenix Racing GmbH Audi R8 LMS.
Evo Magazine inter-office rivalry update: Harris and his Porsche team have been steadily hovering around 20th position, while Meaden and his Aston cronies are in 25th. The Aston still leads SP8 and has been steadily gaining positions.
9:44 pm: Here's a pic of Green's burning Exige, courtesy of Richard Meaden from the very plush and not on fire Aston Martin driver's quarters.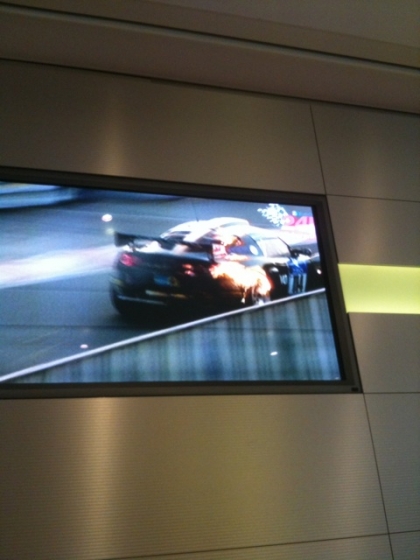 9:20 pm: Crikey! Evo staffer Roger Green's Lotus Exige just went up in flames with him behind the wheel. Apparently, he dumped himself out while it was still rolling, before the entire car burnt to a crisp. Scary stuff, but it should make for good reading in next month's magazine!
8:58 pm: There might be more videos of in car 'Ring footage on YouTube than there are grains of sand on planet Earth, but when you're riding shotgun with Frank Stippler it's pretty special. It also looks like a hell of a lot of fun.
[youtube=http://www.youtube.com/watch?v=bdIjrxBid1c]
8:37 pm: The Porsche 911 GT3 R Hybrid is running extremely well! They led the race for a while, which was the first time a hybrid had done so at the N24. They're currently in 6th overall.
8:09 pm: BMW GTR vs. armco. Armco wins.
[youtube=http://www.youtube.com/watch?v=N6m35uBP9Do]
7:51 pm: Want to see some awesome images from the race? Follow @frozenspeed on Twitter.
7:42 pm: Time for an Evo inter-office rivalry update. Chris Harris and the rest of his team in the 911 GT3 RS have been going incredibly well considering they're essentially in a road car. They're currently in 21st, while Richard Meaden and his crew in the V12 Vantage are leading the SP8 class and are in 31st overall.
3:00 pm: The #1 Manthey Porsche is incredibly quick. They were able to get around all four factory Audis on the first lap of the Grand Prix circuit, to take the lead before they reached the Nordschleife!
[youtube=http://www.youtube.com/watch?v=z8WENpXkhSc]