Summary text here.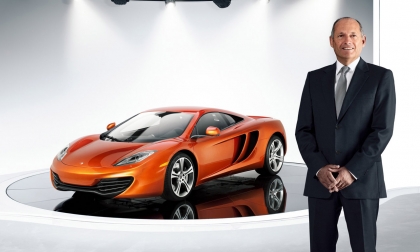 Today McLaren officially launched its much anticipated MP4-12c at its Woking, England headquarters. McLaren F1 drivers Lewis Hamilton and Jenson Button were both on hand in fashionably tailored suits to pull back the sheet under the close scrutiny of McLaren Executive Chairman Ron Dennis who was also wearing an immaculately tailored suit.
We also have some preliminary ballpark performance figures for the new Macca. We already knew that the McLaren designed twin-turbo V8 produces 600 hp, but combined with a dry weight of about 2850 lbs (1300 kgs), the MP4-12c will reach 60 mph in under three seconds. Thanks to its uncluttered design and slippery aero, top speed will be north of 200 mph. In the off chance you wanted to use your MP4-12c for drag racing, it'll do the quarter mile in under 11 seconds, though I wouldn't expect to see any MP4-12cs with wrinkle-wall rear tires, a wheelie bar and a chute on the back at the local drag strip. Besides, imagine all the strange looks you would get wearing a suit at your local drag strip.
We have a video Lewis and Jenson hooning the the MP4-12c at Goodwood and gobs of pictures below. There are some particularly cool pics of the MP4-12c on the assembly line, which are borderline automotive porn.
-Jamie Wolfcale
[youtube=http://www.youtube.com/watch?v=RI3LxBNI4gY]
-----