Alastair gives a breakdown of the work done on his Elise, and offers some thoughts on why the Lotus is worth all that time and money despite its idiosyncracies.
Now that I'm over the initial shock of totalling up my annual expenditure on the Lotus (approximately £1,500 p/a over the past two years), I thought I'd provide some details on what that hefty chunk of change was spent on. This begins at the start of my ownership and continues through to the beginning of February 2012.
Here's the work that's been done to the car while it's been in my care:
Strip HID headlights, inspect & fix
Wishbone inspection
Geo check & adjustment x 2
Front wheel balancing
A-Service
New wiper blade x 2
Bleed rear brakes
Adjust alternator belt
Suspension check
Ball joints x 2 [offside front lower & nearside rear lower]
Track rod end [nearside front]
Near side rear wheel bearing
Overhaul ignition system [spark plugs, leads, coil, distributor cap & arm]
Fuel pump and tank drop
Rolling road dyno
Supply & fit Pagid RS42 brake pads
Yokahama Advan Neova rear tyres x 2
New uprated anti-roll bar
Offside front wheel bearing
Nearside lower wishbone ball joint
MOT x 2
New throttle cable x 2
Clutch slave
Replace brake fluid
A quick read through that list suggests that suspension and electrics may be a weak point. However, this doesn't actually tell the full story and more context is required. I've therefore grouped the list into three fairly self-explanatory categories:
Business as usual / wear and tear – As it sounds; run of the mill servicing, MOT, fixing stuff that breaks or falls off….
Random Lotus Features necessitating investigation – It's difficult to separate this from BAU, but I've included the more weird and wonderful stuff that you wouldn't expect to happen to a 'normal' car.
User error - well, the less said about this the better.
So here's the revised list in categories:
1. Business As Usual / Wear & Tear (£1,388)
A-Service
Adjust alternator belt
Bleed rear brakes
B-Service
New wiper blade x 2
Supply & fit Pagid RS42 brake pads
Yokohama Advan Neova rear tyres x 2
MOT x 2
Clutch slave
Replace brake fluid [ATE racing blue]
New uprated anti-roll bar
New throttle cable x 2
As you can see, this is mostly uneventful stuff - the usual MOTs, servicing and consumables.
The eagle-eyed amongst you may notice the two wiper blades and throttle cables on the above list. Rest assured, I'm not yet in the habit of buying spare wipers, or throttle cables for that matter (although maybe I should).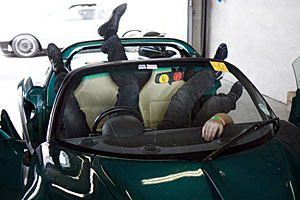 The first cable replacement was because the original snapped on track at Donington. After a 4-hour wait for the AA, we gave up and bodged a fix ourselves to get me home. This was a painful experience, which got me closely acquainted with the finer points of the Elise's footwell. Upside down. Since I am 6'2" this was neither easy nor comfortable! However, it also included an angle grinder, several other random tools and loads of sparks in the pitlane at the track, which looked cool and helped add further weight to the legend of me having car trouble on track days.
It also transpired that we had completely misunderstood how the linkage mechanism should work and made the job ten times more challenging than it should have been. My regular mechanic at PSR Automotive was mightily impressed it only took us 2hrs of fettling to fix it the way we had, not to mention how on earth I managed to drive it back from Donington in the state it was in!
The wiper is another odd one. The first replacement was a mundane requirement picked up under the MOT. Whilst the car was in the garage I had them replace it. Common sense. Sadly, my time with this wiper was short-lived, since shortly afterwards it experienced a catastrophic failure in only the way a characterful Lotus part can.
How does a simple part such as a windscreen wiper suffer catastrophic failure, I hear you ask? Like this:
Failure to operate when called upon - check
Coincide failure with apocalyptic rainstorm - check
Coincide rainstorm with being stuck in stationary traffic - check
Ensure all of the above happens when the roof is fully off - check
OK, so the wiper failure was merely the damp icing on a thoroughly soggy cake but it certainly made the ten miles until the rain cleared rather hairy. The best bit was catching the wiper as it crested the windscreen having fully separated from the arm somewhere north of 70mph. I personally feel it was worthy of a place in the England slips, although sadly I'm not sure anyone else witnessed my heroic efforts.
(Aside: this is why my Elise is a real bugger. Even when it's falling apart, when I should really start to lose the love, it finds some way of providing entertainment.)
Finally in this category, there are two other mildly annoying items that just wore out (ARB and clutch slave), but given that the car is 16 years old this year I'll let that pass. Besides, I took the opportunity to add an adjustable ARB allowing a little bit more front-end adjustability on track (so I hear - I'm yet to fully explore this). Plus, despite providing a minor 'new clutch required' panic ahead of my recent Carlimits day, it was a relatively painless and cheap fix.
2. Random Lotus 'features' necessitating investigation (£925)
Strip HD headlights, inspect & fix
Overhaul ignition system [spark plugs, leads, coil, distributor cap & arm]
Fuel pump and tank drop
Rolling road dyno [pre/post fixes]
Wishbone inspection
Geo check & adjustment [x2]
Front wheel balancing
This category is the one that legend would have you fear the most. Given the tales from the previous list I'd be surprised if anyone reading this is still in the market for a Lotus. But for the rest of you still reading, at close to £500 per year it's not cheap when combined with the £700 per year to cover normal wear and tear. Even if I take the positive view that £830 of those BAU costs were for tyres and brakes that will probably last at least two if not three years minimum, I can't make it seem cheap.
It does however provide some interesting pub tales, since more often than not these 'features' have uncannily bad timing. The headlights inspection is a classic case in point. After a tough day at work and the usual rewarding yet challenging kid's bath and bed routine, I jumped into the Elise for the 3.5hr cross-country drive to Cadwell park ready for a track day the following morning. Sadly, the car wouldn't start (the alarm drains the battery if you don't drive it for a couple of weeks or so – another excellent feature) so I traipsed across the road to blag a bump start from my neighbour, making a mental note to add yet another nice bottle of wine to his "thank you" collection. (Future owners take note: I have sadly not kept a record of the cost of such ancillaries. It's probably running at over £100 now. I will rectify this going forward…)
Anyway, with my neighbour's help, the car fired, chuntered and gurgled into life, with a few throttle blips making me unpopular with another of my neighbours who didn't appreciate the Janspeed exhaust at full noise! The following trip was eventful, to say the least. It soon became apparent that I had the options of driving on sidelights or full beam driving lights only. When operating correctly, these full beam driving lights come on when the headlights switch from main to full beam to provide greater low level light. Sadly neither those nor the sidelights are much cop when navigating through the undulating, twisty Lincolnshire B-roads required to get to deepest darkest Cadwell.
OK, so maybe I didn't have to go to the trackday, but I'd already endured a minor shitstorm to get the car started and I was reluctant to write off the cost of the trackday. Plus, the driving lights were good enough to allow safe passage.
The other random items were just that: random. The geo, wishbone and balancing work was to try to locate a slight wandering, looseness and odd sensation at speed (which was fixed). The electrical stuff and the fuel pump/tank drop were to sort a rough running issue that turned out to be a £5 throttle part. The nice bonus (see, I'm still looking for silver linings!) was that after all this work it needed some tuning time on a rolling road and while it wasn't running the full fat 170bhp, it hadn't lost all its horses.
This category is definitely one to watch in the future. From my experiences over the last two years, the next random 'feature' is just around the corner!
3. User error (£676)
Suspension check
Ball joints x 2 [offside front lower & nearside rear lower]
Track rod end nearside front
Nearside rear wheel bearing
Offside Front wheel bearing
Nearside lower wishbone ball joint
As I mentioned previously, the less said about this category the better. Given my high track usage and relatively regular Nürburgring visits, I hope this remains the one and only entry in this category!
The story:
At 6:45am on a crisp July morning I entered a large roundabout at a steady 30mph. I was about 10 mins from home, had been up for 45 mins but was still feeling a bit groggy. I was definitely taking it easy and had only recently let an Impreza WRX past with no intention of following.
As soon as I exited the roundabout and accelerated, the rear stepped out. I applied the requisite dab of oppo, imagining myself heroically riding the slide out in no time. Sadly the follow-up whip back the other way was lightning-quick and before I knew what had happened, I had mounted the kerb and was facing the wrong way, in full view of a greasy café and a lay-by full of binmen. Excellent.
The excuses:
The roundabout is near a petrol station, I had driven several roundabouts equally quickly that morning with no issue. I can only assume there was diesel/petrol/grease/whatever on the road.
My boot was full of tools and a trolley jack, which accentuated the pendulum effect.
After my Carlimits day, I have to hold my hands up and admit that had I known then what I know now, I probably would have caught it. So the last excuse: the driver wasn't up to it, guv!
To be honest, to get away with the damage as it was, was very lucky – it could have been significantly worse. It was only my second ever road incident and the first in 15 years, so statistically it was likely to happen sooner or later. Let's just hope there's a similar gap until the next one!
Conclusions
That's my first two years of Lotus ownership in words and figures, with plenty of dodgy rationalisation to try to qualify value. On reflection, whichever way you look at it I've spent quite a lot on stuff that has just needed fixing, to the tune of nearly £700 per year on BAU items, just to keep the car on the road, even though I'm only doing 3,000 miles per year. Crikey. It's nice to know that investigating the new Lotus 'features' isn't as expensive as the BAU items, but at almost £350 per year it added a good chunk to the running costs over the last couple of years.
Writing this has just quantified what I already knew – owning any car (let alone a good one) isn't cheap. It's also validated a long-held belief of mine; sports car ownership isn't, nor should it be, a rational decision. It's emotional.
What I haven't included in these last two posts on my time with the Elise, are all the fantastic times I've had with this car. The feeling you get accelerating away for that first lap of the track or the favourite 'home loop', one-up and roof off. The sight of early morning dew still glistening on the road surface, and the butterflies in the stomach. The late-as-you-dare braking, that burble on the overrun and the razor-sharp turn-in. I'm excited sat here just writing those last few words, and I could definitely go on. Even better, I still have so much to learn and the Elise is the perfect learning partner. You can't put a price on that. That's why we have impractical cars like this.
So, that brings us up to date, but that's not the end of the story. The Elise was due back on track again in March at Rockingham, and I had a few nice additions I wanted to make to the car. However, February was not a good month for my little Lotus. I've no idea what the final repair bill will be, but it's likely to make the last two years of ownership look like a real bargain. More on that next time!