After a long break, Alastair Preacher brings us back up to date on life with his S1 Elise. It's got a new engine and much more besides, but it's still not quite finished.
It's been a while since the last write-up and needless to say, a lot has happened in the interim. In July I was successfully been reunited with the car, and since then I've taken it to both the Nürburgring and Spa-Francorchamps, gone very sideways, topped 150mph in it and broken it. Twice.
However, I'm getting ahead of myself. Before we recap recent events, I think we're well overdue a spec list of the car and the items that were changed at the same time as the engine swap.
The first job was to replace the leaky radiator with an uprated 'pro-alloy' all-aluminium version. This would have been done at some point regardless of the engine conversion, but it's a necessity when upgrading the engine. In typical Lotus fashion, replacement isn't completely straightforward and requires removing the front clamshell. Ordinarily, this should by all accounts be relatively simple. However, the clamshell on mine had never been removed and given that my Elise is one of the very first made, a lot of patience and 'mechanic's good will' was used up early on in the build with this job!
While the clamshell was removed, a few other minor jobs were ticked off, including rust-proofing and repainting the bar that the towing eye mounts in and putting in a more robust battery mount.
In between the old-old-new engine and new-old-new engine arriving, all the new kit I'd ordered slowly started piling up in the corner of the workshop. The first thing to arrive was the engine mounting kit.
Choosing the engine mounting kit
After much deliberation, research and chatting things through with a couple of people well versed in doing the conversions, I chose the Stark Automotive kit. It had good reviews, was of excellent quality and came in at a reasonable price. Well, as reasonable as these things are, anyway! (i.e. not very)
So what do you get? [images taken from Stark Automotive site]
Mounting kit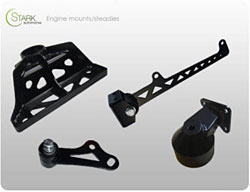 Nearside engine mount, offside engine mount, engine torque steadies (front and rear, pre-fitted with rubber bushes), front and rear torque steady chassis brackets. These are constructed from mild steel and powder coated, and are designed for the best mounting without excess weight.
To be honest, they're slightly over-engineered but look absolutely lovely.
Driveshafts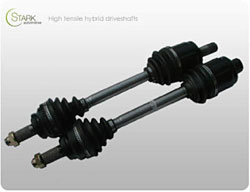 The kit comes with custom driveshafts specifically developed using high-grade (300M) tensile steel shafts coupled to brand new CV joints (with uprated outers for my S1) using vented boots and racing-specification (high-temperature) grease. These are supplied fully built with racing CV grease and torqued tie-lok clips and fit straight on without needing any exchange parts (which some kits require).
Gearshift assembly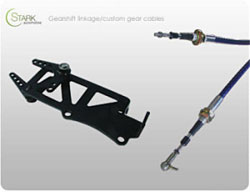 The shift linkage is a big improvement on the standard setup and is also fully adjustable. It's also probably the coolest looking part of the kit. As it says on the site, it "gives an incredibly positive and direct gear change using self-lubricating bushes on the rockers". A lot of it is also probably to do with the fact that the original gear change cables are replaced with custom made, higher-quality items more suited to the Elise than the original Rover items.
Cooling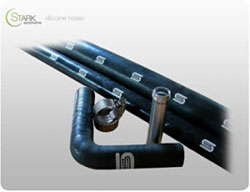 You also get a full set of coolant hoses, a length of induction hose and all clips and joiners with the kit. There's a huge choice of colours for the hoses, but frankly I'm not a tart so I went for black.
The only thing my mechanic (who is very particular about things) would possibly change about any part of the kit is one part of the cooling. Specifically, the two silicon pipes that are routed next to the bulkhead are a tiny bit squashed after fitting. The Maidstone Sportscars kit (which they now sell aftermarket) has two especially fabricated flattened aluminium pipes that get around this problem, so that may be a worthy upgrade in the future.
Sump baffle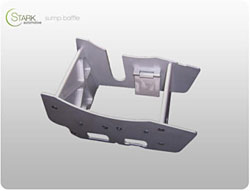 The second coolest piece of the kit is something I hope never to see again! The sump baffle has been custom designed and CNC machined from high-grade aluminium to supposedly suit the K20 sump. This is an essential part of the conversion, to prevent engine oil starvation.
I was due to add an oil pressure and temperature gauge as well, but it's a tight space in there meaning isn't a straightforward bolt-on part. Sadly, time and space got the better of us, but this is definitely on the cards for a future upgrade.
Heat-shielding, fitting parts, fuel system and ancillary drive belt
We're getting to the less exotic end of the kit contents now, but unsurprisingly you also get top quality Nimbus and Cirrus heat-shielding sheets with all the cutting templates and items required for fitment.
That said, you do need a more advanced level of Blue Peter skills than I possess to produce a finish as good as the guys doing the conversion have done. The finished trimmed shielding really is a work of art, albeit one that the picture doesn't do justice to.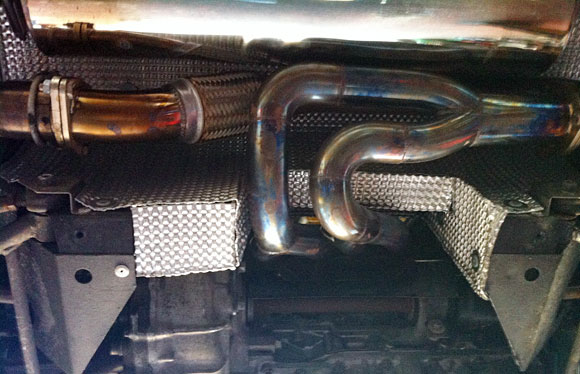 Other fitting parts include spacers, thread adaptors, blanking plugs and all custom fasteners required come with the kit, which is as you would expect.
The kit also provides an anodised fuel pressure regulator, replacement high-flow filter, fuel hose & jubilee clips. And, well, they all look lovely!
Finally, you also get an ancillary drive belt for non-A/C equipped engines.
Custom exhaust and manifold
The last 'standard' item included in the kit is a custom exhaust manifold. I say standard, but it's optimised for use with a naturally aspirated Honda K20A2 and is constructed from 304-grade stainless steel. The system is supposed to provide optimal peak power whilst keeping heat away from transmission areas by utilising 1 & 2 and 3 & 4 cylinder pairings. The manifold includes a de-cat pipe specific to the kit which mates up to a standard Elise exhaust system.
However this kit doesn't match up to the slightly off-centre set up of the Janspeed exhaust that I had on the car; that would have been too easy. Here is where I started to add additional bits to the standard kit to ensure that the upgrade was to my liking.
I'd always heard great things about 2bular exhausts with the only (minor) negative comments being that it can sometimes take longer to get the exhaust than some other suppliers. However, given the time I had on my hands this wasn't really a concern.
Moreover, given that it's an entirely hand-built piece of equipment there's the opportunity for it to be entirely bespoke if you so wish. After much to-ing and fro-ing, Jim at 2bular built an exhaust that's double skinned and baffled in all sorts of weird and wonderful places with the idea being that it maximises performance yet minimises noise.
Well that's the theory. Jumping ahead, I can confirm the car is very, very loud indeed when pressing on at full VTEC. Time will tell whether this is an issue or not. Regardless, it really is rather pretty.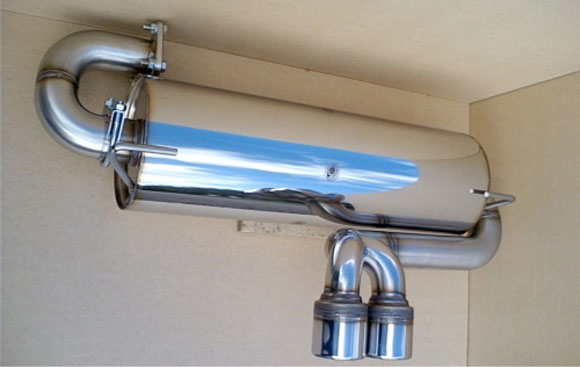 Obviously I couldn't just leave it there; there were a few other choice additions that were also made.
Clutch
The kit supplies a braided clutch hydraulic adaptor hose with a length of bendy tube to fit. However, it transpired that my car had an upgraded aftermarket setup already which meant that it was somewhat of a challenge to fit it to the kit supplied. I guess a complete hose replacement was an option, but in the timeframes and budget I had the best option was to buy a separate adapter to mate the two non-matching hoses together. Again, nothing is ever quite as straightforward as you expect it to be when doing this sort of thing.
I'd always budgeted for the potential for a replacement clutch (well, I say budgeted; what I really mean is that I put it on my list hoping I didn't need to buy one) but lo and behold, when the old one was taken out my mechanic advised that a replacement was needed. One Exeedy 3-piece clutch was therefore ordered and fitted post haste. More on this at a later date…
Quaife ATB
With all the extra power, I thought I should really try to add a bit of control too. The diff was one of the best additions to my E30 so I reasoned that it was essential in the Elise given the tail-happy nature of the original car.
ECU
I also updated the ECU to the Hondata K-Pro. For a novice in engine mapping and tuning like me, this thing seems like witchcraft! I've got launch control, VTEC coming in at different times dependant upon throttle application and all sorts of jiggery pokery I don't really understand. What I do understand is that it allows you to unlock more power, so it seemed an entirely sensible addition.
Interior - Belts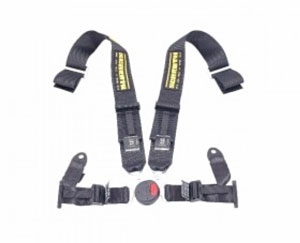 Whilst all of these engine upgrades were going on, I somehow convinced myself it was only sensible to upgrade some of the interior too. The standard original belts were swapped for some harnesses so that I was firmly strapped in should I careen through the first hedge I came across. I chose some rather tasty black and yellow Schroth push button harnesses from Hanger 111.
Obviously, this addition called for the addition of a harness bar too. Thankfully Hangar111 had an offer on at the time, saving me a few pounds.
Interior - Seats
Adding harnesses also meant that the original S1 seats sadly had to go. While the harnesses could probably have fitted over the top of the original seats, it's not really the done thing.
The more astute of you may have noticed that at this point in the build, all common sense, reasoning and any sense of budget were long gone. Logic would stipulate that I should go for something basic that could take harnesses. I naturally went for something lower, lighter and even less practical than the original seats.
Let me introduce the really rather lovely Tillet B5s: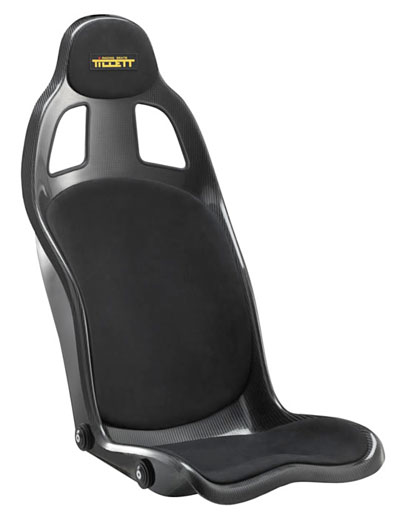 Interior - Steering Wheel
Heel and toe action has always been hard in the car given my lanky stature combined with the standard wheel size. While the addition of the marginally lower seats would help this, I thought that a new smaller steering wheel would complete the picture.
I got an Oreca wheel, an adjustable boss (45mm to 70 mm) and Lotus horn push, which basically looks like this [photo taken from www.SELOC.org]: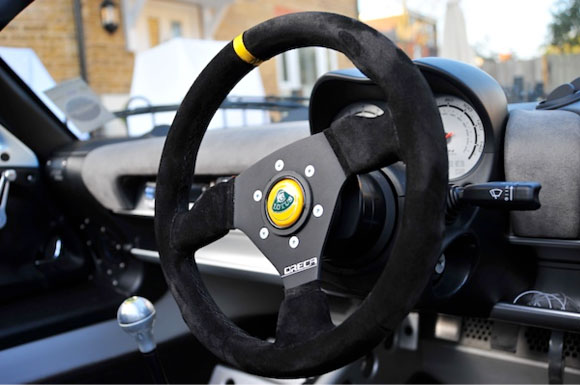 The least said about fitting the horn the better as far as my mechanic is concerned, but heel and toe is now a possibility (at last) if not quite as easy as in my e30 track car. It also looks great and sets the seats off nicely.
Finally, given the car now has a 6-speed 'box I thought it sensible to swap out the old Elise 5-speed knob for the Civic Type R gear knob sourced from the engine provider. If nothing else it's a nice visual reminder from inside the car that all is not what it seems out the back.
So that's that. Phew.
At some point in August after the new interior bits had gone in and a shiny new-old-new K20A civic Type-R i-VTEC engine from an EP3 Honda Civic arrived. Not long after, the first teaser pictures made their way into my inbox and then on September 14th, seven months to the day that the car broke, I made my way to Billingshurst to pick it up. It was a proper 'kid at Christmas' kind of day.
That was 1000 miles or so ago now. As hinted at the outset, a lot has happened since then. But before we go into that detail, how best to describe the car?
Mental. Utterly, brilliantly, laugh-out-loud mental.
I was given strict instructions to run it in carefully, avoiding VTEC and prolonged high speed runs. I managed to do this for the most part, but temptation did sometimes get the better of me. The rare occasions I did extend the revs past 4k were accompanied by plenty of nervous looks, followed by big grins and schoolboy giggles from me and the passenger I invariably had with me. It certainly has the ability to cause passengers to go awfully quiet very quickly.
It's not really surprising when you consider that when it was corner-weighted before I picked it up, it weighed in at 784.5 kgs with 22kg of fuel on board. The day I picked it up it was put on a rolling road and remapped to 218bhp on an allegedly conservative rolling road. Removing the fuel, this gives it a rather nice 285bhp per ton. That's about the same as a 996 Turbo S with the X50 upgrade. I also now know from experience that (two up) from a side by side start at around 50mph, it keeps pace with said Porsche up to about 120mph before the German starts to pull out a small lead.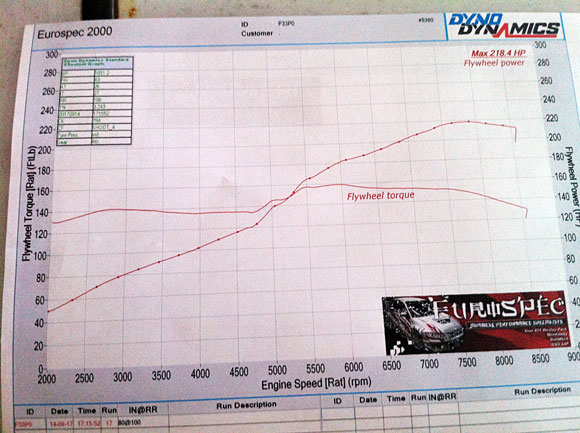 I say first-hand, since I did just that down the Döttinger Höhe straight at the Nürburgring, before tucking in behind as it j-u-s-t crept ahead. We kept accelerating and it certainly moved on at quite a fair rate. Just quite how fast escaped me until back in the paddock when Jack confirmed that the Elise had gone off the clock and we were still accelerating when the slowing Porsche forced us to back off.
It certainly felt sporty, especially as were bouncing around quite a bit and the S1 Elise essentially has all the safety features of a canoe.
Some interesting points to note:
The speedo tops out at 150mph
The tyres are rated to 149mph
I have a "non-true" front wheel
It was quite exciting
Not that straight-line pace is its only forte; far from it. The grip it extracts mid-corner when the dif hooks up is phenomenal. On track at the 'Ring I was able to start to push on and extract grip where previously the car would definitely have struggled. Perhaps more entertainingly, exiting junctions completely sideways is now a mere flex of the right ankle away, should the mood take you - and on occasion it does! I really don't think I will tire of that.
Sadly, not all is perfect. The brake judder I thought I'd fix by skimming the disks when the car was in the garage hasn't been successful. While it's drivable, it's annoying as the car loses stability under heavy braking on track (pulling slightly left). Common (read: internet) wisdom would suggest upgrading to an AP Racing four-pot setup, but I'm going to keep it on the original brakes for now as I'm still on relatively road-biased rubber.
On this point, I also upgraded the tyres before the 'Ring / Spa trip, from Yokohama Advan Neova LTS to Yokohama Advan Neova AD08s. To be honest, this was a bit of a luxury purchase given the fronts had only done c200 miles (!) and the rears are almost new too (lost 2mm in tread). My rationale was that the AD08s are somewhat better in the wet and since we were heading out to the Eifel mountains in October I feared the worst for the weather (incorrectly, as it turned out). The old tyres, along with several other items made redundant with the upgrades, are coming soon to a popular online auction site!
I also think the spring rate needs increasing on my Nitrons. I'm currently on a relatively standard Elise set up of 325 front and 400 on the rears and with the increased rear weight I'm in need of something more. It does lend itself to comedy roundabout action – turn in on neutral throttle and you feel the rear lighten. If you then move to a light throttle action the rear starts to step out. Do this in 2nd gear on VTEC in the dry a bit more aggressively and it all gets très sportif, in the best possible fashion of course.
As much fun as this is, there's probably a bit too much suspension movement under braking and general load transfer, which I think may be tough to control in the wet.
I also found that on the long drive to and from Germany, the car wasn't much fun to be in. The general NVH was so acute at times it felt like my eyes were going to fall out. On chatting to James at Stark Automotive, it seems that this isn't right and he thinks one of the torque steadies is fractionally out, meaning that something is effectively touching a fixed point on the chassis and causing the vibration. When it's back at the garage at the end of this week it will be looked at.
Yes, I did just say that: back to the garage.
The trip to the 'Ring and Spa was a mixed bag. For the 6 laps of the 'Ring I drove, it was mesmerising. The car was better than me, by a long way. It sounds like a full-on GT3 racecar, it's outrageously quick absolutely everywhere, and despite the exotica present, there wasn't much I'd have swapped it for on the day.
However, on the 6th lap, changing from 5th to 6th at 120mph, something happened. As the change completed, I lost drive, the revs rocketed and there was a massive smell of burning clutch. I also think I saw blue smoke coming out of the back of the car. My initial fears were that I'd dropped from 5th to 4th instead of 6th, but there was no loss of speed (other than the fact I was no longer accelerating at full tilt), no locking of wheels (thankfully!) and no bits of engine strewn across the track.
Upon closer inspection, if you listen very carefully, you can hear a small whine and a click just as the clutch bites. However, once driving it's generally OK although the change is not as slick as before. The current hypothesis is that something has failed, causing one of the clutch plates to spin of its own accord. The burning smell is caused by the plate slipping while trying to gain 'traction' but once driving the plates are in unison and there is no slip.
I've subsequently driven the car to Spa, to and from the hotel to the track several times, and all the way back from Spa to the UK, all without issue other than a nasty clutch smell and a little notchiness when setting off.
However, it clearly needs looking at, so back to the garage it goes. If it is a failure, then so be it - I'll chalk it up to one of those things. If it was user error, then I'll buy a lottery ticket as my luck is obviously in!
With the car going back and the engine coming out yet again to fix the clutch, the silver lining is that it gives us the opportunity to fix the vibration issues as well as the other items that came to light in the 'Ring shakedown. My mechanic will also have a chance to get the lambda sensor working, which has annoyed the hell out of him since the build – the wiring diagram doesn't match the ECU setup!
So, two steps forward, one step back and no doubt there'll be more to write about next month. I'd best get selling some of the spare Elise parts now to finance the next bill from the garage!