The 917 PA Spyder was instrumental in the go-ahead and development of Porsche's monstrous and totally dominant turbocharged Can-Am cars. At this summer's Goodwood Festival of Speed, Brian Redman will be reunited with the car, but not quite as he will remember it.
In the late sixties, Can-Am's rising popularity was showing no sign of let-up and, as a result, even Porsche was considering building a car to the essentially limitless Group 7 regulations. But where to begin? Considering the 1969 World Sports Car Championship had already been successfully wrapped up, and its new 917 had been recently introduced in time for the next year's new Group 5 regulations, it was decided that a modified 917 chassis would be entered for the remaining six races of the Can-Am season. Driven by Jo Siffert, a key player in Porsche's first victory in the International Championship for Makes, the 917 PA (standing for Porsche-Audi, the factory's American Entrant) was built in order to assess the chances of a full-factory effort the following year.
Development began in August, already five races into the Can-Am calendar. To avoid missing any more precious testing time, a single car was hastily built—chassis 028—and kept essentially identical to the 917 coupé mechanically, save for wider rims and lighter brakes. The chassis was converted into a Spyder to save weight (around 55 kg) and, without the time for wind tunnel testing, fitted with a tried-and-tested 908-style body. The reduction in weight meant larger fuel tanks could be fitted (180-litres as opposed to 140). The finished car weighed in at approximately 780 kg, though in comparison to the featherweight, purpose-built Can-Am prototypes, it was still pretty portly, mostly due to the hefty 4.5-litre flat twelve.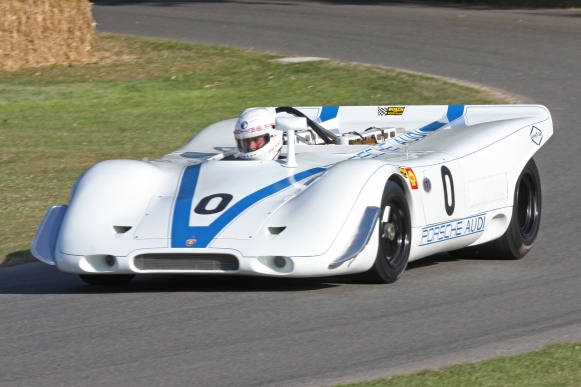 Porsche never anticipated the PA Spyder to threaten the supremely quick and powerful McLarens—its purpose was to gain insight and judge potential, not to win—but because of its endurance-bred reliability and some mightily impressive driving from Jo Siffert, it finished fourth in the championship (despite missing the first five races) and scored a season-best 3rd at Bridgehampton, behind the two McLarens.
And so the legend was born. Porsche walked away content and ready to start development on a purpose-built Can-Am challenger for the 1972 season, the 917/10. A second PA Spyder was built (pictured) in 1970—chassis 027—and retained by the factory for testing purposes. At one point it actually ran with an experimental 16-cylinder engine, the biggest Porsche motor ever produced, to gauge its potential for the new Can-Am car. Ultimately, Porsche's engineers opted for the then mysterious turbocharged flat-12, which went on to vanquish the opposition in the Penske-run 917/10 and /30 in 1972 and 1973.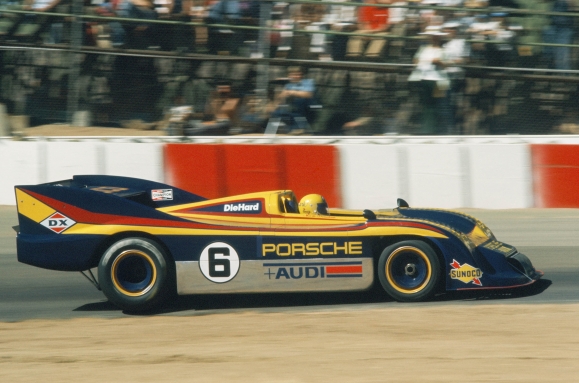 So what of #028, the original PA Spyder? It was sold to Vasek Polak, the Porsche and Audi dealer for California, who continued to campaign it for three more years, making it the most raced Can-Am car ever. Polak was constantly developing it for his drivers Milt Minter, Steve Durst and Sam Posey, adding fins and wings and adapting the bodywork in line with the aero trends. In late 1972 he even gave it the circa-1100-bhp engine and lightweight body from the dominant 917/10, which of course was fraught with risk considering its ageing and unsuitable mechanicals. I suppose it became the automotive equivalent of Trigger's broom.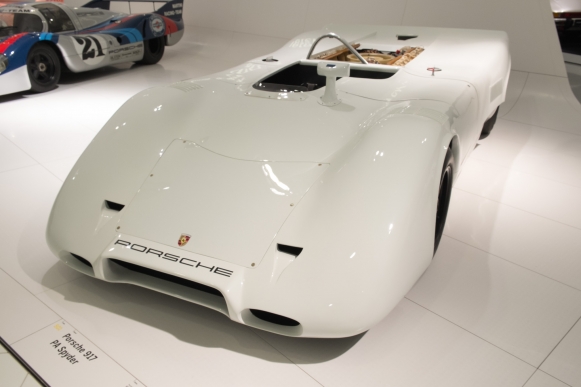 Where does Brian Redman, the endurance-racing legend, three-time Daytona winner and King of Formula 5000, come in then, I here you ask? Well, in 1973, Polak asked Redman to drive the car, now officially designated a 917/10, at Laguna Seca, alongside Jody Sheckter who had been going well in the sister car all season. It broke, and indeed broke again at the next race at Riverside, narrowly avoiding a massive shunt with a frighteningly close guardrail. And that was the end of Redman's short foray into the Can-Am. Slightly scarily, he didn't even know it was Siffert's converted 1969 car, only finding out after spotting the dated mechanicals following his retirement at Riverside. Needless to say, he never raced it again.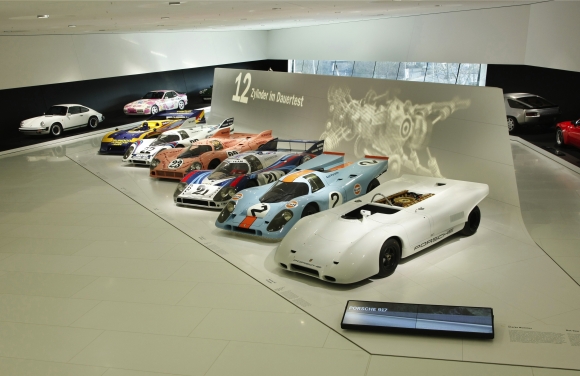 Perhaps fortunately, shortly after, #028 was crashed heavily and written off for good. That is until the remains were subsequently located by the Collier Automotive Museum in Florida and fastidiously restored back to its original configuration. Redman will drive the car at Goodwood in June, as it ran in 1969, complete with its white and blue Porsche-Audi livery and zeros adorning the bodywork. We have a feeling he'll be a little more comfortable with a mere 580bhp under his right foot.
Alex Easthope is a regular contributor at www.classicdriver.com. You can follow him on Twitter at @alexjeasthope and read more of his works at alexjeasthope.wordpress.com.
Image credit: Lead photo by Goodwood, 917 PA (blue/white) photo by Brian Snelson, 917/30 photo by Porsche, 917 PA (white) by Ben Garrett, 917 exhibit photo by Porsche.