Drive Cult attends a preview screening of Asif Kapadia's Senna documentary in Mayfair, and manages to remain dry-eyed. But only just....
Senna is brilliant. That phrase was certainly applied to the man on a number of occasions, but can be equally applied to the eponymous documentary of his life that's released in the UK next month.
I was fortunate enough to see an advance preview screening of the film at the Curzon cinema in Mayfair last week, hosted by F1 journalist James Allen and with some famous faces in attendance, including former F1 drivers Martin Brundle and Mark Blundell and three-time F1 World Champion Sir Jackie Stewart. The packed house was treated to the first public showing of the movie in the UK, followed by a brief but fascinating Q&A session with director Asif Kapadia and writer Manish Pandey.
Senna eschews the traditional documentary format of talking heads interspersed with archival footage and reconstructions. Instead, all of the footage in the film is from his career - every single clip - and much of it is unseen, with subtle voiceovers from key figures in Senna's life culled from contemporary and period interviews and television commentaries. As a study in editing alone, the film is a masterpiece. I can't imagine how many hours of footage the filmmakers watched in order to assemble the film's narrative. Bernie Ecclestone owns the rights to much of the unseen race and interview footage and the filmmakers were fortunate to receive his blessing of the film, granting them unparalleled access to the FOM archives.
The film follows Senna's racing career from his karting days, through to his Formula 1 career and three World Championships with McLaren, and concludes with his untimely death at the 1994 San Marino Grand Prix. Appropriately enough for a film about motor racing, the film moves at a rapid pace, and purists may take issue with numerous events during Ayrton's career that are glossed over or left out completely (the 1993 European Grand Prix at Donington, one of Senna's most famous victories, is almost entirely absent), but this is a film that's intended for both fans and cinema-goers who might have little or no interest in Formula 1, and to pick fault with the film for not covering every pole position or victory is to miss the point entirely.
Senna's rivalry with Alain Prost provides much of the film's focus. It's fascinating to chart the progress of their relationship, from outwardly friendly teammates at the start of the 1988 season to the bitter enemies who collide with one another on-track to decide not one but two World Championships, in 1989 and 1990. Prost is portrayed as manipulative and weak in contrast to Senna's righteous purity, and this was the only serious issue I had with the film; only one side of Prost's character is shown, that of the consummate political animal, using his relationship with Jean-Marie Balestre, the chief of the ruling body of F1, to gain an advantage over his rival.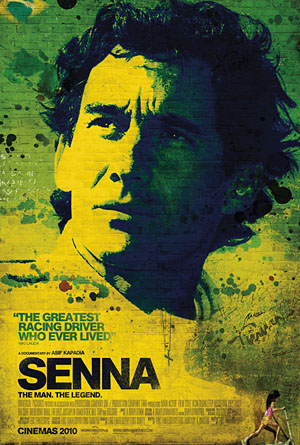 Those reservations aside, the film is a nigh-on perfect illustration of all that we love about Formula 1: the drama, the on- and off-track battles, the glamour, technology and speed. It's safe to say you've never seen F1 portrayed like this. Riding onboard with Senna in the McLaren MP4/4 around the confines of Monaco in 1988 on the big screen is a visceral thrill that's unmatched by any modern high-definition F1 broadcast. My wife, who accompanied me to the screening, had never seen any onboard footage with Senna and she came away from the screening absolutely stunned by the sheer speed and commitment that he showed around the streets of the Principality.
There's plenty of little nuggets to thrill the F1 tech geeks, too. The sight of a driverless Williams FW14 sat in the pits running its sophisticated active ride control through a circuit simulation is both fascinating and unsettling. There's also footage of a young Michael Schumacher performing one of his miraculous fast starts in 1994, lending considerable weight to the suggestions of his Benetton being equipped with illegal traction control.
Of course, hanging over the film like a cloud is the knowledge of what's to come. Even as you see Senna at his happiest, relaxing off the track with his family after sealing his third World Championship, there's a sense of foreboding. An interview with him produces a quote that is heartbreaking in retrospect: "There is a lot to learn, a lot to do, but I have plenty of time..."
And when we finally get to that sunny day at Imola in 1994, the film pulls absolutely no punches in showing the events of the weekend. Rubens Barrichello's violent crash in Friday practice sets the tone, and though the young Brazilian walked away unharmed, it clearly unsettles Senna. Then we see the first fatal accident of the weekend, during qualifying, when Roland Ratzenberger, a young Austrian driver, is killed when the front wing on his car fails. The footage is shocking and difficult viewing, but absolutely essential in setting the context for the events to come and I applaud the filmmakers for including it.
Riding onboard with Senna in Monaco was an absolute joy to watch, but when the film finally shows the last two laps of Ayrton's life, onboard with him in his Williams FW16, it's hard not to look away. The crash footage will be sadly familiar to many F1 fans, and the helicopter footage that shows him lifeless in the cockpit for a long moment before the medical teams arrive at the scene is deeply upsetting.
Before the film began, I'd wondered if I'd have to brush away a tear or two on watching the crash. As it turned out, no, I was dry-eyed throughout that fateful Imola weekend. What moved me far more was the reaction of the Brazilian people to the death of their hero. It's hard to imagine a single person - and a racing driver, no less - could engender such an outpouring of emotion from an entire country, but Senna symbolised something very special for Brazilians, and it was watching their sadness at losing this figurehead of Brazil that raised a lump in my throat.

Ultimately, though, Senna is a joyous film, a celebration of both the man and the sport which he loved. Formula 1 fans will love it, and non-fans will be taken in by the compelling storyline and the magnetism and talent of its leading man. There will never be another like him.
Senna opens in cinemas across the UK on June 3rd 2011.