A modified Seventies Mercedes. But is it an AMG prototype or something else?
There are lots of stories on the internet that Mercedes has confirmed its AMG division will be building a new mid-sized sportscar to rival the Porsche 911. it also seems likely that the car will be badged the SLC, reviving a moniker last used in the Seventies on the longer wheelbase coupe version of the R107 series Mercedes SL.
It would also seem that if the advert on Car and Classic is to be believed, AMG were thinking about a fast SLC even then as this car is claimed to be a prototype for a projected AMG version of this Seventies cruiser. When new, the SLC came with a selection of straight 6 and V8 engines ranging from 2.8 to 5.0 litres with the most potent versions making 240bhp, but this one is claimed to have a 6.2L bi-turbo good for 500bhp. The car also comes with a five speed gearbox which is unusual since V8 SLCs only came with automatic transmission.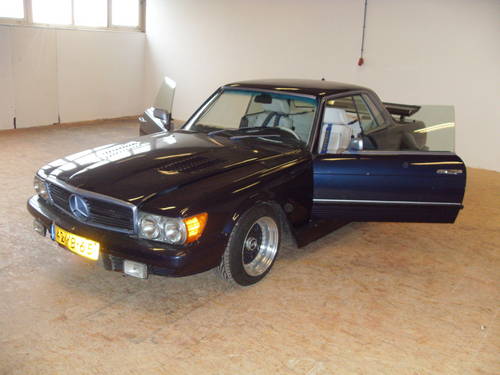 The bodywork is heavily modified from a normal SLC, with huge flared wheelarches and a rear wing that would be more at home on a light aircraft. A pilot would also be familiar with the interior, judging by the number of gauges running all the way across the dashboard. The general condition of the interior, with cracked leather on top of the dash and a worn steering wheel, may indicate that the the car requires some restoration. The split rim alloy wheels look rather fancy but I'm not sure if they are of a type used by AMG at the time (AMG was an independent tuner when the SLC was new).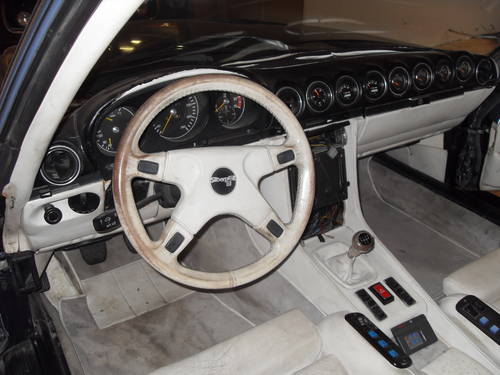 This mad Merc is listed as for sale in Holland and carries Dutch registration plates. The author of the advert clearly does not speak English as a first language, which makes accurate information about the car difficult to decipher. The regular SLC, with its slightly frumpy looks, is relatively unloved today and reasonable examples can be picked up for well under £10,000. The vendor is asking £15,000 for this example which means any prospective purchaser needs to decide if this is a genuine AMG prototype or some kind of backstreet hot-rod.