For one day each year, Millbrook Proving Ground is filled with motor manufacturers showing off their latest wares. Chris and Alastair attended this year's SMMT Test Day see what the current dealer forecourts have to offer the public.
Drive Cult doesn't really review new cars because, well, we don't get new cars to test and lots of other people do it better than us. However, the Society of Motor Manufacturers and Traders (otherwise known as the SMMT) hold an annual Test Day, where manufacturers invite journalists to test drive some of their latest models in the confines of the fabulous Millbrook testing facility.
For those that don't know, Millbrook Proving Ground is set in 750 acres of rolling Bedfordshire countryside with over 50 miles of surfaced test tracks and over 100 acres of off-road area to play, sorry, test in. From brutal Belgian pavé to a tight and twisty city track, a rather rapid high-speed two mile bowl, various handling tracks, off-road handling courses and extremely vicious hill climbs, it has it all. It's used by vehicle manufacturers and the industry alike to test all elements of a car's performance (often to destruction), it's been used as a stage in the WRC and even appeared in a Bond movie. It's a remarkable facility.
By far and away the most exciting part for a B-road junkie is the 4 mile hill circuit. This extremely tight and twisty one way 'road' threads its way up and across the hills in a mesmerising fashion. Switchbacks, tightening double apex corners and jumps vie for your attention along with numerous technical off camber sections and fast blind crests. The route is interspersed with man-made bumps to test you and the car and the surface is often naturally bumpy, lumpy and broken in places mimicking the best UK B-road you're ever likely to find. In all, it's a great combination of the Porsche Experience facility at Silverstone mixed with the Nürburgring Nordschleife. Naturally, we had a lot of fun.
Both Chris and Alastair made the trip down to the event, which has been described as speed dating with cars. Everything from tiny electric cars to Bentleys and even a Corvette are available to try out. There's no guided sucession of cars or set programme, so what follows is their collective notes in no particular order, though Alastair did have something of an agenda and he's put together some rankings which you can see at the bottom of the article. Chris, on the other hand, took the keys of whatever he was standing next to at the time. We've denoted who drove which car with their initials.
C30 T5 R-Design (Polestar Upgrade)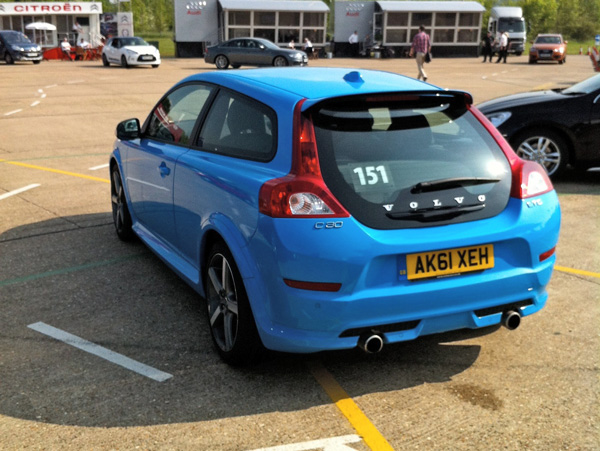 AP: It's a striking-looking car, this Volvo. Jump in, turn the key, drive off and things continue to look great. The engine is brilliant. 250BHp and 273 lb/ft of torque matched with relatively long gearing mean you're soon ploughing on at a fair rate of knots.
On the high speed bowl and fast, flowing roads it continues to impress. It's only when you shift onto that twisty B-road where things unravel. The steering is very light with little feedback and for some reason the clutch / gearshift really didn't work for me. The pedal travel was far too long, the bite point was right at the top and the brakes were over-servoed. In fact everything just felt designed to avoid being hustled. The suspension is a little soft (which isn't always bad) but it resulted in a bit too much wallowing to really provide confidence. Very disappointing.
Seat Leon FR+ Supercopa 2.0 TDI 170PS
AP: It was very easy to jump in and drive this car quickly. It was also very easy to jump – or at least get very light - on the crest. Oops.
Yes, it's a bit jiggly, and this model is getting on now and doesn't have the most adventurous and adjustable chassis. However, the engine is suitably torque-laden [c260lb/ft] and the e-diff allows you to plant the throttle mid- corner to get a fast exit. Again, I felt the steering was very light (as was the throttle) but comparing it to that of my Elise / E30 BMW is probably not very fair. I also gave it an extra bonus point since I overtook someone in an IS-F, which made me smile.
Seat Leon Cupra R 2.0 TSI 265PS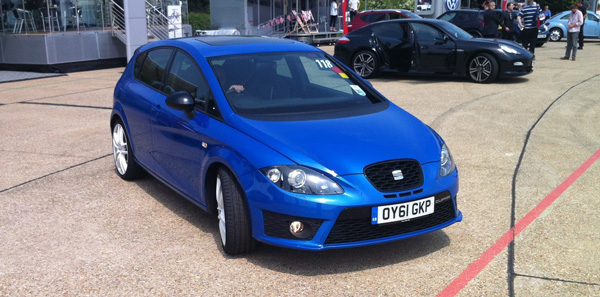 AP: The Leon's big brother places next in my test. By now the sun was out and confidence was up. The hill route was my new favourite playground and all the drivers were starting to push the cars a bit more...
The most noticeable change between the two Seats was actually the engine. I'd started to enjoy the diesel torque of the Leon, but quickly realised that petrol is still much, much more fun to drive. Despite the additional power it didn't feel as rapid as I thought it would. Not that it was slow; straight-line performance was actually very good but somehow didn't feel quite as quick as you would expect. In my highly scientific test it wasn't up there with the C30 but overhauled an Audi A6 3.0 Avant BiTDI Quattro SE in a straight line, although I fear this may have been as much to do with my enthusiastic driving style rather than the relative engine outputs. As per its smaller sibling the e-diff again allows you to get on the throttle earlier than I would ever have thought. I couldn't really find a good way to get the rear of the car to play as I'd quite hoped, but still, there's plenty of safe fun to be had.
Suzuki Swift Sport MkII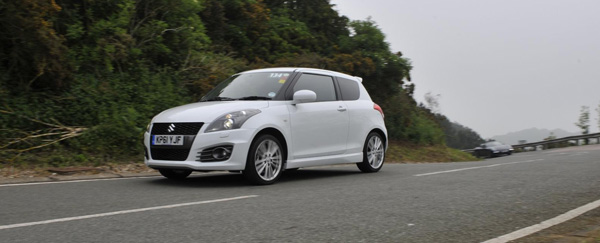 AP: Punching well above its weight was the Suzuki Swift sport MkII. Now, it's worth noting that I'm a massive fan of the original. It's a proper fizzy French-style hot hatch in the mould of the 205 / 306 Rallye and Clio Williams. You have to rev the nuts off it and chuck it about like a hooligan to get the best from the car. So how fares the newer model?
Very well indeed, as it happens. The Swift Sport mkII is a real gem of a car. It normally takes a lot more than 136bhp to set my world on fire but the lack of power is easily forgotten when you crest the first off-camber rise or flick it from left to right through a twisty section at a pace you just don't feel comfortable doing in many bigger, heavier cars.
It is a properly fun little car and it left me smiling. After a bit of reflection, I don't think it's quite as lively as its predecessor, but that may be a rose-tinted view of the old model – especially since the last one I drove was a stripped out special. Regardless, I love the new car, and given that it costs less than £15k new it seems like a real bargain to me.
Renaultsport Megane 265
AP: I was pretty sure it was going to be good before I tested it and it certainly didn't fail to impress. In fact, if I'm honest it was one of, if not the most, impressive cars of the day, particuarly given that this example didn't even have the highly-regarded Cup chassis.
From the outset, everything seems so right in this car; the pedals have a brilliantly weighted feel and are perfectly responsive too. The driving position was one of the best of the day and the exhaust burble on the overrun just makes you want to push at full acceleration to maximum revs then aggressively back off the throttle all the time, just to hear it again.
The steering could probably do with a bit more feedback if I'm being picky, but such thoughts soon melt away when you're pressing on. With the traction control off, it wags its tail quite a bit and spins up the front wheels more easily than I expected, but get on the power early mid-corner and the way it just pulls you through and round the corner is utterly magnificent.
Porsche Panamera GTS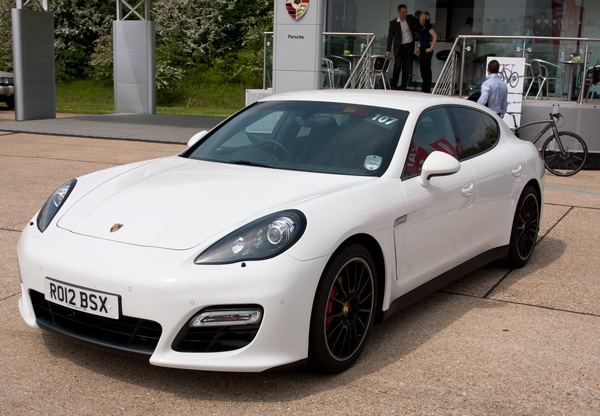 CR: This was my first time in a Panamera, and the interior is part familiar 911, part Panamera large centre console, with the passenger a fair distance away.
When you're actually driving it, the GTS feels like a sports car first and foremost, and it's only when stationary that you remember the rear seats, boot, and the challenging rear styling. Perhaps appropriately, a week prior I'd chased fellow Drive Cult contributor Jack Wood's C63 AMG wagon through the German mountains, and I can't think of a better car for long journeys on fun routes with luggage and several other people. However, the Panamera GTS would definitely be my very close second choice.
Inevitably there are times when the sheer mass of the car becomes noticeable, but it's never a problem. The Panamera is quick, compentent and stable. Plus, and this may just be familiarity, but the looks are rather growing on me...
AP: I generally didn't want to like the Panamera, but somewhat annoyingly it turns out that it's a great car. Perhaps that's not really surprising; it is a Porsche, even if it is a bit ugly. The surprise is that it's actually very easy to hustle this car. It has that M5 feeling - it's enormous, but it doesn't feel that way when you're in it. Rather, it feels like the new 991 with a bit more headroom. As you push on, it seems to get smaller still and you obviously notice the different engine placement over the 911.
If I'm being picky, the steering isn't as communicative as you might like but it covers ground effortlessly and on the motorway I would probably find it hard to keep below 100mph. It's an amazing high-speed cruiser, and very, very impressive.
Porsche 911 Carrera S Cabriolet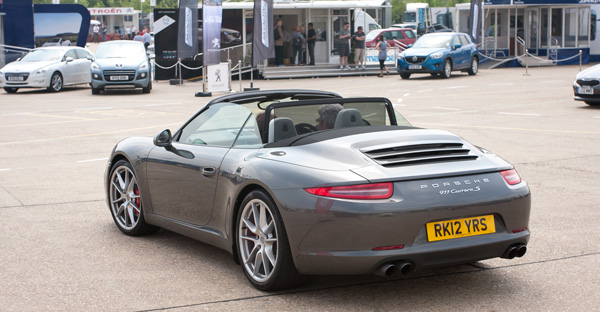 AP: Jumping ship to the 911 and things start to look very familiar, although the switchgear quality has stepped up somewhat since I owned my 996. The dial placement and general feel at a standstill are where the similarities with the older models end, however. Oh, apart from the fact that it's a bloody great car to drive.
If didn't have the bloke from Porsche sat next to me mentally restraining me I would have probably have rated it as the most fun car to drive all day. However I felt a bit uneasy pushing as hard as I would have liked when I had someone scrutinising my every move in his £90k car.
That said, it was still a hoot to drive. It was seriously fast across ground and the front end had ludicrous amounts of grip. Very un-911 like! With the roof off I could also thoroughly appreciate the snap, crackle and pop from the exhaust on the overrun. While I didn't really gel with the clutch and 7-speed manual gearbox, it still felt like a brilliant package.
Finally, given every man and his dog has written about the steering – here's my tuppence worth. It's OK. There's not as much feedback as on older models, which is a shame. But in the dry, at the levels I was pushing at, it was more than enough and better than many others I tried on the day. I imagine on the limit in the wet it may be a different story, so I guess I'll just have to go and test another one…
CR: Sitting here, coffee in hand, notebook on the table and reliving each car in my head, it's odd that the 911 is the least memorable. Familiarity? Lack of familiarity?
I drove a PDK-equipped car, and the double-clutch 'box is still impressive. The interior has certainly taken on the corporate Panamera style. The drive is still impressive with levels of grip and computer assistance such that finding the limits within a few miles is impossible without a history of 911 ownership.
What to say about the infamous electrically-assisted steering... I can't give an honest opinion without more experience and more miles. I'd like to say it was a bit lifeless and numb, but again it's very hard to judge it fairly given how much I've read and the expectations that have built up around it.
All in all, it's still a 911. Still a deeply involving car to drive, and still very quick.
Jaguar XKR-S Coupe and Convertible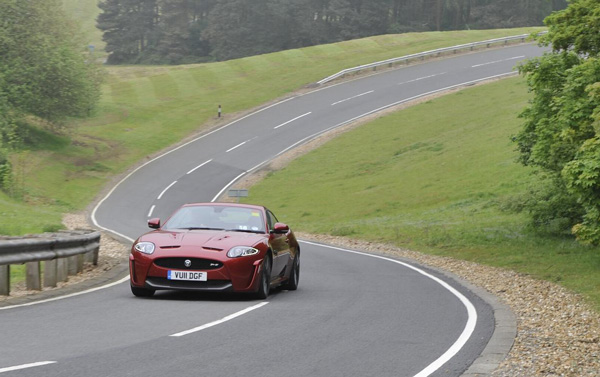 AP: How best to describe the two Jags? I'm going to go for 'rabid'.
It's something to do with the stupidly accessible grunt that smacks you in the back from the second you hit the accelerator and shows no signs of stopping. Ever. The spec sheet says you'll hit 60mph in a smidge over 4 seconds and fly on to 186mph. Both the coupe and cabriolet I drove feel every bit as healthy as this and more, and brought a rather manic grin on my face on numerous occasions. The chassis also seemed perfectly matched to the power and I was actually glad of the traction control on a couple of occasions where my enthusiasm got the better of me.
The best thing about the Jags, though, was the noise. I don't think I would ever tire of it. If you haven't driven one, I urge you to do so just so you can hear the thunder that erupts every time you even brush the throttle.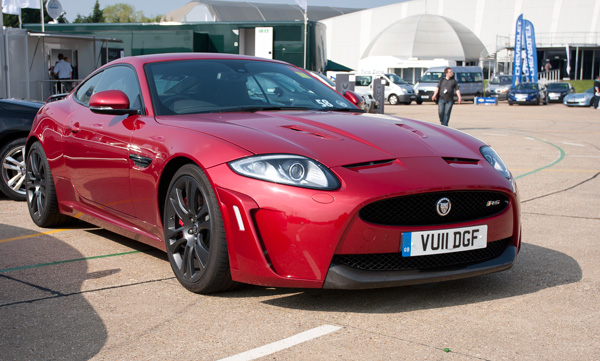 CR: If ever a car were constrained by the hill route, you'd have to say the XKR-S Coupe fits very much into that bracket. Ideally you'd want lots of space afforded by a track or an airfield, but it says a lot about the XKR-S how well it handles the tight twists and turns of Millbrook.
The interior is cosy. Not quite claustrophobic, but you get the feeling it's not a car with practicality first and foremost in the brief. The interior is an interesting mix of traditional Jaguar and modern touches, with quirky additions such as the rising gear selector and blue LEDs.
Given the power, it was suprising how it didn't feel like the engine dominated the whole car like it does in the Mercedes-Benz C63 AMG. There's ferocious amounts of speed available, but it felt like that speed was controlled by a chassis and brakes perfectly matched to the task. The ride over the more difficult crests and bumps was firm but forgiving.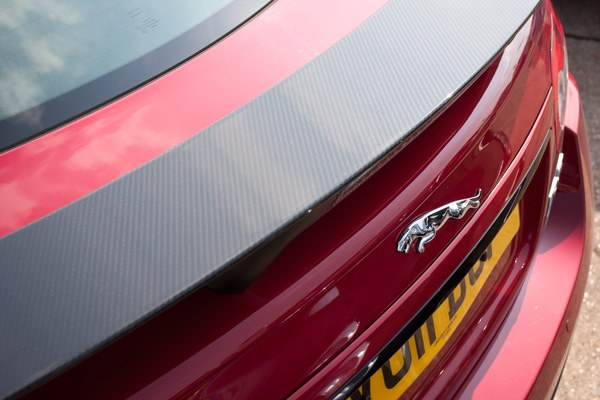 Back in the display area, I thought about the XK-R-S a little more. The XKR-S is hardly subtle, but its brilliance is in how all the elements are so well matched. It's a car you could drive for hundreds of miles comfortably, or take it for a Sunday morning blast. Deeply impressive, and a car that quietly grows on you over time too.
Mercedes-Benz SLS AMG Roadster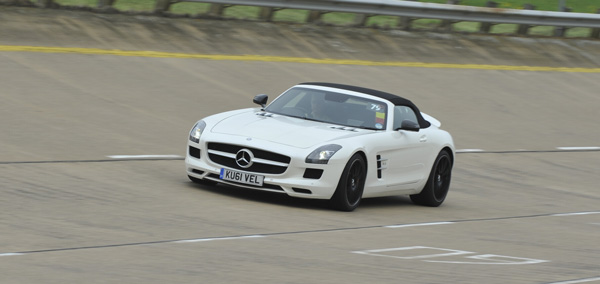 AP: Spectacular aural entertainment also comes as standard on the next two cars I drove, the Lexus IS-F and the Mercedes-Benz SLS AMG Roadster. The Lexus V8 sounds utterly brilliant; it comes alive beyond 4000rpm and is equally as exciting as the Jag's V8, albeit in a different way. However, as much as it pains me to say it, I think the SLS pips them both. I suppose that shouldn't be a surprise; after all, there is a 6.3-litre V8 wedged underneath the enormous bonnet of the SLS. Still, the noise is nothing short of a work of art. At full acceleration it sounds like no other road car I've driven.
Handling-wise, it's not quite as stunning. It's a big car, and it fails to shrink around you like the Jags and even the Panamera does. However, I am sure that part of this is down to the fact that it's just so damn quick - almost too fast for me to really get to grips with in the short time I drove it (0-60 in 3.6s and 197mph top end). I have no doubt it's brilliantly capable, and there were glimpses of magnificence as I flew round the hill route. However, the throttle map on it was so spiky at times I found myself lurching between corners when trying to balance the car on the throttle. This was only the case in manual shift mode, though, so it's probably down to user error by me having it in a gear lower than really necessary. In auto mode, it shuffled up and down the 'box extremely well and is probably the setting this car is really designed for.
Lexus IS-F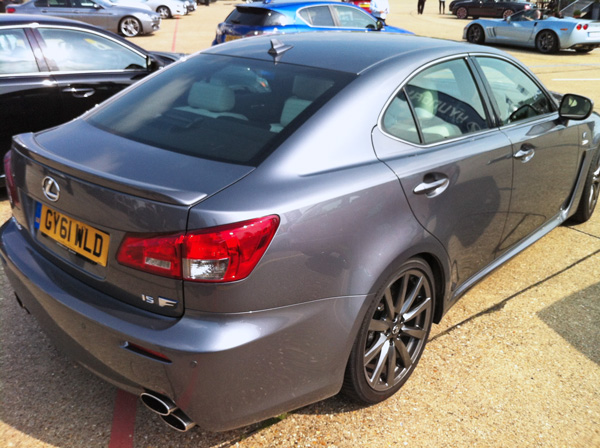 AP: So we come to the Alan Partridge's rep saloon special. I ended up jumping in this car right at the end of the day not really knowing what to expect. I'd meant to drive one for a while and had high hopes, but having followed a number round the hill route at different points and even passing a couple in the hot hatches, these hopes had been considerably eroded.
Oh how wrong could I be?
On my scale of 'instant hoonability' this car was right at the top. The IS-F is a full-fat, raucous lunatic's car that was so easy to drive it would still be fit for a pensioner, or even Partridge himself. However, once you get that engine past 4k it just takes off like a rocket. Yet, more than just straight-line pace, it also has grip in spades and when it lets go it's all very predictable before the traction control steps in. With TC switched off, I didn't manage to lose the tail much but upon entering the bowl I got outrageously out of shape and yet it felt as progressive as my E30 - albeit slightly more punchy. I was even more than happy with the paddle change, which is very unlike me.
Range Rover Evoque 2.0 Si4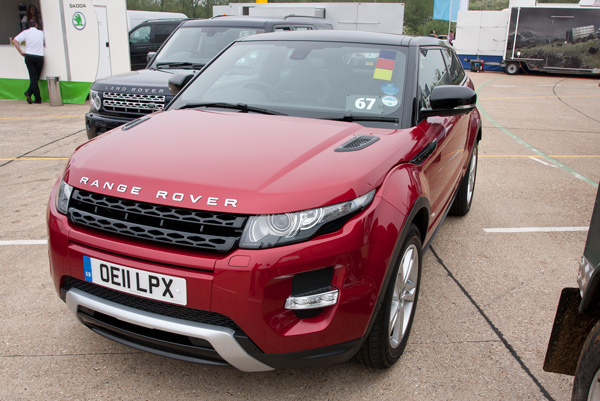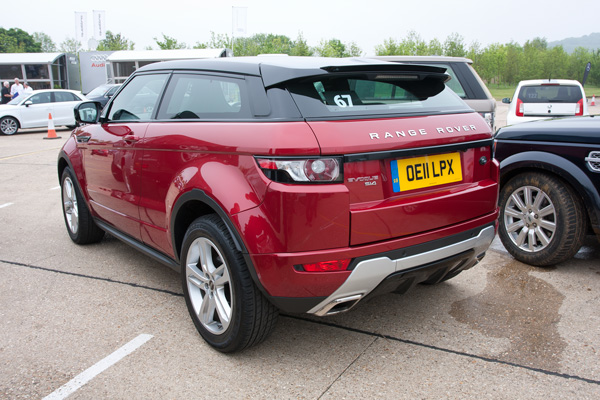 AP: I drove the Evoque around the hill route. To be more accurate, I ragged it round. Everything you've read about the handling on this car is true – in dynamic mode it has agility that belies its size and weight. It is truly impressive. It's no wonder it's so popular in Essex, it's a grown up Kev-the-boy-racer's dream car for the family man. The only time its size was noticeable was during heavy braking downhill. For a split second the rear felt that I was about to get loose and overtake the front. But in a follow-up split second, it sorted itself out and carried on. Impressive.
However, not as impressive as the fact that it is then also capable of monstering the off-road course, on the same tyres…
CR: Who is the Evoque aimed at? It may seem like a silly question, but the styling is very bold and attractive, and Land Rover claim that it will do the Land Rover thing off road. This version had a multitude of very nice features, including a glass roof, which made the interior a lovely place to sit. The dial numbers seemed to be made of a sort of glittery silver foil however, which would be banished from a Defender, unless it was used to jam enemy radar.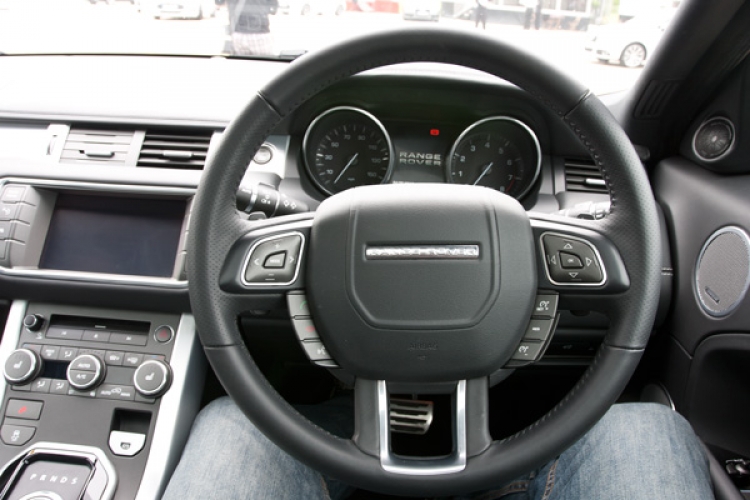 The steering wheel, as is currently the fashion, is covered in buttons including two four-way controllers! It was also the only car of the day to add an additional row of buttons on the back of one of the lower spokes. Have LR followed Ferrari and put everything on the steering wheel? Not according to the three stalks still lurked behind the wheel. As James May pointed on Top Gear, the wing mirrors are surprisingly big too.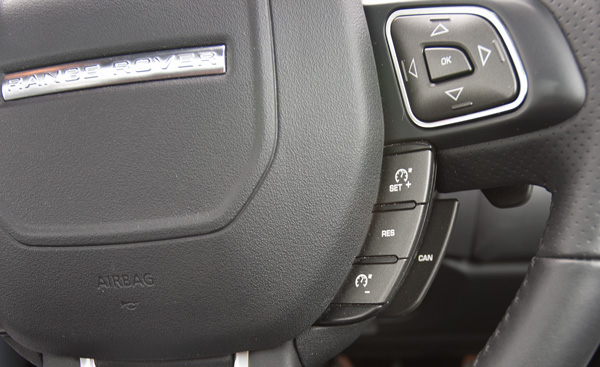 This car was four-wheel drive, but for on-road driving only. In standard mode it contained its mass in a reasonable way, although the seats were far more comfortable than restraining in the bends. The ride was beautifully smooth, with dynamic mode firming things up beyond what most Evoque owners would ever actually want. Similarly the gearbox wasn't exactly sporty and snappy, but perfectly suited the pace of the car on the most demanding road it might come across.
Nissan Juke-R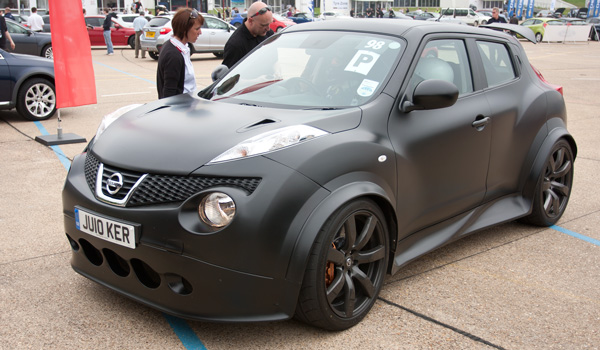 AP: This car delivered my most fun drive of the day, although it was technically my most fun passenger experience of the day as sadly I didn't get to drive.
Nissan had the 480bhp GT-R-engined Nissan Juke-R present, which was being piloted around the outer handling circuit by the 2011 GT Academy champion Jann Mardenborough. I managed to get my name on the list and had one of the most phenomenal 5 laps round any circuit I can remember.
The handling track is the one used in Chris Harris' "C63 AMG on space saver tyres" video, although it was being run in reverse for the Juke-R runs.
The first thing to note (which you may notice from the video above) is that there's relatively little room for manoeuvre. In fact there's only a few feet either side of the car to play with, even in something as small as the Juke. The second thing to note is that the Juke is one of the most mental crossover cars ever created. It has 485bhp and 434lbft of torque and weighs about 1880kgs. It does 0-60 in about 3.6s, will top out at about 160mph and seems designed to enter every single corner backwards.
Whilst it retains the GT-R's incredible brain and 4wd underpinnings, in the shorter wheelbase and significantly higher body of the Juke it looks like a complete handful on the limit. Thankfully, Jann is blessed with some seriously fancy skills. Watching him at work up closely is simultaneously mesmerising and depressing, especially when you realise he's only 20 years old. On several occasions he continued to hold a perfectly normal conversation whilst at the same time pitching the car into a right-left flick and following tightening right-hander at speeds that light aircraft would struggle to reach. Throughout, all four Dunlops are competing with the tarmac and arch linings to see which they can wear out first and then we've launched off down the track to the next section to repeat over and over again. His car control is phenomenal and on several occasions when I feared he'd surely over-cooked the corner entry, he not only catches the slide but continues to carry immense momentum as if nothing happened. In fact, it's a bit like watching someone playing Gran Turismo 5 very very well, but in a real car, with real consequences. It's a truly visceral experience that I will remember for a long time to come.
Out of the car, Jann is an impeccable ambassador for the brand; keen to impress, sharp, eloquent and loving every minute of what he does, and on top of this, he couldn't be a nicer lad if he tried. I genuinely wish him well for the future, he really deserves it.
CR: Jann is young, very young. He's also enthusiastic, polite and a brilliant ambassador. He's also 100% racing driver. A bit of small talk on the way to the loop, and he's suddenly all business. It's either full throttle or full braking. His hands were a flurry of activity on corner entry to find grip and then working with the GT-R drivetrain to go far quicker than you think this car has any chance of going. Alastair has it completely right, it's all a blur of speed and g-force. Once off the loop and trundling back to the Nissan stand, both he and the car settled into a well mannered drive. The car is astonishingly capable and well built, and Jann is both very handy behind the wheel and a great tribute to the innovative driver academy system that brought him here.
Subaru Impreza WRX STi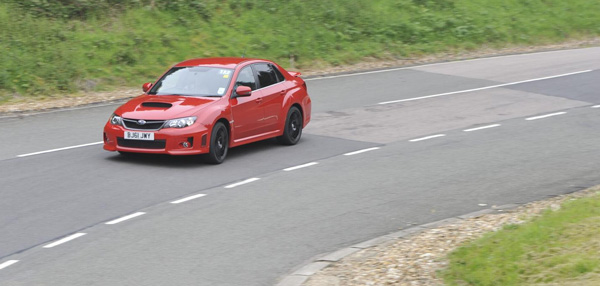 CR: It's a well-worn motoring cliché that Subaru Impreza interiors are cheap, and it's interesting to get in one for the first time. The seats are really nice and supportive, and everything you touch is lovely, but then the other bits of the interior are cheap, hard, scratchy plastic. This doesn't feel like a top-spec model, but more a car that comes pre-modified.
When you give it some throttle and let the turbo spin up, the torque is the main thing that suprises you. It really pulls, and added to this is the yaw on the suspension. The Impreza is not a stiff car, but instead one that sits well in the suspension travel and has enough compliance to match the road. A quick drive, even on the hill route, is nowhere near enough to learn how to manhandle the Impreza. I wonder how different a Group A-era roadgoing Impreza would handle?
What it is lacking, however, is a proper rear wing. It may be a dealer-fit-only option, but to my eyes the rear boot lid looks neutered without it.
Subaru BRZ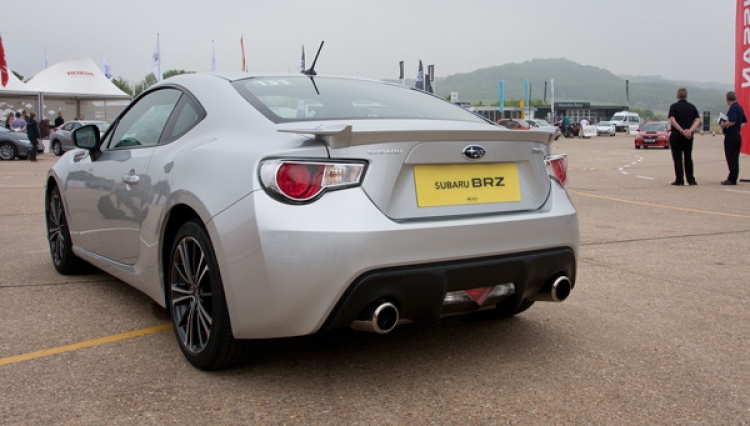 CR: This must be one of the most anticipated cars at the event, with it being the first drive for many. Subaru told me that it's been a lean time for their dealers, and they're hoping the BRZ may drive a few more people through their showroom doors.
On first impressions, the BRZ is a mix of MX-5, the Vauxhall Calibra and some of the bodykits from Japanese tuner Veilside. There's an odd mix of aggressive lines and angles along with wheels that seem rather small. This might be the Version 1 car, the BRZ GX. Subaru have announced plans for a Japanese car with deliberately cheap or unpainted components to let tuners have their fun, but this is not that car.
Inside, it's not very big. The steering wheel won't go up high enough for me, but it pulls nice and close. Some of the cheap interior remains, with some interesting hexagonal dials to try and lift the interior, but it all feels too little, too late. Like the Impreza, it has good seats, and the central rev counter is a definite statement of intent, even if that statement is "Do you really care how many actual miles per hour you're going?"
In a straight line you get a decent enough four-pot noise, but not a lot of actual 'go'. Once you're into the flow of a few bends it works well and all the controls feel unusually heavy for a Japanese sports car. The brake pedal is fantastically firm with a short travel, though the steering needs some time to get to grips with - more time than I had. I didn't have the time, space or trouser furniture to get all drifty with the car, even though it had the LSD fitted.
The biggest problem for me was that it felt over-sprung and too near the top of its dampers, with the the ride getting a bit skippy at times in a way the Impreza does not. It does remind me of an MX-5 coupe, and it's a great little drivers car, but I suspect most will want a bit more power. Many owners will probably go for some external beefing up too, though I hope they won't go wide on the tyres.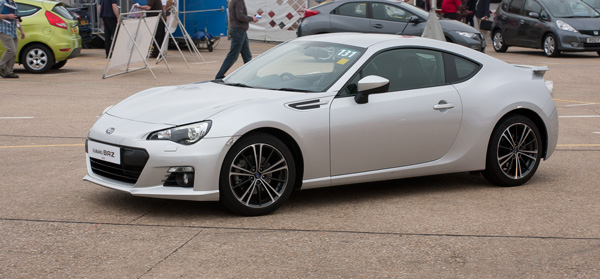 Both the drive and the body promise a lot, but in it's current form it's still a little blunt.
Mercedes-Benz SLK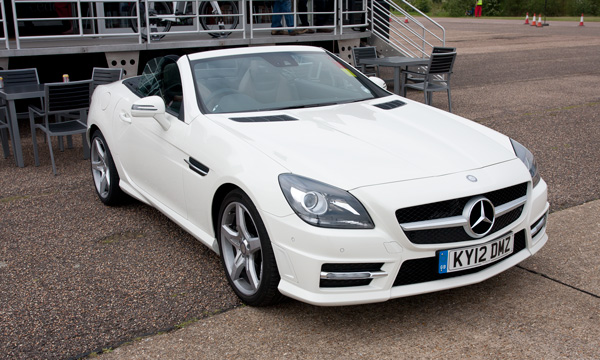 CR: From an MX-5 coupe, to an MX-5 rival. Sort of.
OK, it's not really a competitor, since it's actually a lot closer to the Porsche Boxster in price. Tellingly, the first things I noted were the very nice multi-tone leather interior, followed by my second busy steering wheel of the day. It's very nice, very Mercedes, very comfortable.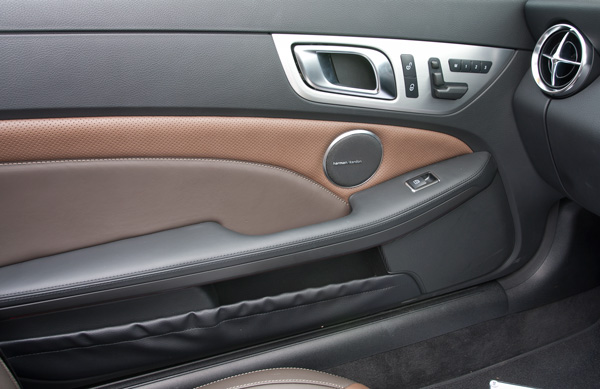 On the move it's also very comfy, but in the twists it struggles with the suspension feeling too soft, the gearbox too slow and mass that is well-controlled but still very prevalent. This is the car I'd drive to the south of France in and cruise along the Riviera. If I was going to take in the Stelvio Pass or Route Napolean, I'd choose the Boxster instead.
Renault Twizy

AP: Chris and I managed to secure two Twizys at the same time, which was no mean feat given the constant queue for them all day. Following the official guidance we opted for the city course, although had we realised we'd have taken to the hill route as a number of adventurous souls did later in the day.
With a top speed of about 28mph they never felt particularly lively. However with no windows (or doors depending on the model chosen), you don't exactly feel over-secured either. Plenty of fun could be had trying to get the tail out, a feat that I found completely impossible. However I did master the art of massive full lock understeer from left to right in the space of about 2m. The lack of windows and no engine made hurling abuse at the person you're chasing rather easy, and added some elements of fun to the drive. Apart from that, I can't really see the point of owning one in the UK, unless you have a massive estate and need transport from the East to the West wing. Transport around a holiday resort in the Med, however, would be a different matter.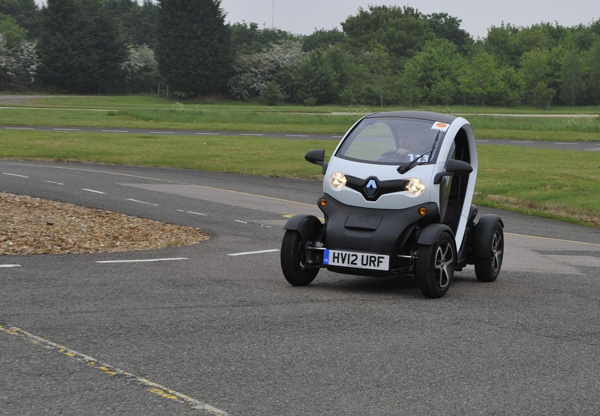 CR: The Renault Twizy is not a car. No, really - Renault say it's a four-wheeled motorcycle. It's all electric, the lower section of the doors are a flimsy optional extra (no windows at all), and they were probably the busiest cars at the event given how often you'd see them coming and going.
They seat two, the passenger behind the driver which is possible even if the passenger is 6'4". The handbrake is an odd lever under the dashboard and the gear selector is a couple of switches.
At low speed they trickle around easily, pick up the pace and there's enough acceleration to keep up in normal traffic. They also have surprisingly good turn in and limited lean, though the ride is appalling. There's no other word for it. Renault claim the Twizy is Renaultsport tuned, but even they found the limits of small wheels and narrow structure.
Objectively the Twizy is terrible for the UK. The lack of weather sealing and appalling ride would be a real struggle at the end of a busy day. Renault see the market as holiday rentals in sunny places, and for that I can see the sheer fun factor of this little marvel really working well. In the sun and hooning around with Alastair, this was one of my most fun cars of the day!
Mercedes-Benz Actros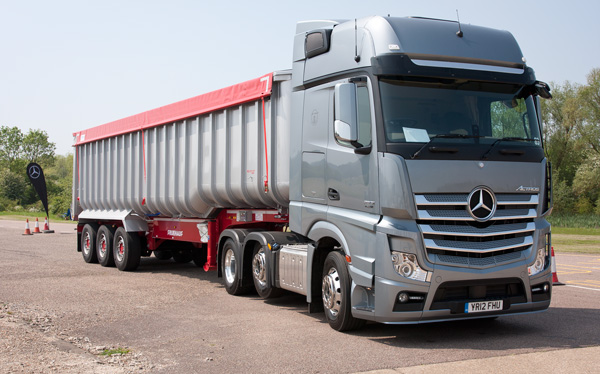 CR: From the smallest vehicle at the event to the largest. Apparently having no experience, no licence, and a constant fear of where my front bumper is are not barriers to driving 15 tonnes of HGV at Milbrook. Not only this, but as my instructor pointed out, this is the largest HGV cab Mercedes-Benz make (they call it GigaClass, gulp), and you could park their smallest cab inside this one. No pressure then.
The floor of the cab is about six feet off the ground, meaning a ladder is needed to even get to the driver's seat. Once there, the sheer array of controls is huge, not to mention a driver's living area that is nicer than some hotels I've stayed in. If you've ever complained about Aston Martin's large glass-tipped 'key', the unit provided for the Actros is roughly the size of an old pager (ask your parents) and can be used to check tyre pressures, light functions and many other things from the outside of the vehicle before it's used to enable the engine start button. And with a push of that button, I was now in sole control of an HGV. 15 tonnes, 12.8 litres, 503bhp and 1844 lb/ft of torque. Yikes.
Some of the tighter roundabouts required heavy use of the excellent two-part mirrors (one section for seeing behind you, another for checking the position of your front corners) but it's otherwise actually quite easy to drive. Onto the high speed bowl - yes, really - and up to the limited 56mph and the 8th of 12 gears. It's obviously a vehicle designed to be driven on motorways, with the airsprung seat giving a very comfy ride, and all the controls light enough to never be difficult or tiring to use. There's a lot of info presented to the driver, most of which I couldn't take in with the short drive I had, but it's definitely a good place to sit if that's where you'll be all day.
I must admit, it was a real eye-opening experience. Once you understand why lorries make the wide sweeping turns they do, how quickly they can (or can't) accelerate, and also how hard they are to stop, it makes you even more understanding of the problems lorry drivers have. Fully loaded, the set up I drove is good for 44 tones, and the cab can do upto 215 tonnes with the right trailer. Huge, and hugely impressive.
Land Rover Discovery 4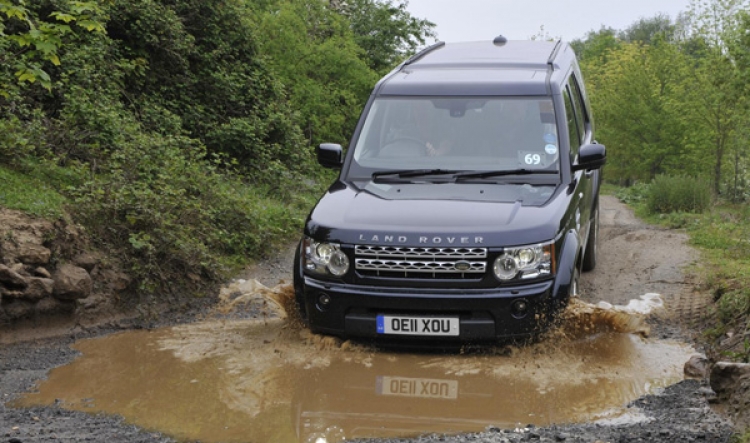 AP: In a total change from fast cars with big V8s, the off-road course had a number of Land Rover Discovery SD4s to try, and I found the Disco extremely versatile and incredibly user-friendly. A complete off-road novice like me was able to switch modes at the push or toggle of a button and the car just took everything in its stride.
Space-wise, I'm still unsure on whether it's quite capable of swallowing all the paraphernalia for a family of four, but I really hope so, since the interior of the Discovery is a significantly better place to spend time in than my family's Touareg (which I like!).
Off-road, the Discovery is a bigger, badder, more capable version of the Evoque. It was easily capable of driving through the 'black' off-road route; over concrete ditches, fording deep trenches full of water and up and down slopes that wouldn't look out of place in the Alps. Frankly I'd be surprised if it didn't make easy work of the worst the Moon could throw at it – it really is staggeringly capable. On the road, it naturally suffers a bit because of the compromises made in order to give it such off-road capability, but comfort levels and overall cruising prowess are so good it I would be willing to overlook this. Sure, most people that buy either this or the Evoque probably won't go any further off-road than a muddy field at the local school fête, but after test-driving both cars I'm genuinely thinking of getting one of the two. If I do, rest assured I will be compelled to seek out the most ridiculous and utterly unnecessary tests for the car that I can find. It's just that sort of vehicle.
Chevrolet Volt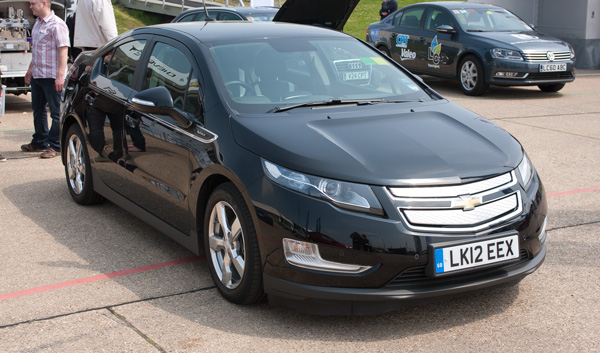 CR: Ask the nice people at Chevrolet if they're essentially selling the same car as the Vauxhall Ampera, you'll get a clear message saying that Vauxhall will target fleet sales while people like you and me will wander into our local Cheverolet dealership to buy a Volt.
Back to back, I'm not convinced. The Vauxhall has a slightly more grown-up feel, with the large central dash containing touch buttons and the touchscreen surround finished in silver rather than iPod white. These are minor touches, though. In both cars the touch screen and array of buttons certainly require some time to understand. Early adopter tech? Absolutely.
The Volt uses an internal combustion engine to drive a generator to create elecriticty to drive the motors powering the wheels. At no point does the petrol engine drive the wheels directly. You can also plug the car in to charge and then run the car for up to 50 miles on electric power alone.
The car is very quiet when you're on light throttle. When I got to the car, the battery charge had long since been used so this was running on fuel. As the revs are determined by what is required to drive the generator it's an odd relationship that isn't nearly as linear as you're used to. Under full throttle and a rush onto the hill route, it has suprisingly useful amounts of torque and could happily flow with traffic and overtake where needed. The controls are generally light, and the eco tyres give up grip and squeal as you'd expect. What is more noticeable though, is the mass of batteries. They are mostly stored along the centre of the car through the transmission tunnel. Not having a mass of batteries in the front or back of the car gives it benefit of not making the Volt handle like a modern Audi or an 80s 911, and also endows the Volt with decent boot space. The car doesn't roll excessively with the batteries so low, but you can feel the mass pushing the car when being driven in a very un-eco fashion.
The Ampera/Volt is the first hybrid/alternative fuel car that makes sense in everyday running. While the interior and tech will appeal to early tech adopters, it'll need some refining before anyone could jump in and understand it. It'll also be interesting to see what real-world mpg figures drivers are getting, as the plug-in charging rather clouds the issue.
Subaru XV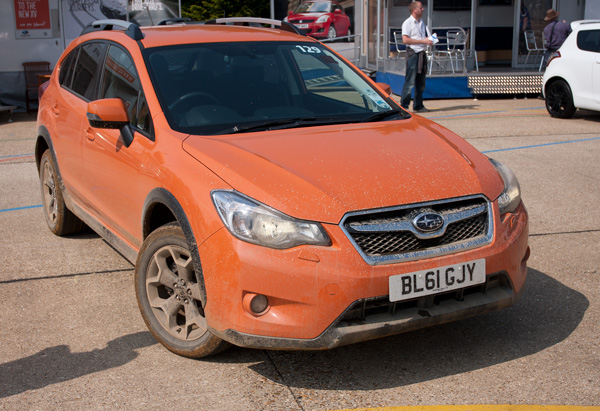 CR: This was my first trip onto the off-road loop, and also my first encounter with a Subaru XV. Set up on showroom tyres, it's quite competent off road. Parts of the interior still feel a little hose-down farm style, but it's comfortable enough. The LCD screen showing wheel position and indicating wheel locking was impressive and genuinely useful if you're pushing either the car's or your own limits. A little care was needed to avoid the worst of the ruts, bumps and potholes, but for a softroader it's impressively capable. However...
Range Rover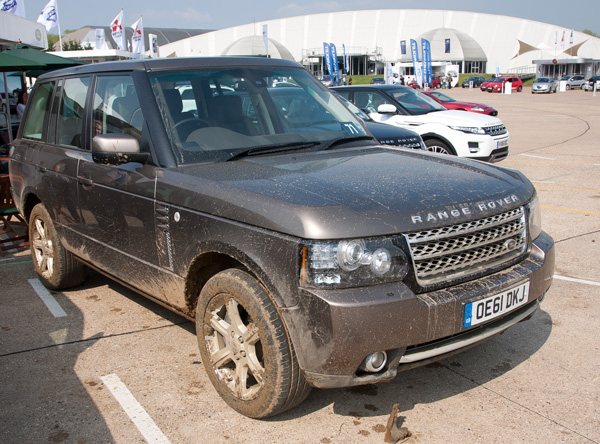 CR: You know the Range Rover. Big, glossy paint, leather, wood, and many speakers. It's comfortable, and yet with a lot of technology discreetly integrated. Animated LCD screens, including one to replace the instrument binnacle, provide the most useful dials and displays depending on the mode selected.
This Range Rover is again as you'd collect it from the dealer, with only a couple of pieces of lower front bumper trim removed to avoid damage.
It's the technology that amazes. I'm not using amaze as a hyperbolic verb, I was genuinely amazed. Going up a steep dirt bank I was told to lift off the throttle, and the Range Rover rolled to a stop while pointing at the sky. No grabbing of brakes, no rolling backwards, it just... stops. Then, as I applied the throttle again, it slowly pulls away as though I'd just stopped on a tarmac road. Going downhill, through the same ruts and potholes I'd had to avoid in the Subaru, it was only an open window that gave away the odd brake squeak and occasional judder as the looser earth moved. The way the technology makes it possible for an absolute novice like me to go through some pretty serious off-road terrain is just amazing. Not only that, but it's also done in absolute comfort. Even creeping over blind crests which got the adrenaline flowing were not a problem, no doubt partly thanks to the relaxed instructor from the West Midlands sitting next to me calmly helping with directions and tips.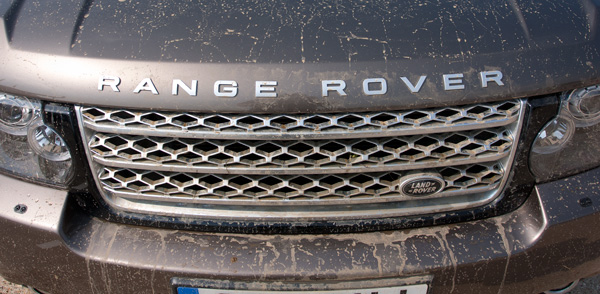 It's a shame that Range Rovers have such a nouveau riche reputation. It's an amazing feat of engineering, that's then coated in absolute luxury. In fact, it's a shame that so many are limited to the tarmac, as the depth of off-road talent is astonishing. With a little guidance I was tackling the more difficult off-road sections, and disregarding what I'd been told to avoid in the Subaru. This was one of the most memorable drives of the day.
Audi A1 1.6 TDI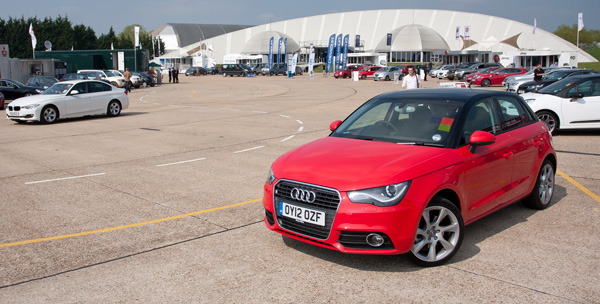 CR: From large and expensive to small and... how much? £22k for a 1.6 litre diesel small hatchback? If you're after a small, nippy hatchback with a decent amount of torque and good gearshift then this would be a good choice, even if you don't spec the S-Line body additions and bigger wheels. Having spent some time in an S-Line A3, it's rather how spooky the A1 feels with every bit of character or distingushing features (such as the small beams from the centre console to the sides of the gear lever) replicated on a slightly minaturised scale.
Even for a tall chap like me, it's odd to have to lean forward to look past the B pillar, but sat so far back in the car, it feels almost like driving from the back seat.
If you want a small, economical car without sacrificing interior quality, but something that is a bit more sublte than a Mini, the A1 looks like a very good bet indeed. The 1.6 diesel is also both frugal and very low tax.
Al's Car Test - the results
The list of possibilities was endless but I had intended to focus efforts on those into three categories. Whilst there's plenty of overlap between the three, they worked for me.
Those I thought would pack the most fun - hot hatches feature heavily here
Those "really must try" cars - serious metal would fit here (SLS AMG roadster for example) as would the BRZ (had I managed to get on the list…)
The "I'm never going to buy that…am I?" cars - the Renault Twizy and Range Rover Evoque definitely fit into this category
The fun bunch
Suzuki Swift Sport mkII
Leon FR+ Supercopa 2.0 TDI 170PS
Seat Leon Cupra R 2.0 TSI 265PS
Renault Megane Renaultsport 265
C30 T5 R-Design, manual (Polestar Upgrade)
Observant readers will have spotted that this is almost a complete line-up of the latest warm and hot hatches available on the market. I'd especially been meaning to drive the new Swift, Volvo and Megane and had high hopes.
The most disappointing car would sadly be the Volvo. This came as a real shock, since on paper it has every chance of being at the sharp end of this group. To its credit, it oozes style and its mild quirkiness makes it stand it out from the crowd and will no doubt appeal to its target market - especially in the lurid blue paint option this particular car wore, which is symbolic with the Polestar brand.
Next up is the Leon Supercopa. It's possible that this should be below the Volvo in the real world given the C30's monstrous engine, but staying true to my rating criteria this definitely provided more smiles within the first 10 minutes than the Volvo did on the entire drive.
So to the winner of this particular rather random group test I've cobbled together: the Megane. The Cupra was just a bit too benign at the rear for my liking and as brilliant as the Swift is, it just isn't as capable as the Megane. I cannot remember a FWD car that I have enjoyed driving this much for a long time. It gives such a high level of confidence so early on and has the capability to back it up. It's a brilliantly compelling package for serious driver.
Those that I "really must try"
Porsche 911 Carrera S Cabriolet (Manual)
Jaguar XKR-S
SLS AMG Roadster
Panamera GTS (PDK)
Lexus IS-F 5.0 V8
Jaguar XKR-S convertible
A cursory glance is all it takes to see that there's some serious performance associated with the selection above. You may also notice that they're not exactly an obvious set of rivals and all but one have a paddle-shift of some sorts. But, countering my particular dislike for non-manuals is the fact that nearly all are rear wheel drive which made for a nice change from the previous list.
Surprise is definitely the theme of this set of reviews. First up; having driven them I would have any one of the above list if money was no object. I didn't expect that.
Ranking this bunch is tough and pretty unnecessary. They're almost all right in different ways for different scenarios. The SLS is the most rapid and has the best accompanying soundtrack; the Jags and the Panamera are excellent GT cars to cross continents in, and I still love the 911 in its latest form.
However, I am going to admit that on the day, the Lexus IS-F placed ahead of all of those in its group for pure unadulterated 'jump in and drive' fun. Let's just mull that over. That is one hell of a statement. Yep – the £60k rep saloon trumps the £180k supercar…
The "I'm never going to buy one of those…am I?" cars
Renault Twizy
Evoque 2.0 Si4
Land Rover Evoque SD4 diesel
Land Rover Discovery 4 SDV6
OK, first things first: before I drove these cars, I would have been pretty unlikely to buy any of them. The Evoque was a possibility as a replacement family wagon, but I'd discounted it as too small for a family of four. However, after my drive of the Discovery in particular, I found myself wondering if I could make the sums work and buy one as a replacement for my VW Toureg, so good was the Land Rover at virtually everything that was asked of it.
Conclusions
So that's it. One very busy day of driving cars about, and some surprising experiences behind the wheel. It's not possible to pick a winner from this spawling, impromptu group test, but here Alastair and Chris pick their favourite car from the day.
AP: Reverting back to my scale of how good the car is for just jumping in and driving, it has to be one of two somewhat surprising choices – the Megane and the IS-F. Both were mesmerising; quick in a straight line with a chassis that rewards those that want to moderate steering with the rear of the car – albeit achieved in completely different ways. Ultimately, I have to give it to the Lexus.
CR: Looking back over the disjointed fleet I drove, it's hard to pick a top car; The Renault Twizy was great fun, but not really a great car. The Range Rover was a stunning display of engineering and calibration to take on difficult terrain in such an accomplished fashion. The Chevrolet Volt a brilliant real world car that shines a path for the next step of alternative power trains.
For one more lap of the hill route, to pass through the barriers of the Nordschleife, or to simply use that last gallon of fuel before the pumps run dry, my car of the day would be the Jaguar XKR-S coupe. I love the styling, and - if you'll excuse the cliché - the additional styling tweaks really give the roaring cat some aggression. Sorry. The interior is beautifully detailed, with lots of little features you'll be discovering for months. On the road, the engine feels on a level with a Mercedes-Benz C63 AMG, but the suspension combines suppleness with enough support to really make the XKR-S a fun drive on real roads. It's the drive that stuck with me most.
That said, everyone should drive a lorry at some point in their life.