Martin Spain visits the incredible McLaren Technology Centre, where amongst the F1 machinery on display he found a very rare Porsche...
I was having a very dull afternoon at work, when an email dropped into my inbox from my Drive Cult colleague Matt:
"I've been asked to exhibit the Daytona at the McLaren Employee Motorshow - there's a spare seat if you're up for a visit to their factory?"
An invitation to visit a Formula 1 team factory is not an easy thing to come by, and as a lifelong McLaren fan, my reply may have been a little eager:
"I'm all over that like a fat kid on cake. Yes please!"
It's a strange feeling to drive through the gates of McLaren in a Ferrari, with several other Ferraris in convoy behind you. Fortunately, the security guards on the gate had been forewarned and didn't tell us to get lost, but instead directed us to our spot in the car park.
The legendary McLaren attention to detail extended itself to our parking spot, with the order and even the exact angle of each car having been worked out beforehand. We left the Daytona in position and went to take a look around.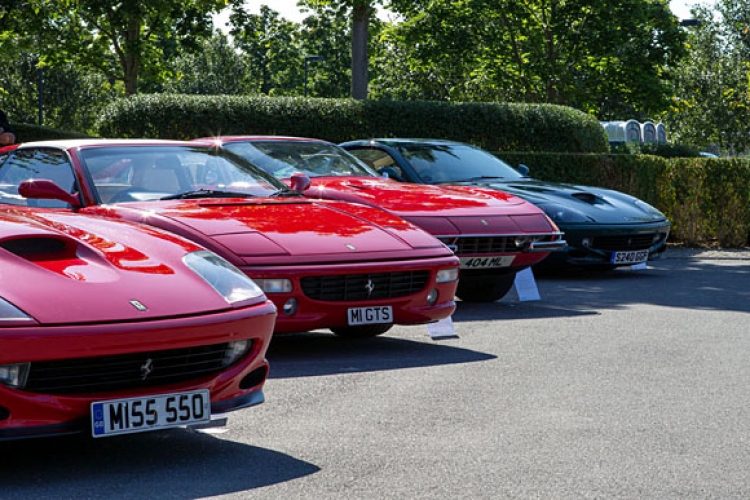 The McLaren Employee Motorshow is exactly what the title suggests: a motorshow of interesting vehicles, organised by McLaren employees for McLaren employees, their families and friends. It's a lovely, personal day for the people that work at the factory to enjoy, and a way for the company to give something back to the employees. For lucky people like me who have never seen the factory before, it's a once-in-a-lifetime chance to go inside the McLaren Technology Centre itself and view cars from McLaren's racing history on display in the boulevard, and marvel at the hundreds of trophies on show from 30 years of racing success.
The selection of cars on display was wonderfully diverse, with American hotrods side by side with Lola T70s and VW camper vans. A particular highlight of the display was Red Victor 3, a street-legal dragster based on a 1972 Vauxhall Victor. It's owned and driven by Andy Frost, and you couldn't wish to meet a nicer bloke. Andy builds engines when he's not racing, including the V8 for Matt's Dad's Iso Grifo rebuild, which you can read more about here.
Aside from high-power dragsters, there was an amazing collection of motorcycles outside the entrance to the MTC, and a DeLorean built up as an exact replica of the one in Back to the Future - right down to having a video camera in the passenger seat identical to the one Marty McFly uses to video Doc Brown's first time travel experiments. McLaren also had a few of their own road cars on display, including a McLaren-Mercedes SLR Stirling Moss and an MP4-12C GT3 car in a very patriotic colour scheme!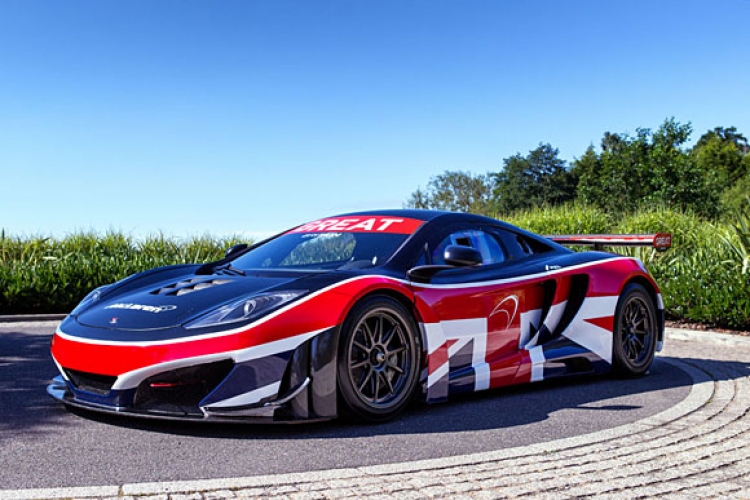 The real treat of the day was being allowed inside the MTC, into the boulevard that extends along the front of the facility. This impressive space is used by McLaren to display cars from McLaren's history, which included Formula 1 cars past and present, a trio of Le Mans cars, Bruce McLaren's tiny Austin 7 and even the stillborn McLaren Advanced Vehicles land speed record car. It was a privilege to be able to see these car at close quarters, and I particularly enjoyed the chance to pore over the intricate details of last year's MP4-26 Formula 1 car, complete with the exhaust-blown diffuser.
The TAG Turbo 911
Despite all of the priceless racing cars on display, the car that caught my attention the most was one that I wasn't sure even existed until I saw it parked by the window. At first glance, it looked like a perfectly ordinary 1980s Porsche 911, albeit in time-warp mint condition. As I walked around the car, though, there were clues that this car was something a bit special. A set of lovely five-spoke RUF wheels, a big green 'Start' button in the centre console, and, oh yes, a pair of stinking great intercoolers sticking out of the engine compartment at the rear.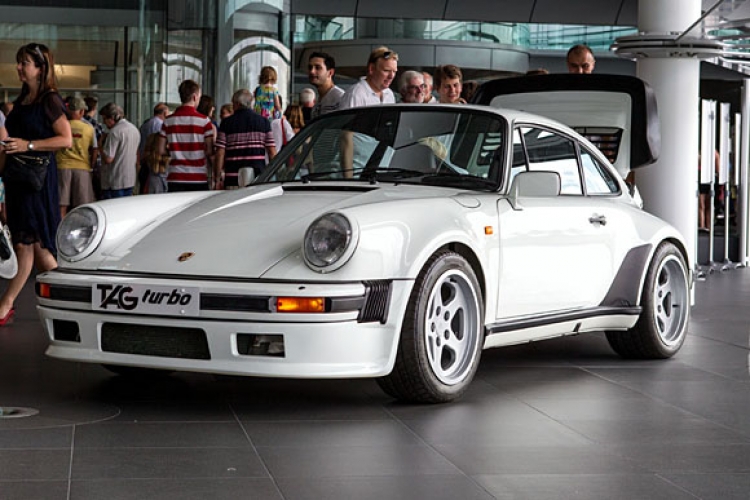 This was a unicorn car, one whose existence was previously only a rumour; a Porsche 911 fitted with a 1.5l V6 TAG Turbo Formula 1 engine where there should ordinarily be a regular Porsche flat six. Built as a testbed for the Porsche-developed, TAG-funded turbo engine that powered McLaren's F1 cars in the mid-80s, this unique Porsche has spent much of its life in a McLaren storage facility. It was a real treat to see it out on display, and fascinating to marvel at how neatly the F1 engine nestled in the 911's engine bay. Ignoring the signs warning that photography inside the boulevard wasn't permitted, I discreetly took a few shots of the Porsche, just to prove something so incredible as an F1-engined 911 really does exist.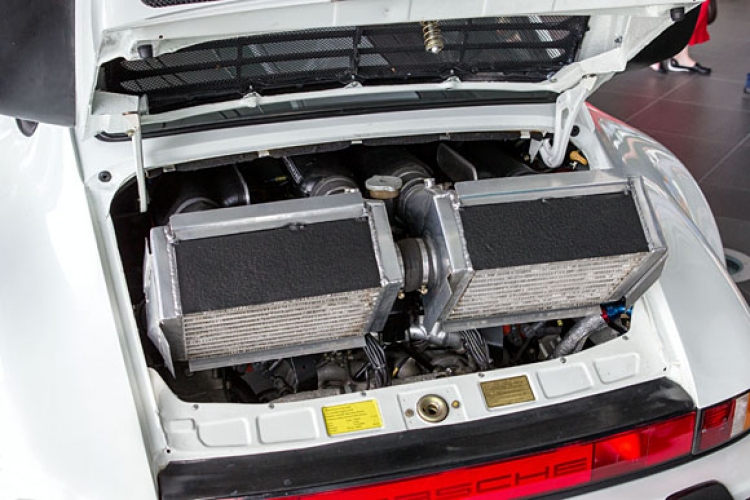 I would dearly love to know how fast it is, given that the twin-turbo V6 developed over 1,000bhp in qualifying trim, but apparently all attempts to convince McLaren to lend it out for a road test have failed. Shame.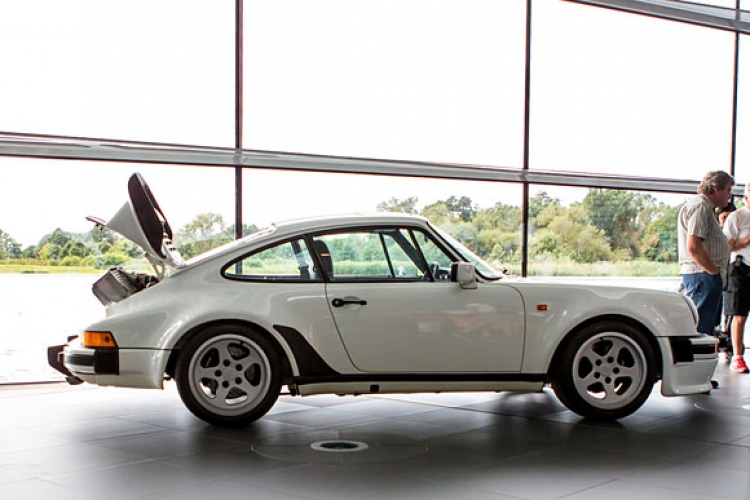 Factory from the future
After tearing myself away from the Porsche, I took a look inside the race bays, where McLaren's current F1 cars are prepped before each race and previous years' cars are prepped for display. Given McLaren's reputation for fastidious cleanliness, it was somewhat comforting to note the slightly scuffed worktops and the occasional discolouration on the white tiles. It gave a slightly more human aspect to the otherwise clinical feel of the bays.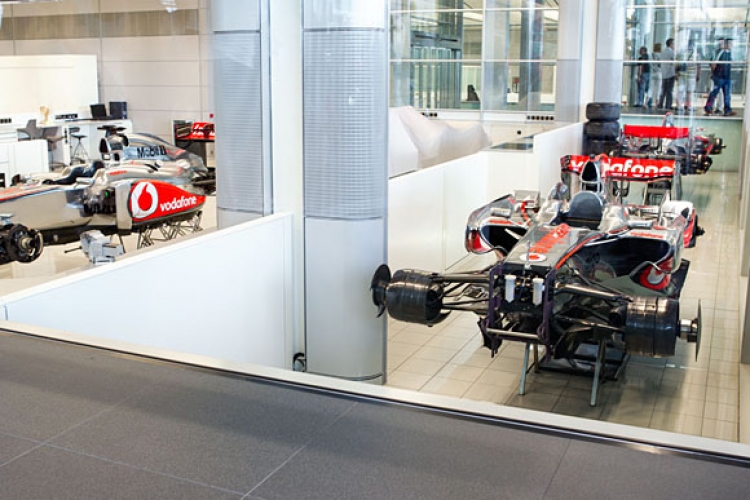 That clinical feel extends throughout the building. The attention to detail is borderline psychotic, but despite the slightly sterile atmosphere I found the entire facility a mesmerising place. It's almost a cliché to describe the MTC as a modern-day Bond villain's lair; in fact, I would liken it to stepping about two decades into the into the future. It feels like anything is technologically possible in this vast expanse of opaque glass, glossy ceramics and stainless steel.
It was a real privilege to gain even this small insight into the inner workings of a Formula 1 team whose cars and drivers I've worshipped from afar every other Sunday since I was a small boy. The incredible display of cars outside was just the icing on the cake, and when the event came to a close, I was a little sad to leave. I'll probably never get another opportunity to visit the MTC, but spending an afternoon in the inner sanctum of my favourite Formula 1 team was an experience to remember.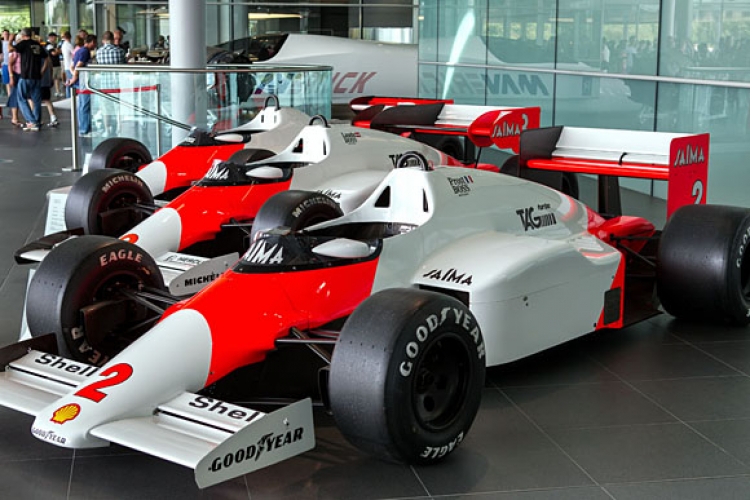 See more photos from our visit to the McLaren Technology Centre in our gallery.
Photo credits
Top photograph of the MTC by bisgovuk on Flickr. All other photographs by the author.