The Ur-quattro returns as a 700 horsepower hybrid.
Two years ago at the LA Auto Show, I asked an Audi PR rep what happened the awesome Quattro Concept car from 2010 that had been all but greenlit for production. Apparently, she didn't appreciate the ambush because I got a brief and unpleasant glance followed by an answer that in so many words translated to, "It's no longer on the table, but it someday it might be again." I had my doubts.
Apparently, Audi PR lady was on to something because Audi's newest concept, which debuts next week at the Frankfurt Motor Show, is very much of the same philosophy. That's a very good thing. Even the name is similar. It's called the Audi Sport Quattro Concept.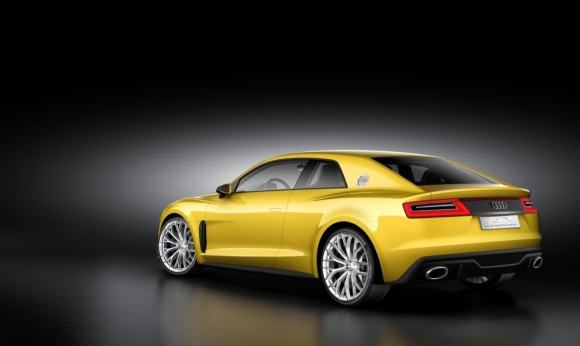 Like the 2010 concept, the Sport Quattro Concept draws styling influence from the Ur-quattro of 1980. The short overhangs and huge C-pillar dominate the side view, while the front sports a massive, blacked out grille with two smaller grilles with vertically bladed inserts on either side.
Unlike the Quattro Concept, which was to be powered by Audi's turbocharged five cylinder, the Sport Quattro Concept is powered by a plug-in hybrid drive capable of producing 700 horsepower. Primary power comes from a tweaked version of Audi's twin-turbo 4.0 liter V8 producing 560 horsepower. The rest comes from a "disc-shaped" electric motor, which allows the Sport Quattro to cover a little over 30 miles on electric power alone. All four wheels are (obviously) driven and three driving modes will be selectable: EV mode, Hybrid mode and Sport mode. In the latter mode the Sport Quattro will do 0-60 in 3.7 seconds.
We'll learn more about Audi's Sport Quattro Concept at its official debut next week at the Frankfurt Motor Show.
Gallery