Despite the long wait, the BMW i8 looks to be a truly unique car with no natural rivals.
As you're probably well aware by now, the BMW i8 is high performance plug-in hybrid that BMW has been at work on for quite some time. Today, after countless concept versions of the i8, BMW has officially unveiled the real-life, honest-to-god, official production version of the i8 that you'll officially be able to buy at your local BMW dealership.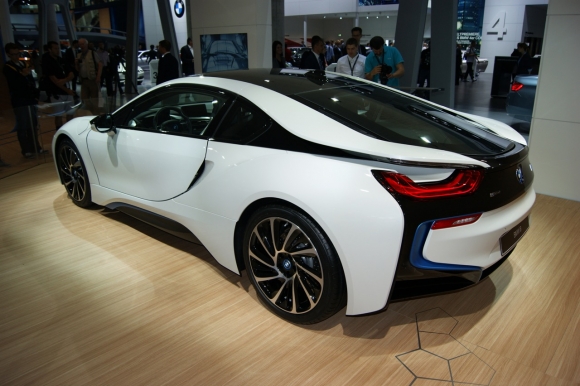 As we outlined last week, the i8 is powered by a turbocharged 1.5 liter three cyclinder motor, which sends power to the rear wheels, and a electric motor that powers the front wheels. They combine for a power output of 362 horsepower. 0-60 comes in just 4.4 seconds, but the i8 is also capable of an estimated 94 mpg.
The i8 is the flagship of BMW's "i" hybrid lineup and will be followed by the i3 city car. Pricing starts at $135,700. We can't wait see what kind of dynamic performer the i8 turns out to be.
Gallery