Thoughts on the 2010 Formula 1 season, and we dish out some unusual awards for the drivers, too.
There have been many Formula 1 season reviews released in the aftermath of the Abu Dhabi Formula 1 title decider. Here at Drive Cult we like to do things a little differently, so as part of our season review I'm going to present a number of more unusually-named awards than you might see elsewhere.
The Drive Cult Award for the Best Opening Stint
This award goes to the driver who posted what we consider to be the best opening stint during a race, rewarding those drivers who can instantly get on the pace, those who make great starts without running anyone off the road, and those who can open a gap to their competitors straight away. Hat tip to the excellent Mud, Snow and Tar website, whose Alternative Rally Championship inspired this award.
Winner: Jenson Button, Italy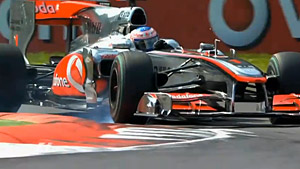 This was the best piece of aggressive, controlled driving from Jenson Button since his title-clinching drive through the field in Brazil in 2009. He made a superb start from 2nd on the grid, defended hard against Alonso, took the lead and then got his head down and absolutely drove the wheels off his McLaren to keep Alonso's marginally faster Ferrari at bay.
Button doesn't often show us how hard he's driving, because his car control is absolute and his smooth style doesn't allow for the kind of opposite-lock heroics that his teammate might indulge in. However, his first stint in Monza was electric - front tyres j-u-s-t on the verge of lock-up into the first chicane, and utterly committed through Ascari to pull out a vital tenth or two on the pursuing Alonso.
Runner-up: Sebastian Vettel, Korea
The 2010 Formula One World Champion was unstoppable in the final third of the season, and though his performance in Korea was ultimately unrewarded, up until that moment he had absolute control over the race.
After over an hour of waiting and trundling around behind the Safety Car hoping that the rain would stop, finally the race was on and Vettel opened up a lead of 2.6 seconds over his teammate in the first flying lap alone. He repeated the feat after a third Safety Car period just eight laps later, and was set for an emphatic victory until his Red Bull's Renault engine spectacularly destroyed itself on lap 46.
The Ayrton Senna Award for Best Qualifying Lap
Named for the very best qualifier of them all. The winning lap doesn't necessarily have to have won the pole, but it does have to contain some very special driving in order to qualify for recognition.
Winner: Sebastian Vettel, Australia
This award could only go to one driver in 2010. Ten pole positions, many by an enormous margin over the nearest non-Red Bull driver, is a statistic that's hard to argue with. Vettel was peerless at putting in one final lap to destroy the competition, and watching him finding those extra hundredths of a second in the dying minutes of a qualifying session became a joy over the course of the season.
Virtually any of Vettel's pole position laps in 2010 could be considered for this award, but his performance in Australia at the start of the season is the one for me, simply because it was the first time the Formula 1 world really saw the full potential of the Red Bull RB6 in Vettel's hands.
Stunningly fast and utterly, utterly committed, the lap was nigh-on perfect. No inch of kerb was left untaken, no corner left uncut, no braking left any later. The speed that he was able to carry through the corners defied belief, and even a moment of snap oversteer towards the end failed to spoil the lap.
[See the lap here]
Runner-up: Lewis Hamilton, Canada
Hamilton was the first driver to break the Red Bull domination at the front of the grid, with a typically forceful lap in Canada to claim McLaren's only pole position of the season. His wall-skimming precision and last-of-the-late-brakers ability into the final chicane, coupled with McLaren's F-duct speed advantage down the back straight proved to be a perfect combination for the Circuit de Gilles Villeneuve.
[See the lap here]
Honourable mention: Nico Hulkenberg, Brazil
I couldn't leave this award without giving credit to the season's most surprising pole position. Nico Hulkenberg's giant-killing performance in Brazil deserves a special mention. At the circuit where Williams last won a race back in 2004, "The Hulk" made all the right decisions in drying conditions while the top teams floundered, and put in three perfect, super-aggressive laps to take pole position by over 1.1 seconds from his nearest rival. Cool, calm and focused, Hulkenberg laid down one hell of a calling card with that lap. We shall watch his future career with interest.
The Lewis Hamilton Award for Best Overtaker
This award goes to the driver who best disproves the myth that there's no overtaking in Formula 1.
Winner: Lewis Hamilton
Yes, I know its an eponymous award, but could an overtaking prize really go to anyone else? Lewis's ability to pass where others dare not even consider it is one of his greatest strengths as a racing driver. There were any number of overtakes from him this year that warrant inclusion here, but a couple from the first part of the season stood out above the rest.
The first, his move around the outside of Nico Rosberg in Australia, was a spellbinding, hairs-up-on-the-back-of-your-neck demonstration of commitment at 180mph. The second shows a different side to Hamilton's overtaking repertoire, with his beautiful lining-up and subsequent pass on Michael Schumacher in China.
Runner-up: Kamui Kobayashi
Kobayashi gets this award for his performance in Japan alone. His repeated mugging of cars into the hairpin was almost comical, yet hardly anyone else was able to duplicate the manoeuvre. Incredibly late on the brakes, Kobayashi passed four cars in the same spot, including teammate Heidfeld, and went on to finish an eventual 7th from 14th on the grid. Only his slightly clumsy first pass on Algersuari marked him down.
The Giancarlo Fisichella Award for Best Radio Message
This award takes its name from a very memorable radio call that Fisi made during the 2006 season. When asked about his cars handling, he screamed down the radio, "It's f**king shit, it's f**king shit!" on live TV.
Winner: Rob Smedley
There was only one person to whom this award could go, right? Rob Smedley's famous, "Fernando is faster than you" call to Felipe Massa during the German Grand Prix was one of the defining moments of the season, and quite possibly Massa's career, too.
Too much has been written about the outcome of said radio call for us to provide any more meaningful insight. Suffice it to say that we at Drive Cult feel that if you are in a motor race and you find yourself in a position where a slower car is holding you up, you should bloody well overtake it instead of moaning down the radio...
Runner-up: Mark Webber
"Not bad for a Number 2 driver." A wonderful moment of dark humour from the Australian, after thoroughly stuffing his teammate at the British Grand Prix in the wake of more 'Vettel favouritism at Red Bull' rumours.
The Ronnie Peterson Award for Best Oversteer Moment
In honour of the driver who always comes to mind when I think about Formula 1 cars on opposite lock, this award goes to the driver who caught and held the best oversteer slide of the year.
Winner: Michael Schumacher, Singapore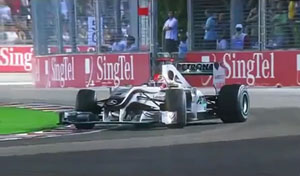 The slo-mo footage of Schumacher's Mercedes W01 broadside around Turn 2 during Q1 in Singapore made it onto many an end-of-season highlights reel. With the car on the lock-stops, his front wheel on the inside of the kerb in a manner more reminiscent of a Group A rally car doing a spot of ditch-hooking rather than a Formula 1 car racing around a street circuit, it was a stunning sight. The seven-time World Champion™ has clearly not lost his exceptional car control.
[See the slide in slo-mo here, at the 0:17 mark]
The Nigel Mansell Award for Big Brass Balls
This award goes to the driver who goes wheel to wheel with the toughest competitors and makes the pass stick. Remember Mansell and Senna side-by-side with just a few inches between them, sparks flying along the straight at Barcelona in 1991? That's what we're looking for.
Winner: Rubens Barrichello, Hungary
In Hungary, Michael Schumacher proved that he's not lost the darker side of his competitive nature. Barrichello's Williams had been shadowing him for a number of laps, with Rubens on fresher rubber and clearly the faster car but unable to get past. Then, on the exit of the final turn Schumacher got a little too much oversteer and that gave Barrichello the opening he needed.
Schumacher blocked him to the left so Barrichello went right, between Schumacher and the pit wall. As the cars drew level, the silver Mercedes continued to move right, forcing Barrichello's Williams closer and closer to the pit wall. Rubens kept his foot in it and squeezed through the tiniest gap to take the place, while the viewing public collectively let out a breath of relief.
It was a deeply dangerous tactic, even by Schumacher's standards. Had he crowded Barrichello any closer to the wall, there would have been an accident so huge that it doesn't bear thinking about. Thankfully, the pit wall ended just in time, allowing Barrichello to put his one-time teammate firmly in his place. Big brass balls, Rubens.
Runner-up: Heikki Kovaleinen, Singapore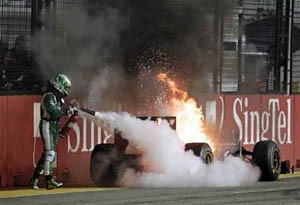 How many drivers on the grid, when at the wheel of a car that's on fire right next to the pitlane entrance, would have the presence of mind to think, "Maybe a burning vehicle next to all those people in the pitlane isn't such a great idea" and instead steer the car out on track and out of harm's way?
Kovaleinen did in Singapore, and what's more, he jumped out and called for a fire extinguisher so he could put the fire out! Aren't there marshalls that are supposed to do that? Apparently not. I know Finns are supposed to be cool customers, but that's clarity of thinking on a different level when surrounded by a Formula 1 car ablaze.
The Gilles Villeneuve Award for Best Wet-Weather Drive
During a wet practice session at Watkins Glen for the 1979 US Grand Prix, Gilles Villeneuve put in a display of wet-weather dominance that stunned the paddock, lapping 11 seconds faster than any other driver on track. This award is for the greatest wet-weather performance of the year, where the regenmeisters make the opposition look very ordinary.
Winner: Jenson Button, China
The Chinese Grand Prix started in drizzly conditions, and increasing rain during the early laps caused many of the drivers to pit for intermediate tyres. Button made his second brilliant tactical call of the year in choosing to remain on slick tyres, rather than lose time in the pits. It was a borderline call to change for inters, and Button's confidence in staying out, coupled with his peerless ability in slippery conditions, won him the race.
Runner-up: Bernd Mayländer, Korea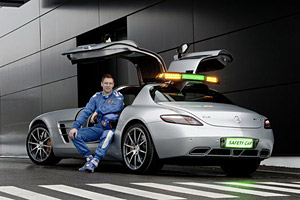 The erstwhile Safety Car driver had a very busy day at the Korean Grand Prix, with standing water and heavy rain causing the race to be started under Safety Car conditions, and a series of accidents later in the race bringing the silver Mercedes SLS AMG out once more.
Keeping 24 testosterone-riddled Formula 1 drivers behind you for twenty-plus laps of a sodden circuit that's still largely covered in mud, at the wheel of a 560bhp rear-wheel drive modern muscle car, all the while reporting back to Race Control on the conditions of the circuit, is no mean feat. Herr Mayländer, Drive Cult salutes you.
---
Drive Cult's Top Five Drivers of 2010
All right, it wouldn't be a Formula 1 season review without a list, so I polled the Drive Cult team for their top five drivers of 2010 and compiled the results below.
5. Kamui Kobayashi
"Just great fun to watch. Made some great moves that shows drivers with big balls can still overtake in F1." - Jack Wood
4. Robert Kubica
"The Renault wasn't even the fourth fastest car, but Kubica drove above the level of his car more often than any other driver. Staggeringly quick, and consistent with it. Could we see him in a Ferrari?" - Chris Ratcliff
3. Lewis Hamilton
"Still by far the best overtaker in the field and extremely tenacious on track. Like most athletes, he seems to have trouble putting together comprehensible tweets." - Jamie Wolfcale
2. Fernando Alonso
"Subjectively, I have issues with the way Fernando conducts himself a sportsman, but as a driver he is probably the most complete, thinking competitor out there. He showed almost unbelievable self-confidence in claiming he was still in the running for the title despite Ferrari missing some technical tricks early on." - Chris Ratcliff
1. Sebastian Vettel
"Well, if you can't put him top of the list when he wins the title, when can you put him there? He kept his nerve in the last race and got the job done." - Jack Wood
"In a way, he's almost been like the car he drives; shatteringly quick, sometimes fragile, occasionally at (or over) the edge of the regulations." - Chris Ratcliff
"If it hadn't been for mechanical unreliability, he would have wrapped up the title with a couple of races to go." - Matthew Lange
"I think he's the quickest driver out there. Maybe not the wisest or most mature, but this will change with experience." - Jamie Wolfcale
The nearly men
Jenson Button
Everyone but Jamie had Jenson Button in their top five, albeit in 5th place. Button impressed on a number of levels this year: his confidence in going head to head at McLaren in what was perceived to be Team Lewis; his experience and speed in slippery conditions in making the right tyre calls to win in Australia and China; and his consistency - of the five title contenders across the season, Jenson made the least number of mistakes. His qualifying form let him down this year, and he will need to improve his one-lap pace in order to remain competitive with Hamilton in 2011.
Mark Webber
I was the only person to place Mark Webber in my top five. Not only did I include him in my list, I had him in first place. I've been tipping Webber for greatness since the Jaguar years, where he regularly dragged brilliant qualifying performances out of a terrible car. In 2010, Webber truly ascended to the top of F1, with four wins and five pole positions. He came tantalisingly close to taking the championship, and pushed his younger teammate harder than anyone else.
Nico Rosberg
Again, I was the only person to rank Nico in my top five. I did so for one simple fact - he annihilated a seven-time Formula 1 World Champion, in the same car. No-one has ever done that to Michael Schumacher before. Teammates may have been quicker than him occasionally, but never more than a couple of times a season. Nico quietly went about his business and made Michael look slow and ordinary in virtually every race in 2010. Bravo, Britney.
So, was it the greatest season?
There have rarely been closer title battles, with as many contenders in the hunt. However, much like judging past drivers against present ones, I think it's nigh-on impossible to consider this season as the best of all time when there have been so many absorbing F1 seasons in the past. 1957, 1976, 1986, virtually any of the Senna/Prost era, 1994, 1996, 2003…the list goes on.
That said, it's been refreshing to watch a Formula 1 season where the racing took centre stage. Politics and scandal have overshadowed many recent F1 seasons but in 2010 it was all about the action on-track, bar a brief team orders 'controversy' in the aftermath of Ferrari's decision to ask Massa to let Alonso past in Germany. Even that didn't occupy as much headline space as it might have done in the Mosley era.
To my mind, we're experiencing a great era in F1, where high-revving, naturally-aspirated engines power the world's most advanced racing cars around spectacular new venues and classic circuits. There are more front-running, race-winning drivers of such quality on the grid that it's hard to choose between them, with new(ish) teams like Red Bull taking on the might of old stagers Ferrari and McLaren. 2011 promises to be more of the same.